The Scofflaw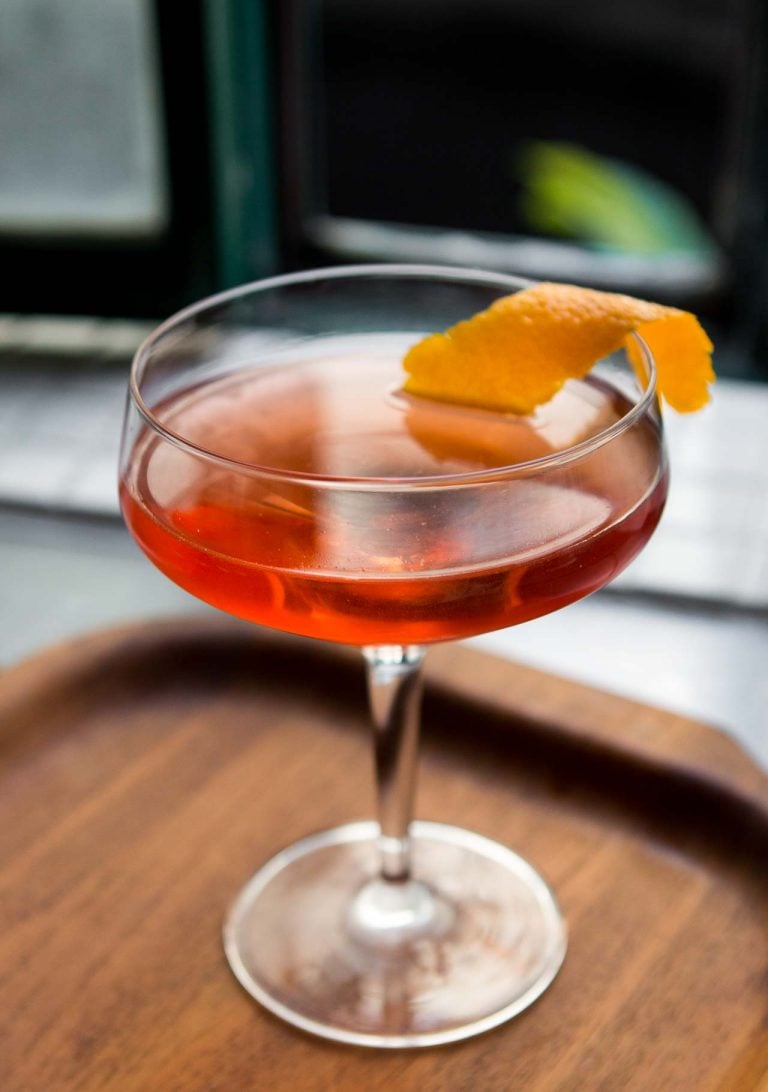 Most people probably don't think of hard liquor when they think of France. But nowadays it's hard to pass one of the many cafés in Paris which features les happy hours and not see a round of mojitos on just about every table. From the looks of things, they've become more popular than wine or beer. Unfortunately most are not very well made and as cocktail fans know – and even those of us that only occasionally imbibe – that there's a definite art to making mixed drinks. And it's curious that many of the world's great spirits, such as Lillet and Noilly Pratt vermouth, are French. Yet few people in Paris know what they are and I recounted the mix-up that happened when I ordered a Lillet at a café in Paris in TSLIP.
On the other end of the cocktail spectrum in Paris are places like the Hemingway Bar at The Ritz, famous for its Martini (as well as its hefty price!) and the myriad of excellent cocktail places that have sprung up in the last few years. Although my days of being able to drink four or five martinis and still be able the function the following day are in my past, with all the talk about the terrific cocktails being poured around Paris, I've been finding myself craving cocktails like I used to, albeit in more prudent quantities.
One of the most dedicated voices on the Paris cocktail scene is Forest Collins of 52 Martinis. We'd had drinks together on a few occasions, at places like Candelaria and Une Dimanche à Paris, but when she came over last week for dinner and asked what she could bring, I quickly spoke up and replied "Cocktails!"
Talking about the success of the cocktail scene in Paris, she noted with amusement that a couple of fellows opened a New York-style cocktail bar here, which was a hit. So now they've opened the same type of "Parisian" cocktail bar back in New York, making a full circle.
It was so much fun I invited her back to share a drink called the Scofflaw, one that's not necessarily something you would find in a cocktail bar in Paris. But it's rooted in Parisian culture and has a transatlantic story behind it.
The Scofflaw was invented at Harry's Bar in Paris during prohibition to taunt those back in the states who couldn't drink (or were considered criminals if they did), hence the name: if you were drinking one in Paris during that time, you were considered a scofflaw. Back then, Canadian whisky was used because there was none coming out of America.
However nowadays there's no shortage of liquor in America, or in France, and Forest brought over a bottle of Hudson Manhattan rye (which has become one of my new favorite things), which she explained must be made with at least 51% rye, because she wanted me to taste the difference, along with a bottle of Canadian Club.
She also brought a jar of scarlet-red homemade grenadine, a syrup traditionally made from pomegranate juice, although she said nowadays most brands are just sugar syrup with food coloring in them. And with pomegranate juice widely available, she mixes her own: one part pomegranate juice with one part sugar. (If you want to keep it a while, she says to pour in a little bit of vodka.) She also adds a few drops of rosewater to highlight the flavor.
I had two Scofflaws and felt a lot better after I tasted them. (Thanks, Forest!) Both were good, although the one with Hudson Manhattan rye whisky, which had a more notable spicy, peat-like taste, is the one that I preferred. Although one could use another whisky, which isn't a crime.
Recipe by Forest Collins of 52 Martinis Forest noted that some recipes for Scofflows finish with a twist of orange, some use lemon. The orange bitters are nice in here, but in case some people don't want to spring for a bottle of orange bitters, you can leave them out, although Forest likes to use them. Orange bitters are very good in martinis, in case you do decide to pick up a bottle.
1 1/2
ounces
of Canadian Club or Rye whisky
3/4
ounce
freshly squeezed lemon juice
a couple dashes of orange bitters
orange twist,
for garnish
1. Add ingredients to a cocktail shaker three-quarter full of ice.
2. Shake vigorously until well-chilled, then strain into a chilled coup glass. (Use the double straining method if you want to make sure there is no pulp in the cocktail.)
3. Garnish with an orange twist.
Related Posts and Links
All About Orange Bitters (Serious Eats)
Rye Whiskey (Wikipedia)
The Manhattan (Ruhlman)
Whiskey vs. Whisky: What's the difference? (The Kitchn)