[Note/update: Due to requests for my Bûche de Noël recipe, above, I've included it in my book, My Paris Kitchen.]
I couldn't let the year end without a little reportage about Christmas this year. You heard about my last-minute scramble to find the World's Most Expensive Pastry Bag, which is now safely stored away in my Safe Deposit Box for next year.
There's a joke that the only bad thing about Paris is that it's full of Parisians. I'm not going to comment on that, but Paris pretty much empties out, and is glorious time to stay in town. Also Christmas is taken pretty seriously around here. It's considered a close, family holiday and even though the big department stores have spectacular window displays, Christmas hasn't been overtly commercialized and kids are content when la grande-mère hands them a bag of fresh clementines, and don't throw tantrums if they don't get the latest version of the impossible-to-get video game. At least in my French famille.
The only tantrums being thrown were by me, making my Bûche de Noël, which I'll get to in a bit.
Christmas also means oysters, and lots of 'em. At the markets, and even on some sidewalks, wooden crates are piled up for folks to lug home for the festivities. I've been told the hospitals in France have a high rate of intakes around Christmas from too many people stabbing themselves with oyster knives.
No one buys a measly dozen or two of oysters. It's always one of those cases, which are packed tightly with fresh, live oysters just waiting to be popped open and slurped down. My favorites are numéro deux fines de claires, which are just the right size: not so big you can't swallow them, but not so small that they don't fail to leave a generous, salty impact on the way down. More than anything else that I can think of (except that damn bûche de Noël) nothing is more widely-associated with Christmas in France, than oysters. At least to me…and that's good enough.
Because storage space in Paris is often at a premium—I've never seen a Sub-Zero fridge in Paris, on the exterieur of people's apartments one can usually find at least one bottle of something chilling out there in the winter. I guess if you can't beat him, you should at least exploit Jacques le Frost for all he's worth. In fact, if I showed you my roof right now, you'd see a tub of soup, a sack of leeks, some brie de Meaux (that's too stinky for my fridge), and a big glass jar of kimchi that, come to think of it, would probably be pretty good slivered atop some fresh oysters.
I'm not sure that Parisians would find kimchi and oysters all that traditional. Neither would I, but that's no excuse not to try something new. (Well, except I do draw the line at chocolate and foie gras…) They prefer their oysters nature, with maybe a squeeze of lemon, and that's all. But I'm a shallot-vinegar kinda guy, which everyone rolls their eyes at, but shortly after the oysters are passed, there's invariably a couple of spoons dipping into my little ramekin of shallot-y vinegar. This year I wised up and just put three ramekins of it on the table, so I wouldn't have to share. The other good thing about getting older, is that you get wiser, too.
Still…someone whose name I won't mention, decided that we should have blini with the fresh salmon he cured. Which was a great idea, so I whipped up the batter, which makes me, officially, The Greatest Person in the World. But the next day, standing over the stove and flipping a few hundred blini, I realized that perhaps I was The Least Wise Person in Paris for saying "Oui!" the night before Noël.
And by the way, for all the Americans who wonder, 1) Why French folks don't get fat, and 2) Why they don't eat butter with their bread, I should tell you that yes, they do. For both. But they usually only butter their bread if serving it with oysters, like they do in Brittany. And only with salted butter. So if you're visiting France and want butter with your bread, just tell the waiter you're from Brittany, and they'll oblige you. But if they start speaking indecipherable Breton to you, I can't advise how to get out of that one.
It probably seems like I'm the Christmas-wrecker, with my shallot-vinegar sauce and ricotta-filled Bûche de Noël—although the French have some explaining to do in the weird, and not-quite-wonderful Bûche de Noël department themselves.
Being a 'maverick', which is a word I think that's best left behind in 2008, I was the 'decider' (speaking of another thing we can leave behind…) and decided that instead of the traditional rye bread to accompany the piles of oysters, we'd have pain aux cereales from Eric Kayser, one of my favorite breads in town. These amazing golden loaves from Eric Kayser are packed with crunchy grains, and the best part was going into the bakery the night before and watching them pull the loaves from the oven, and handing three or four over to me, which kept my hands warm on the walk home.
I suppose I could swap out my hot water bottle for a warm loaf of bread, but I'd have a hard time explaining to my house cleaner why there are millet and sesame seeds liberally sprinkled between my sheets. She might think I'm feeding birds under there, or something.
(I found out she was telling the neighbors that I didn't look good all year, but now I look much better. Honestly, who needs doctors when you have a house cleaner who can clean and provide your neighbors with a steady reportage about my health? With all the liters of bleach she mysteriously goes through, now I know why my apartment smells like a hospital for days after she's been here.)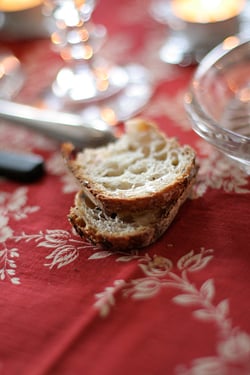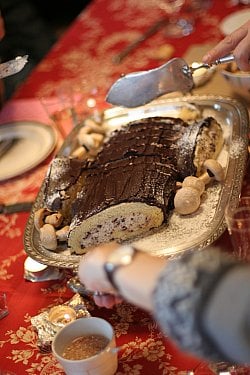 After huge platters of oysters, cured salmon with homemade blini and blindly-strong horseradish sauce, plus lots of well-iced champagne, was it time for dessert?
Pas de tout!
Why live in France if you're not going to eat as much cheese as you can? Sure, I love all that other stuff, but when someone presents you with not one…
But two…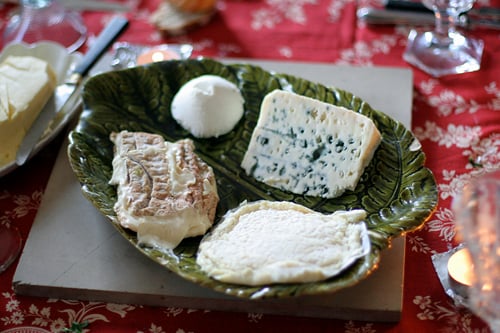 …amazing platters of cheese, who am I to refuse?
The cheeses were a selection carefully chosen from Pascal Beillevaire, who carries my favorite salted butter. We were all trying to figure out which cheeses were what by whipping out the receipt, which listed them all. As much as I'd like to, I can't always carry my trusty French cheese guide with me, so we kind of gave up and just dove in.
The most recognizable is the red-rubbed Boulette d'Avenses, which is so strong and pungent, most cheese shops store and sell them in well-sealed plastic cones. Even though in France it's pas polite to take thirds during the cheese course (seconds are okay), most of us did anyways. Or at least I did. But seriously, folks, can you blame me? Je suis très américain… It was Christmas, after all. And besides, if I'm expecting for a present a bag of clementines, I'm gonna stock up on third helpings of cheese.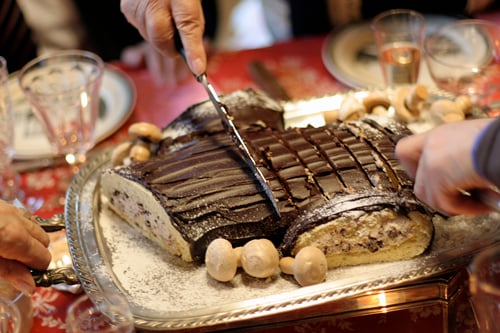 Enfin, dessert. We finally got to the cake, the one I worked on…no..slaved over…last week in my dinky kitchen. I can seemingly do everything here, except I think I met my match with this baby. I should back up and say that this is not a traditional Bûche de Noël in very many senses of the word. There's no throat-clogging buttercream and it's much more rustic than what you'll see on offer in the bakeries in Paris.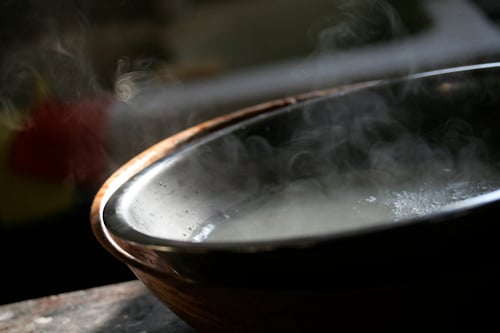 Subscribing to the theory, "There must be a harder way to do this" I made my own ricotta cheese. Which is great if you're one of those people with the big kitchen. You know, the kind with a Sub-Zero fridge, but my counter barely has room to set down two mixing bowls at the same time. And making an ice bath means I have to start filling ice cube trays a few days in advance. Thankfully during the writing of the ice cream book, my fish boys saved my butt more than once. At least in the ice department.
So I piped and fitted a gazillion coffee-flavored meringue mushrooms, which fascinated everyone at the table.
When asked how they were made, Romain, who'd watched me do them, said they were put together "…comme le sexe de Jacques Chirac", which he demonstrated by taking out, and re-inserting one of the pointy mushrooms stems into the round hole under the mushroom cap.
(Now this, ladies and gentlemen, is why I have a blog. Not one word of that last phrase would've made it past a cookbook editor. But I must admit, it's a pretty good, if not overtly colorful, description of the process.)
Ex-president Chirac's wandering genitalia aside, the conjoined mushrooms, and the simply-decorated cake, were a big hit. By the time it came to finishing the yule log, I kept it simple. I learned a long time ago that the less you do to food, the better. And it's easier, too.
I did lighten things up by making a filling with my homemade ricotta mixed with festive bits of candied orange peel, a pour of Grand Marnier, and chopped bits of chocolate. The whole she-bang was rolled up overnight, which moistened the spongecake, so this wouldn't be a dry, Sahara Dessert, and the next day I glazed the roulade with a very dark, and very shiny bittersweet chocolate icing. Not a drop of buttercream in sight, which no one seemed to miss.
And thanks to many of you for your birthday greetings. I realized that it's not so bad being fifty, especially when your presents are big bags of salted butter caramels from Henri Le Roux, a homemade cheesecake for my birthday cake, yes…some clementines, and the mother of all mortar & pestles that was so heavy it took two of us to carry it into the car, then into my apartment.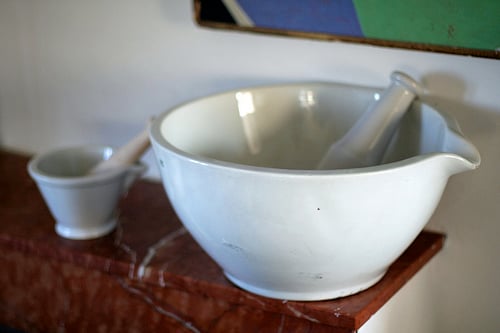 I love my gift, and it, and the junior sibling someone else gave me (by sheer coincidence), are both residing on my mantle until I can figure out what to make in it. Now that it's up there, I'm almost afraid to take it down. But I'd better do it sooner rather than later. It's not getting any lighter…and I'm not getting any younger. Maybe next year.