Sweet Potato Gnocchi: The Good, the Not-Too-Bad, and the Sorta Ugly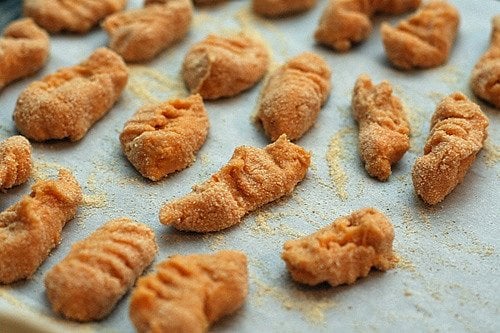 I thought I'd better get this one out of the way right off the bat, at the start of the year. This recipe was languishing on my kitchen counter, resisting publication until I could resist no more. (And if you saw my kitchen counter, you'd know a piece of paper takes up about 25% of it, so I'm especially eager to get it out of the way.) I wasn't sure if it was up to snuff since I can't claim exactly 100% success, although the end result was pretty darned good.
But Carol warned me I'd better write it up, and I'm a bit scared of her after what she did to that pig's head. Although truth be told, she can blame any failures on Tom or Grant. Here, it's just me, myself, and moi.
Plus I needed the counter space.
1. The Good
I've been meaning to mix up a batch of gnocchi for a while, since I don't think there's any better way to fight off the chill of winter than a big bowl of carbohydrates swimming in melted butter.

I always say I'm going to make gnocchi. I think about it, work through in my mind a process, but I never seem to do it. But after reading a couple of accounts of gnocchi-making, at delicious:days and Divina Cucina, I decided to finally give the little 'tatery pillows a go, using sweet potatoes.
French people don't have much of appreciation for sweet potatoes. So I try to sneak them into places where they might not expect them, and everyone is always surprised at how good they are. If you avoid marshmallows and stuff like that, you can easily hook 'em in and I'm certain I've converted more Gallic guests to les patates douces than anyone other étranger.
I remember twenty-five years ago when I was visiting Germany and my dinner hosts were absolutely horrified that I was eating the skins of my baked potato. Those folks, if they're still avoiding potato skins, will be happy to know that for gnocchi-making, you don't use the (delicious) potato skins. Can you imagine their freak-out if they stopped in at TGIFridays and saw a roomful of people, en masse, eating just the potato skins? But you should look for potatoes that have little moisture, as too much is apparently the enemy of feather-light gnocchi.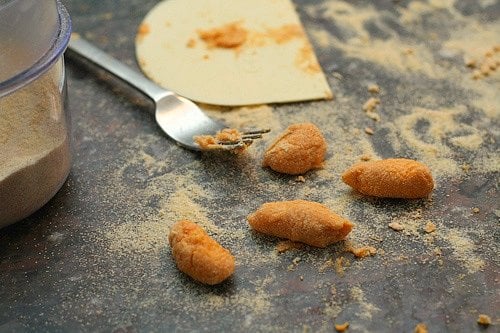 I asked my potato guy at the market—and you do have a potato guy, don't you?—for a dry potato to mix with the sweet potatoes. Since we're still on the good part, I have to tell you that I love my potato guy. French women are known for the special relationship that they form with their butcher. It must be the blood coursing through everyone's veins, or the raging hormones in les boucheries, but I go ga-ga for my potato guy.
He's everything you want in a potato guy: he's really friendly, he has the best shallots, he wears a tank-top all year round, even in the dead of winter, and has a huge selection of amazing potatoes. No matter how cold it is, how many people are in line, or even if there's a woman behind me taking a few shallots off one of the many little bowls that he's set out, and moving them onto the one she's about to buy, nothing seems to upset him.
(I, of course, gave her a very dirty look, which I think in French is called an œil noisette, or "browned-butter" eye, but perhaps one of my French readers can clarify that one since it certainly isn't in my dictionnaire français. An œil buerre noir is a black eye, which is what she probably felt like giving me.)
Baking the potatoes means less moisture and better gnocchi, or so I was told. So I roasted mine in the oven. And when my potatoes came out, they were golden-crispy, and unbelievably good. If you don't have a potato guy, I suggest you get one—tout de suite!
And just thinking about him got me in such a tizzy that I forgot to remove hang up the shirt next to my drying rack. Yikes!
2. The Not-Too-Bad
And then I made them. Quelle désastre!
Speaking of roots, did you know that the word désastre comes from the French des asters, or "from the stars", as people believed that many disasters came from the sky or the heavens? Just trying to avoid continuing with my recollection of the gnocchi….
Anyhow, my first batch turned out gummy and icky. I cribbed a few recipes together to get to where I'm at, and being a persistent little fella, on the third try, I thought I got it right, but ending up spitting the test one out that was barely edible (I know, thanks for sharing, David….) and thought about running to the Italian épicerie to get some for my unsuspecting dinner guests.
Backing up, let me tell you, I tried using the minimum amount of flour, as most folks say to keep it under 20% of the weight of the potatoes. Gnocchi are somewhat paradoxical: too much flour and they're heavy, too little and you can't shape them. And being extra-careful, mine were a gloopy mess, rolling them would be like rolling out and cutting a log of warm grape jelly. So I added more flour, but trying to add only just enough to keep them from becoming leaden. Yet I persevered and as I boiled up a few, each little doughy pellet was gluey on the inside.
I wonder if my tears were making the dough too wet, at this point. Finally I gave up, rolled out what I could, and let them dry spread across my bedroom, certain they'd all be destined for the trash.
3. The (Sorta) Ugly
Thank goodness browned butter is a salve that can heal many-a-culinary wound, and after a good boil, a toss in the nutty-tasting butter with a very generous handful of fresh sage added, no one was the wiser. And actually, my final sweet potato gnocchi were a success.
Who knew?
So what's the secret of gnocchi? I don't know. Amy suggested freezing the dough, which seemed like a good idea, since chilling it would certainly help make it turgid. (My word, not hers.) I bet you never read a story about making pasta that had the word "turgid" in it. Well, now you can't say that anymore.
Sweet Potato Gnocchi
As mentioned, this is a recipe in transition. If you're looking for a more fleshed-out recipe, click on one of the links above. And if you have any advice, feel free to leave them for me in the comments. I will, one day, be the master of sweet potato gnocchi!

Roast 12 ounces (350g) of baking potatoes and 2 1/2-pounds (1kg) of sweet potatoes, halved, on a oiled and lightly-salted baking sheet for 45 minutes to an hour, in a 400F (200C) oven.

Once roasted and cool enough to handle, scrape out the pulp from the potato jackets. You should have 1 1/4-pounds (650g).

Pass the pulp through a potato ricer or food mill, or mash thoroughly. Don't use a food processor, which will make them gummy. (If you're wondering what you can do with the potato skins, you can send them to me.)

Ok, now here's the catch: one has to decide how much flour to add. Too much, and they'll be gummy, too little and they're hard to roll. The trick is to add just the right amount of flour so the dough is still sticky, but will hold together.

I mixed in 1 1/2 cups (210g) flour, 1 large egg, a grating of nutmeg, 1/2 ounce (15g) grated Parmesan cheese, and a little salt.

Since this is a non-traditional recipe, I'm gonna tell you to start with a smaller amount of flour, and add more as you go. The dough is just right when you can roll it on a floured countertop (I used semolina) and it's just firm enough to form a pillowy-soft cylinder.

Cut the cylinders into pieces about half as long as your thumb, then roll each piece over the back of a floured fork, to make indentations in them.

Set the gnocchi on a flour-dusted baking sheet, preferably lined with parchment paper, until ready to cook. (They can be frozen at this point, then wrapped in a freezer bag, too.) Bring a large pot of salted water to a boil, then cook the gnocchi. They'll take about 5 minutes to cook. Take one out, rinse it under cool water, then taste it. If it's cooked in the middle, it's done.

Toss gnocchi in a pan of still-warm browned butter, add freshly-chopped sage, a few grinds of black pepper, and coarsely-grated Parmesan or Pecorino, and serve with pride.