Neal's Yard Dairy in London
Disneyland is often called 'The Happiest Place on Earth'.
I don't know about that.
For me, Neal's Yard Dairy is that place.
I'd been anxious (well, more than anxious, practically hysterical) to visit them in London ever since I first tasted their cheeses, which are imported by my gal-pals Peggy Smith and Sue Conley at Cowgirl Creamery in the San Francisco bay area.
Neal's Yard Dairy has been making cheese since 1979. The founder, Randolph Hodgson stated the cheesemaking operation in London's Covent Garden. On their web site, he states "We didn't know what we were doing and so we gave the customers a taste of everything and asked them what they thought."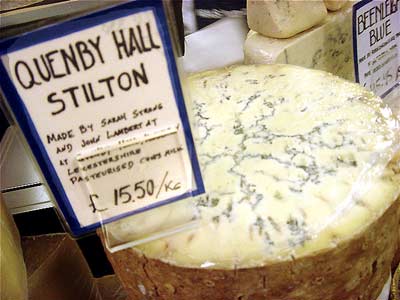 And indeed, I was a bit startled when I inquired about a cheese and the affable salesperson (who wear knee-high white rubber boots and other cheesemaking garb) grabbed a knife, plucked off a nice slab, and handed it to me. When I wasn't sure (yes, really), he repeated the process with several of the other cheddars (someone once asked why in France they don't give tastes freely, and a French friend replied, with a bit of derision, and perhaps sadness, "That wouldn't be 'correct'."
(Incongruously, the fellow who helped me at Neal's Yard was French. Maybe he should come back and start a new trend?)
When I entered Neal's Yard in Covent Garden, there were huge rounds of cheddar piled way, way up high.
And Neal's Yard cheddars are the best in the world.
The exteriors are covered with dark, dusky rind, but when cut open, the interior is revealed. The cheeses are a sunny, golden yellow, often with little streaks of blue mold running through. Dry and crumbly, they left an indelible sharpness when eaten.
My favorite was the Westcombe Cheddar which was well-aged and had a sweet-sharpness that I knew would be fabulous. And it was.
I think I tasted every cheese in the shop, at their suggestion, and I waddled out with lots of wedges of English cheese to bring home and savor. The best blue, I think, was Harbourne Blue, a rather crumbly sort of cheese, yet soft and tangy. I purchased a stack (well, actually about 7 stacks) of oatcakes which are the perfect vehicle for the blue cheese.
I also loved the slightly dry Gorwydd Caerphilly. Even though I could barely wrap my tounge around the name, the cheese went down quite well. Both cheese, including the Harbourne Blue, I've been enjoying with a salad every day since I got home.
On Saturday at Borough Market, across the Thames, locals line up outside Neal's Yard for freshly-grilled cheese sandwiches made with Montgomery's Cheddar, finely diced red onions, and heated on a griddle between pain Poîlane. The other option (which I passed on…how can I pass up a perfect grilled cheese sandwich?) was raclette. Ok, it was an easy decision: My fingers were so frozen that I didn't think I could wield a fork properly and was afraid that most of it would end up on the ground. The sandwich was the prudent option. I would hate to waste a single, delicious morsel.
Raclette is often made over an open fire. The ritual is a big, sexy affair. A huge slab of cheese is heated until super-hot and bubbling, then the hot, gooey stuff is shaved over a plate of sliced potatoes and gherkins (or cornichons, but it's a relief to me typing in English and not having to code everything in HTML, so I'm using gherkins today.)
I also brought back several blocks of Montgomery Farmhouse Butter, which boasts a whopping 85% butterfat (I think. I was in a butterfat-induced haze by that point.) I thought it would be tasty when spread over a warm, toasted crumpet, and sure enough, I was right. I ran out of crumpets at home before I ran out of butter and will have to make a batch to finish off the buttery block. I guess I wasn't spreading on enough butter?
If you're interested in learning more about Neal's Yard, I urge you to visit their website, which is full of excellent information and lots of terrific photos of the cheesemaking operations.
In the United States, Neal's Yard cheeses are available at Cowgirl Creamery and Central Market stores. If your local cheeseshop carries any of their cheeses, don't hesitate to bring a slab or two home.
You won't be disappointed. Just make sure to pick up plenty of oatcakes, and perhaps some crumpets, as well.
Neal's Yard Dairy
17 Shorts Gardens, Covent Garden
and
6 Park Street, Borough Market
London