London Called…So I Went!
With the Eurostar, London is just a 2 ½ hour train from the Paris gare du Nord. Why wouldn't you go for a weekend? I guess I could think of a million reasons why I haven't been to London but none are very compelling. When an email from some friends who live in Hawaii announced they were coming for the weekend (which involved several flight across multiple time zones), I couldn't come up with an excuse not to go and meet them.
People (myself included) often wonder why Europeans don't travel more outside of their country (in fact, just a slim minority of Americans have passports) when Italy, Spain, and London are just a hop, skip, and a jump across the frontière.
So I found myself speeding Chunnel-ward for the weekend. In winter, London is bone-chilling cold. Truly. I was surprised it was so much colder than Paris. An icy-blast of wind ripped through whatever layers of clothing I was bundled up in. Another surprise was the cost of most things. A trip on the Tube was a startling 3 pounds (about $5). And although England is a nation of beer drinkers, most pubs only had French or Belgian beers.
Except for one woman I had a tangle with at Monmouth Coffee (who shall remain faceless and nameless…although the nice woman there gave me my coffee for free because the other woman was so nasty), the Brits were chipper, friendly, and witty. At the astounding Borough Market, the cheery vendors braving the cold were happy to chat and offer tastes. I had a cream scone, stocked up on cheese (more in a future post), and my first gooey Treacle Tart from &Clark's, Sally Clark's bakery that was deliciously sweet. Of course, I loved it.
And my dinner at Fergus Henderson's restaurant St. John was great fun, a wonderful place. Instead of heaping on the pretense like so many other well-known restaurants, the room is block-white with pegs on the wall, like meat hooks, for hanging your coat. They're the sole decoration in the sparse room which I believe was formerly a butcher shop as well.
We started with a big platter of rock-hard bones brimming with warm marrow, accompanied by warm grilled sourdough bread, coarse grey salt, and a garlicky parsley salad. Another salad was Shaved, Dried Venison Liver with Radishes, Capers, Soft-Cooked Egg, sauced with a warm mustardy dressing and that was followed by my main course of roasted Pintade, Guinea Fowl, with Braised Cabbage and Salt-Roasted Potatoes. Dessert was a Warm Treacle Cake for 2 that was big enough for 8 and tasted like an upsidedown cake without the fruit. It was served with a large pitcher of warm creme anglaise. We also had a decent, but unexceptional Date Cake with Spiced Ice Cream and Hot Caramel Sauce. A scoop of just-churned Chocolate Ice Cream with an unusual red dessert wine (whose name escapes me) was a nice finish to the meal, and it was all quite lovely.
Here's some of the other things I found to eat in London:
I didn't know what this was since the box doesn't have much information. When I asked, I was told, "It's a big block of sugar, covered with chocolate."
Sounds good to me! And indeed it was. In fact, it was so delicous, I bought a few more to take home. As you can see, it's like a big peppermint pattie. I'm going to crumble one into my next batch of brownies, if there's any left.
Is it almost Easter?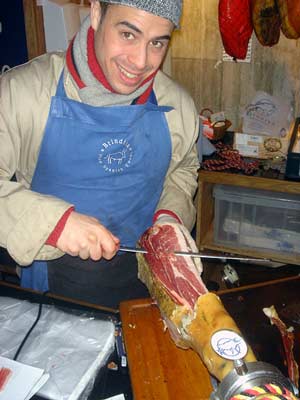 This is Luis, who spends all day at Borough market slicing ham as thin as possible. He offered me a taste of the two he was working on that day and if you've never had real Spanish ham, it's really incredible and puts all other hams out of business. The best is made from pigs which feed on wild acorns so the ham takes on a deliciously nutty flavor because of that. Food blogger Joanne, who I met up with, along with Jeanne, bought several slices for her lucky dinner guests that evening.
I don't know how they got the brownies to stack so tall, but they didn't believe me when I requested the extra-large one, located near the bottom. My friend bought one, but neglected to share it with me so I'll never know if they're as good as the young bakers said they were. Still, that's quite a tower.
Sam
, please explain your people.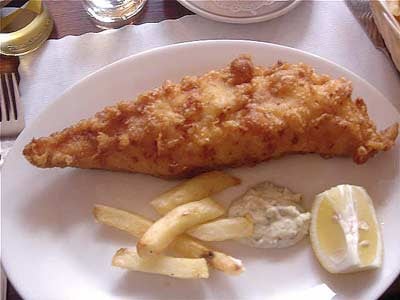 Apparently a good plate of Fish and Chips is rarely found in London. You need to travel to the smaller villages, I've heard. However in London we got a list of a few good spots, including North Sea Fish Restaurant (7-8 Leigh Street). Our taxi driver knew the address well, so we assumed that was a good sign. And we were right. It was great. A huge piece of cod and fries, accompanied by malt vinegar and homemade tartar sauce, enlivened with horseradish and capers.
That's an awful lot of beef fat, don't you think?
At the chic Harvey Nichol's store near Hyde Park, I scanned the chocolate aisle looking for new taste treats. I passed on this one.