A year or so ago, I went to one of the Fancy Food Shows in the U.S. that are held once or twice a year, and are only open to professionals. They're held in convention centers and you can find (and sample) a variety of foods from around the world. Past trends meant that you'd go and find a lot of salsas or biscotti, cocktail mixes or gluten-free foods, and for several years, you'd find no shortage of cupcakes, either.
But it's fun to stroll the aisles where other countries show their wares. There are a lot of Italian pastas and cheeses, olives and feta cheese from Greece, Turkish olive oils and Lebanese breads, and foods from France. I don't always know what's available in the States, but whenever I mentioned French Mimolette cheese online, people would say, "Oh, if only we could get that in America!"
So I was surprised to see wedges of Mimolette (and blocks of French beurre d'Isigny) on display, which were presumably for sale in the United States. Yes, in 2013, the cheese was temporarily banned in America due to the cheese mites that burrow into the surface. The ban was short-lived, however, and a year later, Mimolette was available again.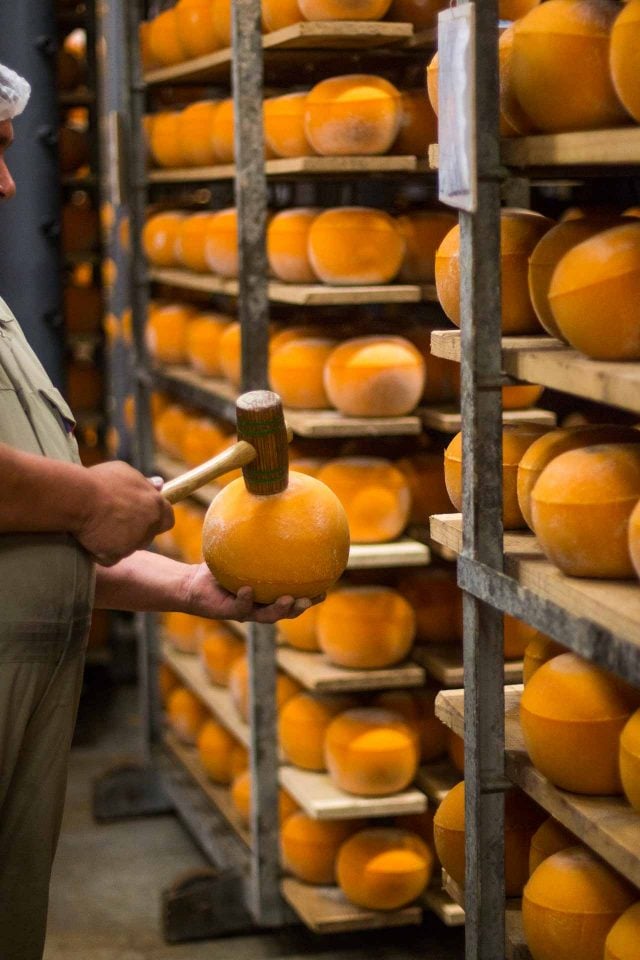 Mimolette is a cheese originally made in the north of France, and is often referred to as Boule de Lille, named after Lille, a city close to Belgium and Holland, where similarly rounded cheeses are made. Due to restriction against importing cheese during the France-Dutch war in 1675 by the finance minister of Louis the XIV, this French version of their cheese was born. (Others dispute that story.) Orange coloring was added to distinguish it from its Dutch cousins.
Mimolette was never bestowed with the AOP status, which could have insisted that the cheese was made in a certain place, but it can be made anywhere in France. Since Normandy is famous for its milk, as well as its cheeses, Mimolette is also made at Isigny Ste-Mère, where I visited to see Camembert du Normandie and their fabulous French butter and crème fraîche, being made. (The butter, I also learned at the Fancy Food Show, was available in the United States, but not the fresh cream. So you still have to go to France to get crème d'Isigny.)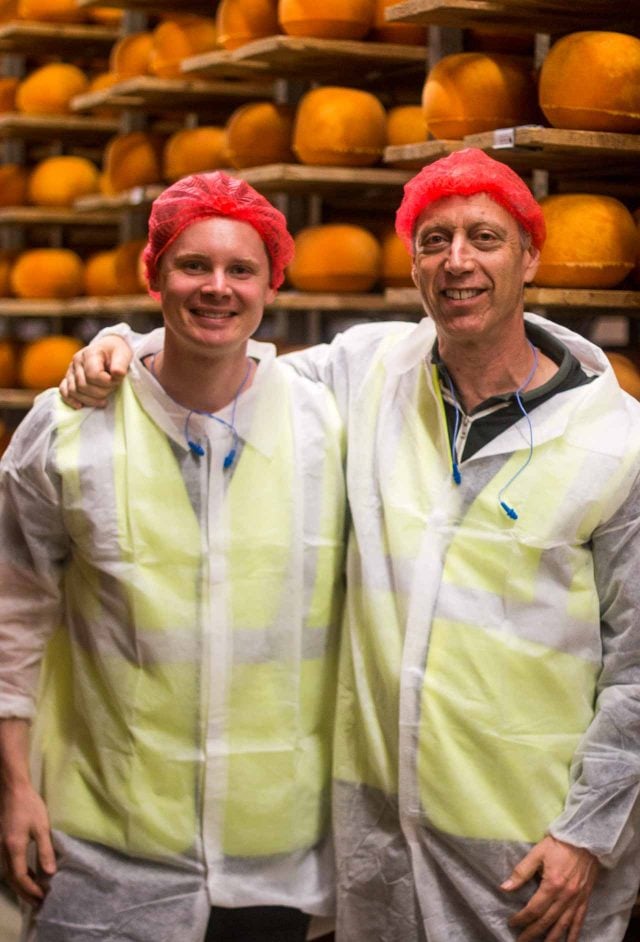 I was with my travel mate Ry Stephen, who's known for his excellent, and creative, croissants and cruffins at Supermoon Bakehouse in New York. We won't take any bets on Who Wore it Best, accessorizing our gilets jaunes (yellow vests) in place, for safety, with matching red charlottes (hairnets), and donning our rubber boots (since the floors can be slippery with whey), we began our journey to see how Mimolette was made.
The milk is warmed in a machine, then an enzyme is added to begin the curdling process, to separate the solids from the whey.
As the milk is coagulating, annatto is added, a natural colorant derived from seeds. They asked me if I wanted to add some of the colorant to the milk, but I didn't want to be photographed wearing that safety get-up (those charlottes are particularly unflattering…), but Ry courageously took one for the team.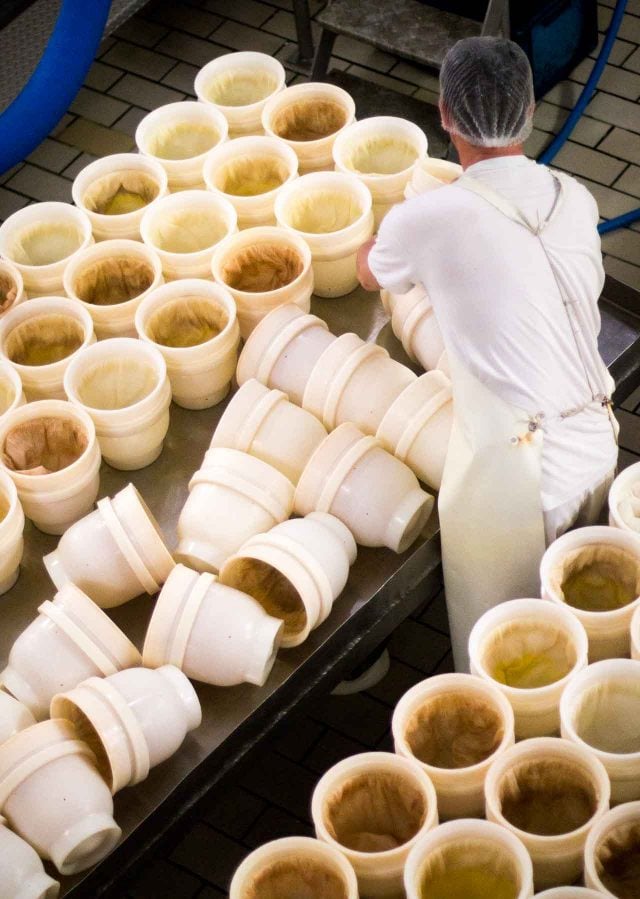 While the milk is curdling, molds are prepared while the milk simmers away in a steel tank. Each mold is lined with loose nylon netting, to coax the curds into the traditional round shape, as they drain and dry.
One the milk is ready, the curds of milk are cut into soft blocks, with the texture and wiggle similar to tofu. The fellow putting the blocks in the mold was working so fast I had a hard time getting a picture of him.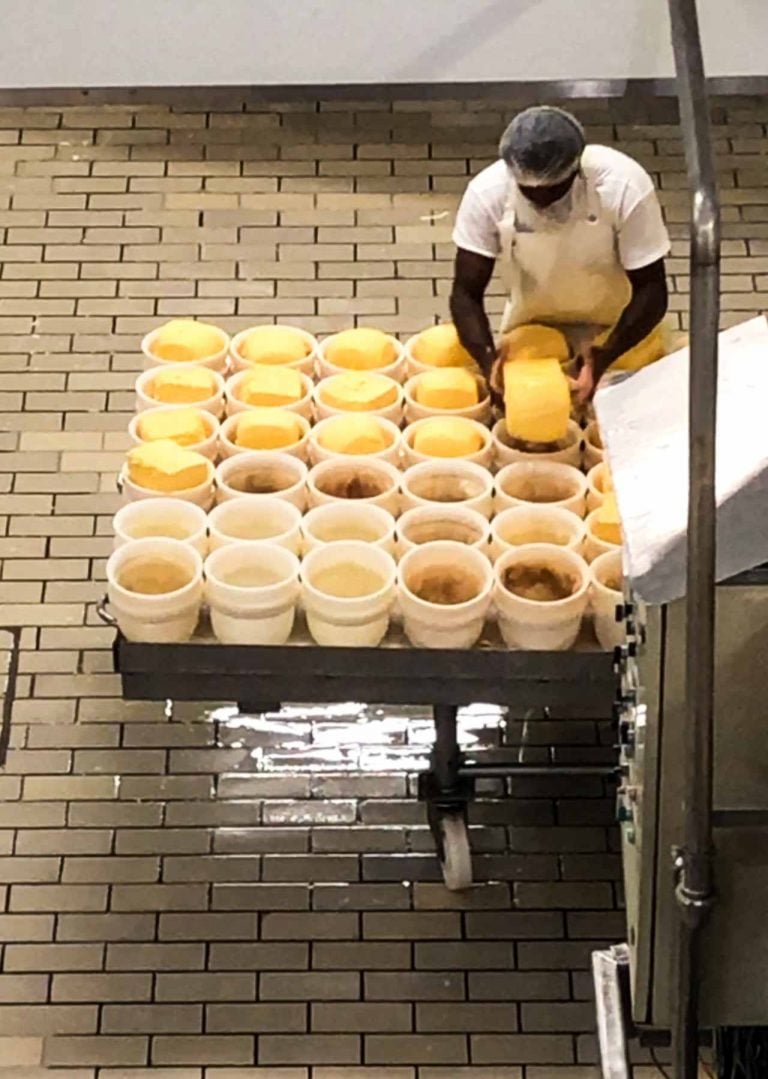 This pâte pressée cheese then gets pressed about 1 1/2 hours after the curds are put into the molds (below), using 20 kilos (44 pounds) of pressure to reinforce the shape of the cheese, and to remove moisture. When making a young cheese like Camembert, they want to retain more of the humidity of curds, as Camembert is sold younger, so it's wetter), Mimolette is a drier cheese, and it often aged for years.
The rounds of Mimolettes get a salt bath, which lasts about three days, a step which further helps to draw out more moisture, and provide a little flavor.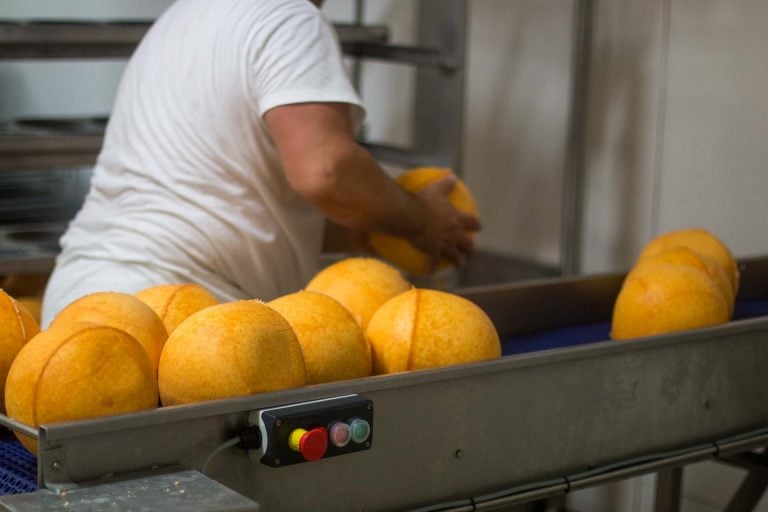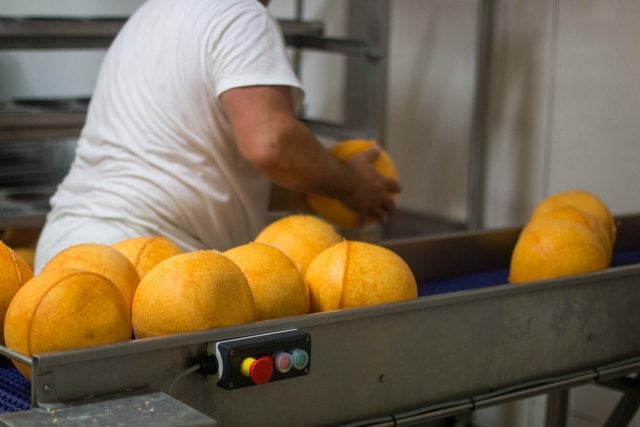 The cheeses are then put on racks, ready to go to their next stop, which is the ripening cave.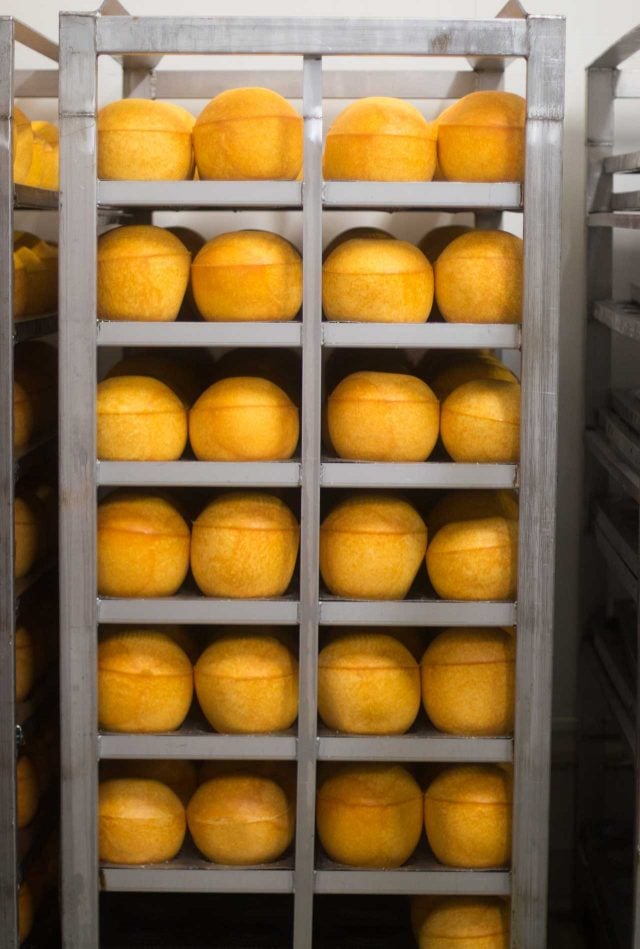 The ripening cave at Isigny Ste. Mère holds 700,000 cheeses, each getting turned every two days, by hand.
They're put on wooden boards, something that regulators in Europe and in the U.S. have questioned, but they're the best way to ripen cheeses since they allow air to flow around them and the wood absorbs some of the moisture, too.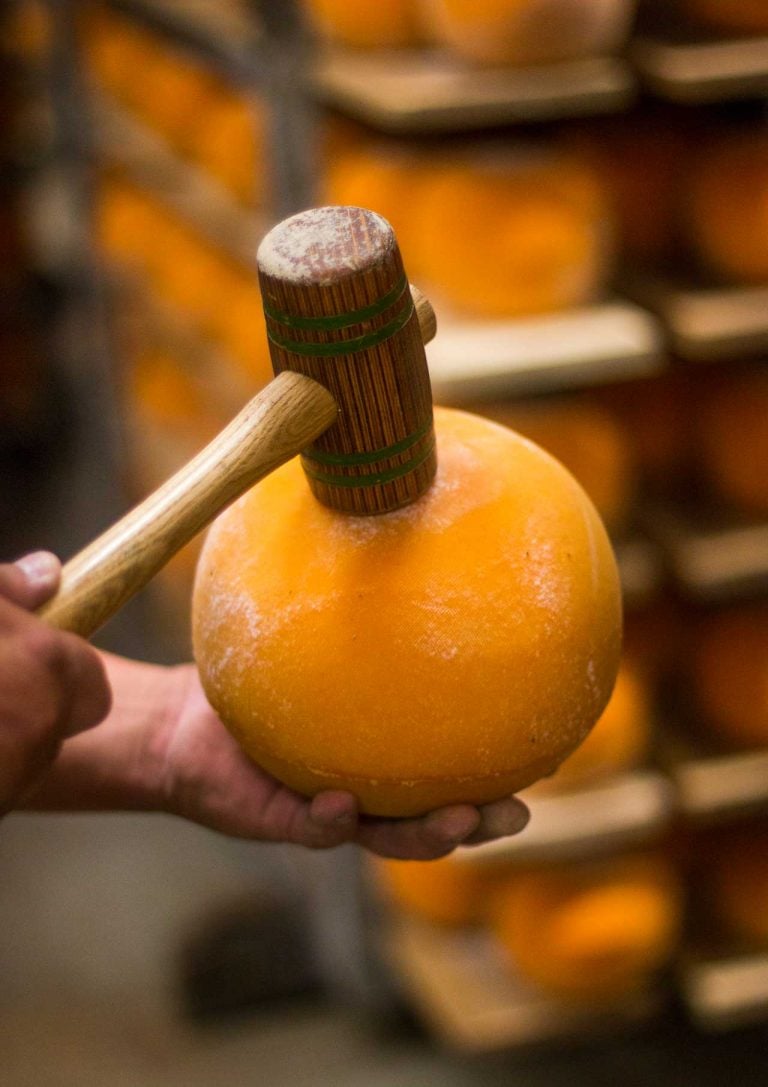 About 6 months into the ripening, the cheeses are rapped with a wooden mallet. If the cheese vibrates too much, it may have air bubbles inside and will be sold young, up to 6 months old. If the noise is muffled, it'll get aged longer, up to 24 months at Isigny Ste-Mère. A few other cheesemakers age some of their Mimolettes longer, but those are quite rare. They're quite sharp and their dry pâte makes them a challenge to cut into slices.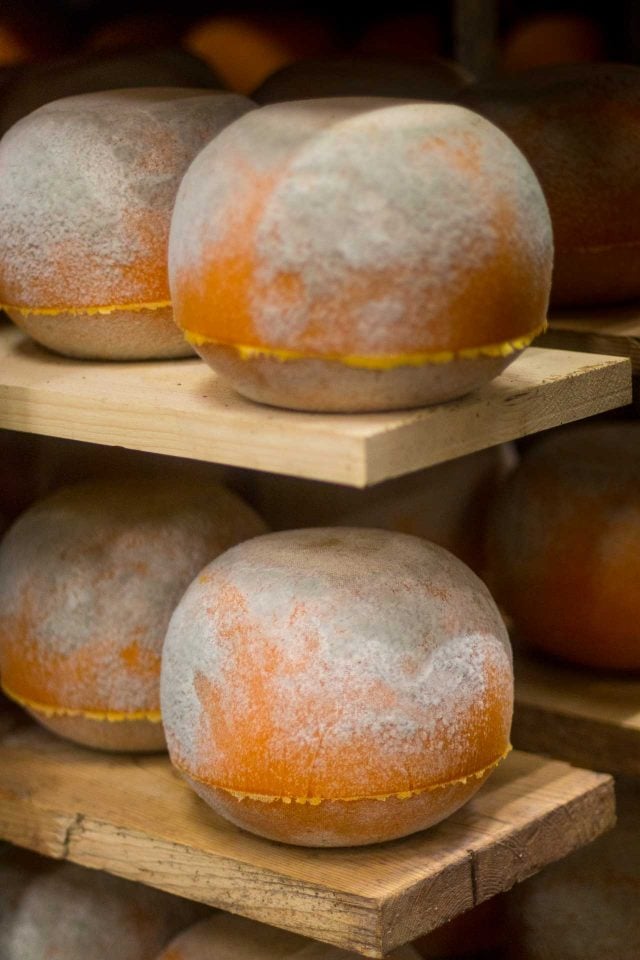 After ripening on wood, the cheeses are moved to another cave, where they rest on netting, allowing the natural mold to grow uniformly around the entire cheese.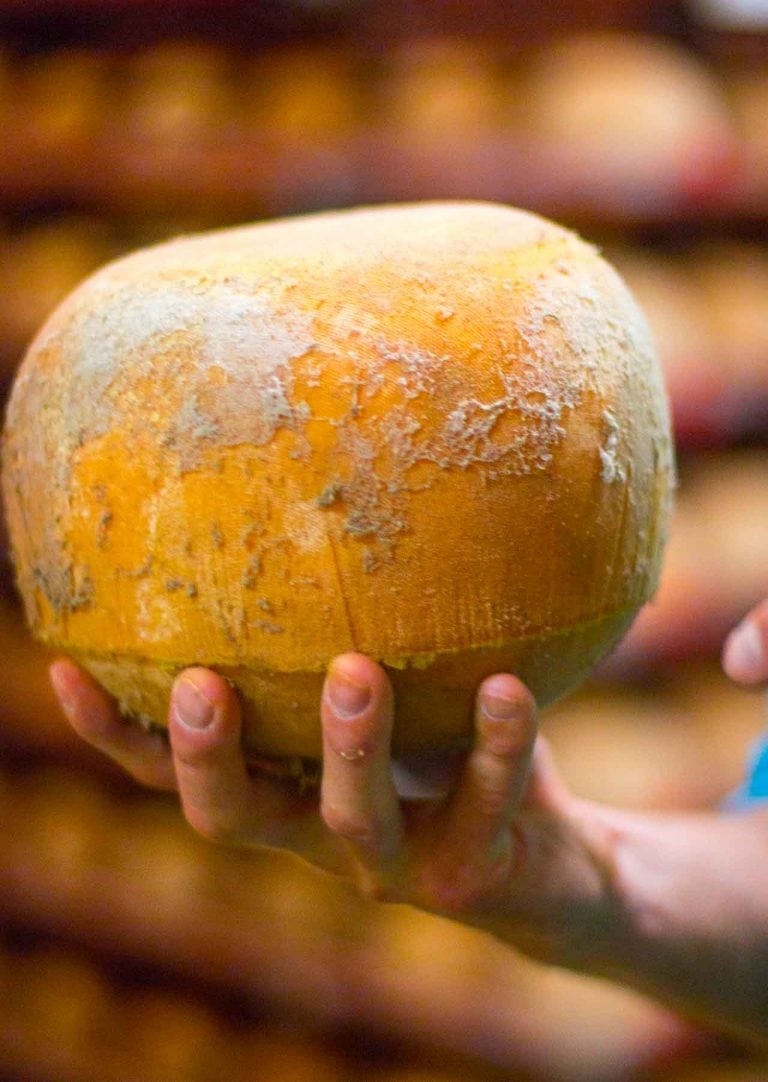 During this period, the famous (or infamous) cheese mites "attack" the cheese, eating into the crust, which gives Mimolette a lunar-like surface. The older the Mimolettes get, the more crusty and mottled the cheese becomes. This one below has been ripening for 1 1/2 years and is covered in mites.
You can see the difference between the young and older Mimolettes below. Jeune (young) Mimolette means the cheese has ripened three months and demi-vieille means the cheese has ripened 6 months. Both versions are sweeter and creamier than the more aged varieties. Vieille Mimolette has aged for 12 months, and those Mimolettes have a nuttier flavor and firmer texture. Anything over 12 to 18 months is called extra-vieille. Grand réserve Mimolettes, which you rarely see, are aged two years or longer.
On a side note, another famous "export' from Isigny is…Disney. The family name comes from "d'Isigny," which means "from Isigny." The story is recounted here, and if you visit the region, make sure to visit the Muséal Walt d'Isigny. Opened in 2018, the museum displays part of the collection of a local, Annick Adam, a Frenchwoman who spent decades obsessively collecting Mickey Mouse memorabilia. Which must have been quite a challenge before the internet came along.
Neither Ry or I were lured to Normandy to look at a collection of Mickey Mouse stuff – we'd come for the butter, caramels, calvados, and cheese – but we were both wowed by everything. So it's not because mice like cheese, but to commemorate the alliance between Disney and Isigny, Isigny Ste-Mère produces a special extra-vieille Mimolette with Mickey Mouse on it.
After we took off our lab coats and yellow vests (and charlottes), we sampled the different types of Mimolette.
Oh, and about those mites. Before leaving the factory, the mites are brushed off by hand, or with compressed air. Any lingering mites don't survive the sous-vide (vacuum sealed) process, for export. So (hopefully) you can enjoy Mimolette wherever you are.