German Apple-Almond Cake
German baking, I don't think, gets its due. It's partially because the names of the pastries and baked goods don't exactly roll right off most of our tongues. Kartoffel-Käse Dinnede, Zitronenbiskuitrolle, Aachener Poschweck, Schwäbischer Prasselkuchen, and, well…I'll quit now, because it's taking me too long to hunt down all those keys on my keyboard. And I'd rather be wrapping my tongue around German cakes and cookies, rather than trying to wrap it around their names.
Fortunately Luisa Weiss, who writes one of my favorite blogs, Wednesday Chef, has published them in a very accessible collection of recipes, Classic German Baking. This beautifully written cookbook features traditional German favorites, adapted for kitchens everywhere. (And yes, there's a guide at the end of the book for how to pronounce everything.) It's one of those cookbooks that you'll bookmark several recipes in on your first glance, like I did. Then during the next few weeks, you'll spend your way baking through them.
Luisa was born in Berlin. Her mother is Italian, and she's lived in Germany, France, and the United States. So you'll be happy to hear that all the cakes, cookies, tortes and kuchens are completely do-able in any kitchen, using ingredients that are easy to get. And for the few that might pose a challenge, like spiced plum butter and quark, she gives recipes on how to make them yourself.
Before Luisa moved back to Germany a few years ago, in New York, she was a noted cookbook editor, so the recipes are well-written and carefully explained. I've bookmarked the recipe for Basler Leckerli, the Swiss cookies that take a few weeks to cure. (I made them once, not from Luisa's recipe, and mine came out as hard as bathroom tiles.) So I'm anxious to give them another shot, and those are next on my list.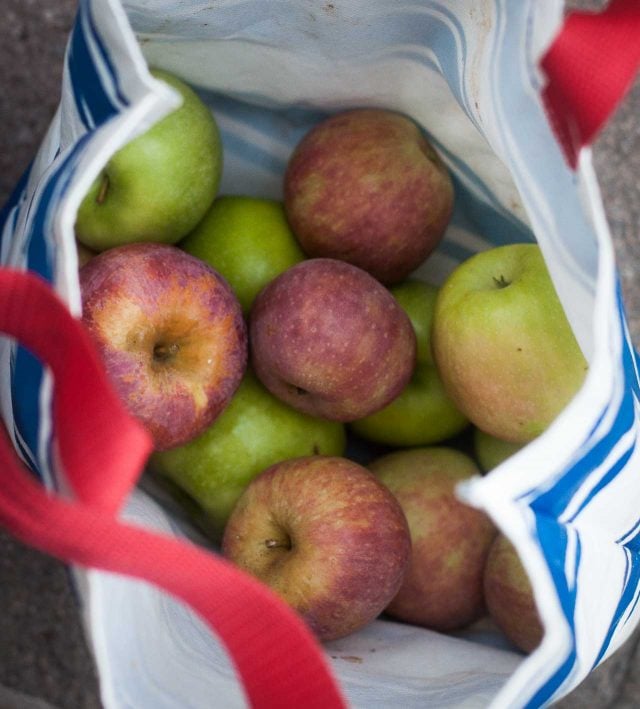 For the holidays, there's Christbrot, a Christmas Bread that's a much easier take on Stollen. And those glorious squared of Bienenstich, a buttery cake with honey-caramelized almonds on top? Yes! Or however you say "yes" in German…
I was gifted some apples by a neighbor who did some picking, and had a packet of almond paste on hand from a visit to Sicily, and put them to use in the easy to pronounce Apfel-Marzipan-Kuchen. It's a rich almond-scented cake with loads of apple flavor, which I think is understandable to anyone.
Like all apple desserts, the flavor of this custard-like cake really depends on how good the apples are. Supermarket apples are usually quite dull in flavor and bred for looks, so they remain blemish-free. Flavor is often secondary.
Because we see apples all year round, it's easy to forget that they are a seasonal fall fruit. So now is the time of year to gather some good ones, and I recommend that you hit the farmers' market and find some heirloom or locally grown varieties, which will take this kuchen, or cake…übertrieben (over the top).
| | |
| --- | --- |
| German Apple-Almond Cake | Print Recipe |
Adapted from Classic German Baking by Luisa Weiss I used a mix of apples, some tart, some less-so. Do use good-quality, flavorful apples, preferably ones from a farmers' market, which taste better than supermarket varieties. For suggestions on which apples to use, ask the people at the farm stand or choose those that have a fragrance. Apples are related to roses, so often have a faint, yet lovely, rosy smell. If your apples are small, use 6 of them. Luisa recommends grating the almond paste, which I didn't do, so I had to run the mixture through a food processor. Since my almond paste was "artisanal" it wasn't as moist as what you buy at the grocery story, so that may have been the culprit. So I recommend grating the almond paste in step #4.
4
medium
apples,
(1 3/4 pounds, 800g)
1
lemon,
zested and juiced
7
ounces (200g)
almond paste
14
tablespoons (200g)
unsalted butter,
melted and cooled
1
teaspoons
almond extract
4
large
eggs,
at room temperature
1
cup, 3 tablespoons (150g)
flour
9
tablespoons (80g)
cornstarch
1. Butter a 9- to 10-inch (23cm) springform pan and line the bottom with parchment paper.
2. Peel and core the apples. Divide the lemon juice into two separate bowls. Slice two of the peeled and cored apples into 1/2-inch (1,25cm) slices, and toss the apple slices in one bowl of lemon juice. Dice the other two apples into 1/3-inch (1cm) cubes. Toss in the other bowl of lemon juice.
3. Preheat the oven to 350ºF (180ºC).
4. Using a grater with large holes, grate the almond paste into the bowl of a stand mixer fitted with the paddle attachment. Add the sugar and salt and mix until the almond paste is finely broken up.
5. Add the melted butter, almond extract, and lemon zest, and continue mixing until smooth. Add the eggs one at a time, stopping the mixer and scraping down the sides of the bowl after each addition.
6. Whisk together the flour, cornstarch and baking powder in a small bowl. Stir the dry ingredients into the almond batter mixture by hand, then fold in the diced apples, along with any lemon juice in the bowl.
7. Scrape the batter into the prepared pan and smooth the top. Place the sliced apples in concentric circles on top of the batter, pressing them in very lightly.
8. Bake the cake until the top is golden brown and a toothpick inserted into the center comes out clean, about 1 hour and 10 minutes.
9. Remove the cake from the oven. Warm the apricot jam in a small saucepan and brush it over the top while the cake is hot. Let the cake cool completely, then run a knife around the inside of the cake pan to release the cake, and remove the sides of the cake pan. Brush the top of the cake with the apricot jam.
Serving and storage: This cake is so moist, it doesn't require any accompaniment. However softly whipped cream, perhaps lightly spiced with cinnamon or allspice and a bit of vanilla or Cognac, would be welcome. Cinnamon ice cream would be lovely. The cake can be kept at room temperature for 3-4 days. Avoid freezing it, which could make it soggy.
FAQs
Can I make my own almond paste?
I've not done it but it takes a very powerful machine (food processor) to get it as finely ground as purchased almond paste. Luisa has a recipe in her book (page 264) for those who want to give it a go. In the United States, I like Love 'n Bake, but the tubes and packages of it sold in supermarkets (such as Solo or Odense brands) are generally of good quality, too.
Can I use marzipan?
Most marzipan is meant for modeling, so has more sugar (and sometimes glucose) added, to make it more pliable. So use almond paste, not marzipan. Nigella Lawson says that almond paste in England is called marzipan. So check that link for advisements if you live in the United Kingdom.
Can I make this without nuts?
Unfortunately, I don't know of a nut-free substitute for almond paste.
Does it matter if my almond paste is blanched or unblanched?
It's generally a matter of preference and what's available. Either will work in this recipe. Unblanched almond paste is darker in color, but harder to find.
Is there a good way to remove this from the pan, for presenting and serving?
You can run a knife or spatula underneath the kuchen to remove it from the pan bottom and lift it slightly with a spatula, then futz underneath to peel off the parchment paper and slide it onto a serving platter. (It sounds complicated, but it actually quite easy as the cake is not fragile. You can also use a glass bottom springform pan and omit the parchment paper.
Related Recipes