I rarely make bread for reasons that should be obvious: it's hard to justify spending the day at home mixing, kneading, and baking bread when you live in a city where there's likely at least four very good bakeries within a two block radius. Unless, of course, it's the middle of winter and the idea of braving 0º temperatures is less-than-appealing.
Before the deep-chill set in this week, the previous week I was going to my dentist, and stopped in at the nearby Kayser bakery* (one might say I chose my dentist based on the proximity to that bakery, but I'll deny it), and they were selling their terrific Stollen, which they make for the holidays. The small loaves cost only €3, which makes them, in my opinion, the best bargain in Paris.

I thought it was a typo, but sure enough, at the register, that was indeed the correct price. After I handed over a few coins, I slid one in my bag and headed home, where it got devoured pretty quickly.
The problem was, after I polished off that one, I wanted more. But looking out the window at the snowy tundra that Paris became this week, laziness got the best of me and staying inside was the more comfortable, and prudent, option.
For some reason, I didn't get the memo when I moved to Paris that winter actually existed here. One keeps hearing people swoon about 'Springtime in Paris', but the grisaille of Paris, the drab winter when the sun is kaput by 5pm, isn't exactly conducive to jubilation. And the spectacular beauty of the city blanketed with snow can be enjoyed from the confines of one's apartment, I've discovered.
When I moved to California twenty or so years ago, I left all my winter duds behind in New York. But a few year later, when the first Arctic blast of Paris winter made my California-friendly jacket as effective as a wispy Victoria's Secret teddy, I had to do some serious shopping for winter duds. I'm wised up and ready, and just to step outside, I now bundle up in long underwear, silk glove liners, mittens, winter cap, silk undershirt, a thermal top, a sweater, a vest of polarfleece (which is normally interdit in Paris, unless it has a nautical motif), wool overcoat, all finished with an expertly-tied scarf, the mark of the vrai Parisien that I aspire to be.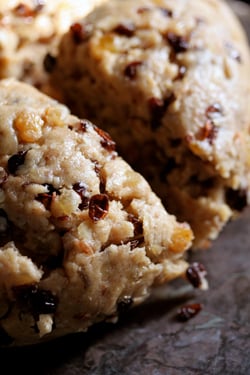 Speaking of California, a while back I spent time in the kitchen at Spago in Los Angeles, and remember Wolfgang Puck telling us how they used to make Stollen when he was a kid and worked in a bakery in Austria: "Vee took a lot of butter, melted it in a veery veery beeg pot…" (making a big circular hoop with his arms to show us how big it was) "….and ve vood dunk zee whole loaves in it!"
This Stollen recipe, which is for those you not afraid of butter, uses nearly a pound, 1/2 kilo, of it. That said, it's meant to be served in small slices and around the holidays. So you have at least four months to work off all that butter before you can't hide behind that bulky polarfleece sailing vest any longer.
This is a fairly close adaptation of a recipe Melissa Clark wrote for the New York Times, from Hans Röckenwagner. And since I wasn't so keen on getting bundled up and heading across town for more Stollen, I decided to give it a try in my kitchen.
(Aside from being grounded at home for most of the day when baking bread, when a recipe says, "Put in an warm place for an hour", I want to say, "If there was a warm place in my apartment, I'd be resting there instead of the dough" because my apartment is barely warmer than outside.)
I veered from the recipe, making four small loaves rather than two big ones. And if you're expecting all that mixing and rising to make a dough that's puffy and light, this ain't it. With several cups of dried fruit, candied peel, and nuts, these are dense little dough balls of holiday cheer.
People sometimes make disparaging remarks about Stollen, because the loaves can be dense and not especially delicate. And these were no exception. I liked them because they weren't too sweet, but they are quite "substantial" in heft. So like Paris in the winter, one shouldn't expect anything light and spring-like.
Three of my loaves of Stollen got given away as gifts, and I saved one for me. But when that's gone, I think I'll brave the elements and head back over to his bakery, and let Eric Kayser do all the work. While I'm no slacker when it comes to do-it-yourself cooking projects, I'm just not a bread baker, and am happy to leave it to others from now on. But if you're trapped indoors with some time on your hands, kneading some Stollen dough might be just the thing to warm you up.
Stollen
Adapted from the
New York Times
from a recipe by Melissa Clark and
Hans Röckenwagner
. I made some changes, including adding some rye flour, for extra flavor. But that makes the loaves slightly heavier, so feel free to use all-purpose flour in its place if you wish. You can certainly swap out any dried fruits you want although I'd keep the tang of the dried cherries or cranberries in there, if you can find them; the little nuggets will brighten up your winter just a bit.
2/3

cup (110g)

dark raisins

2/3

cup (110g)

golden raisins

,

(sultanas)

1/2

cup (80g)

dried cranberries or cherries

1/3

cup (80ml)

dark rum or orange juice

1

cup (160g)

slivered or sliced almonds

,

lightly toasted

1/4

cup (60ml)

water

2 1/2

teaspoons

(one envelope, 20g) powdered yeast

1/2

cup (125ml)

milk (whole or low-fat)

,

at room temperature

3 1/2

cups (490g)

all-purpose flour

1/2

cup (80g)

rye flour

,

or use similar amount all-purpose flour

1/2

cup (100g)

plus 3 tablespoons (45g) sugar

1 1/2

teaspoons

ground dried ginger

1

teaspoon

sea salt

1

teaspoon

ground cinnamon

1

teaspoon

ground cardamom

1

teaspoon

freshly-grated nutmeg

1

teaspoon

grated lemon or orange zest

,

preferably unsprayed

3/4

teaspoon

vanilla bean paste or extract

1

cup (225g)

plus 3/4 cup (170 g) unsalted butter

,

melted

1

tablespoon

honey

1

large egg yolk

1/2

cup (50g)

chopped candied ginger

1/2

cup (50g)

diced candied citrus peel

1/2

cup (70g)

powdered sugar

,

or more, if necessary
Mix both kinds of raisins with the cranberries or cherries with the dark rum or orange juice, then cover. In another bowl, mix the almonds with the water, and cover. Let both sit at least an hour, or overnight.

Pour the milk in a medium bowl and sprinkle the yeast over it. Stir briefly, then stir in 1 cup (140 g) of the flour until smooth to make a starter. Cover, and let rest one hour.

In the bowl of a stand mixer, with the paddle attachment, or by hand, stir together the remaining 2 1/2 cups (350 g) flour, the rye flour, 3 tablespoons (45 g) sugar, 1/2 teaspoon of the dried ginger, salt, cinnamon, cardamom, nutmeg, citrus zest, and vanilla. Pour in the 1 cup (8 ounces, 225 g) of the melted butter, honey, and the egg yolk, and mix on medium speed until the mixture is moistened uniformly.

While mixing, add the yeasted starter, one-third at a time, mixing until thoroughly incorporated. Once added, continue to beat for about four minutes until almost smooth: it should resemble cookie dough. Add the dried fruits (and any liquid), candied ginger, citrus peel, and almonds, and beat until they're well-distributed

Turn the dough out onto a lightly-floured surface and knead a few times, then place back in the mixer bowl, cover, and let rest in a warm place for one hour.

Remove the dough from the bowl, knead the dough again, then return it to the bowl. Let rest for another hour.

Divide the dough into four pieces and shape each one into a oval, and place them evenly-spaced apart on an insulated baking sheet. (The original recipe says to stack two rimmed baking sheets on top of each other, so you can do that if you don't have one.)

Cover the loaves with a clean tea towel and let rest in a warm place for one hour.

Preheat the oven to 350F (180C). Remove the tea towel and bake the loaves for 45 minutes, or until they're deep golden brown. (Note: Recipe advises that when they're done, the internal temperature should read 190F, 88C if using an instant reed thermometer.

While they loaves are baking, mix together the remaining 1/2 cup (100 g) sugar and 1 teaspoon dried ginger. When the breads come out of the oven, generously brush the remaining 3/4 cup (6 ounces, 170 g) melted butter over the hot loaves, letting the butter saturate the breads, repeating until all the butter is absorbed. (I was a daredevil and lifted the loaves, to saturate the bottoms. Which you can do if you feel nimble enough so you don't break the loaves.)

Rub the gingered sugar mixture over the top and side of each loaf then let rest on the baking sheet until room temperature.

Sift the powdered sugar over, under, and around the breads, rubbing it in with your hands. They wrap the loaves on the baking sheet in a large plastic bag and let them sit for two days. After two days, the loaves are ready to eat, or can be wrapped as gifts. You may wish to sift additional powdered sugar over the top in case they need another dusting.
Notes
Storage: Stollen can be stored for at least a week, if well-wrapped, at room temperature. Or frozen for at least one month.
Interesting Stollen Recipes from Around the Web
Extra Moist Stollen (Dan Lepard)
Marzipan Stollen (LA Times)
Stollen (Sara's Secrets, Food Network)
Stollen Moments (King Arthur Flour)
Quark Stollen (Delicious Days)
Stollen (Joe Pastry)
Gluten-Free Stollen (Gluten a Go-Go)
Faux Stollen (Roving Gastronome)
Joy of Cooking Stollen (Under the High Chair)
Date, Almond and Clementine Stollen (The British Larder)
*If you do go to Kayser bakery on the rue Montorgeuil around the holidays, do stop in to Stohrer for some Zimtsterne, another favorite Christmas treat in Paris.