Panforte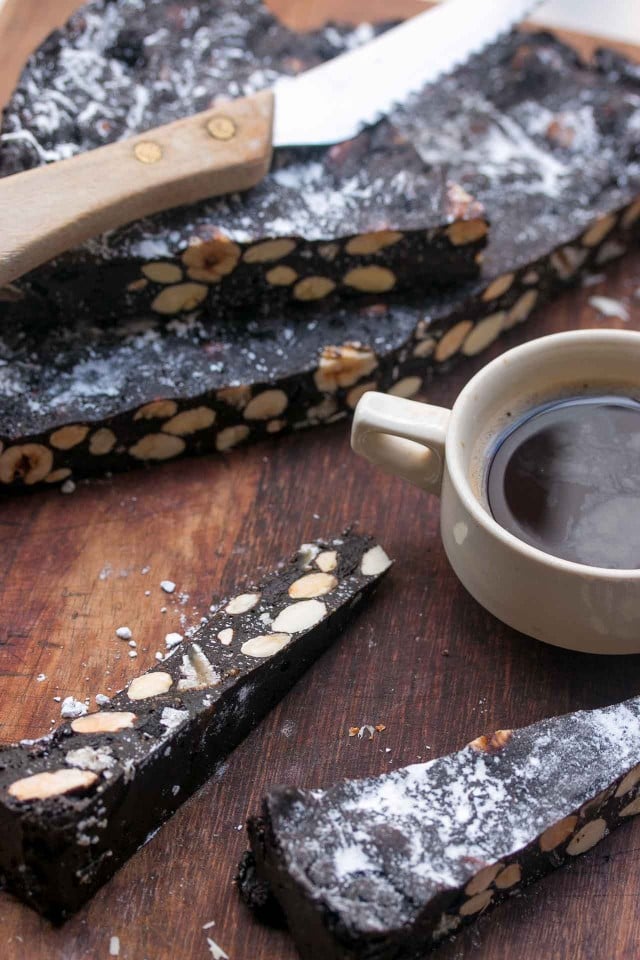 Even before the holidays get started, I always make sure that I've got all the ingredients on hand to make one of my very favorites desserts: Panforte. Honey, cocoa powder, almonds and hazelnuts I usually have around, for sure, and I make sure to make a batch of candied citron when I find citrons at the market, too.
Panforte is traditionally found in Tuscany. Or more specifically, in Siena, a place I've not been. But if I did go, I probably would never leave because a friend went once and brought me back an overwhelming assortment of different kinds of panforte di Siena for me to sample. And let me tell you — I was beyond thrilled to have so many to try.
Technically speaking – and I know you're out there – this is panpepato, or spiced bread, in Italian. And speaking of fact-checkers, one might be able to quibble with Italians calling this "bread", since it more closely resembles a fruitcake or another confection of some sort. But I've learned not to argue with Italians, unless there are unlimited amounts of red wine on hand.
I've been told that Italians in some regions don't use black pepper because it was imported, and they were upset with the people who oversaw the ports who long-ago heavily taxed imported goods. Hence folks started using red pepper, which could be grown right in their own yards and didn't need to use the pricey black pepper. Perhaps someone was just telling me a story. So just to be on the safe side, I used both in mine. To my taste, this panforte is just right; not too spicy and not too sweet. I love it with dark coffee in the afternoon and a wedge makes a lovely holiday gift.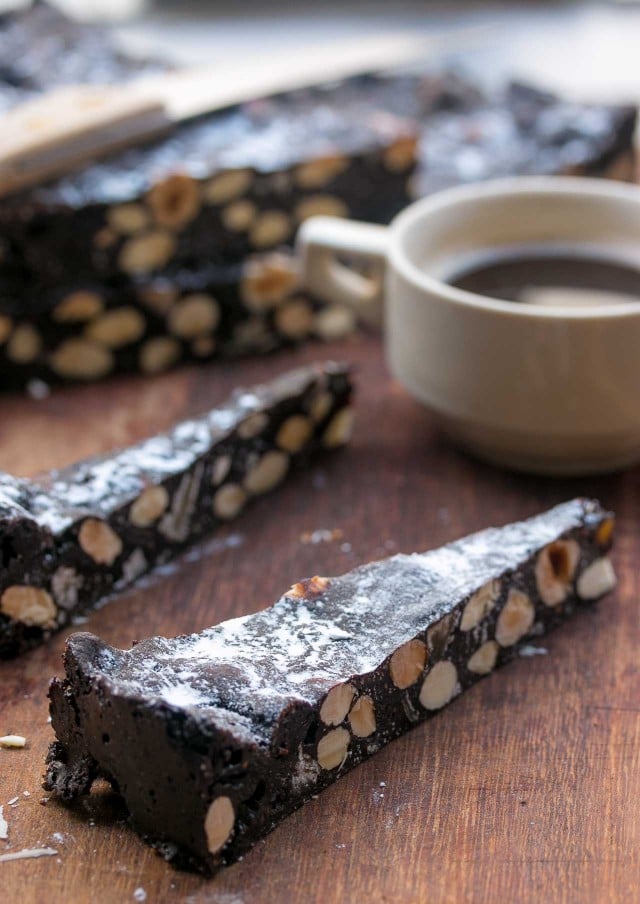 You can certainly take some liberties with this recipe, swapping out other kinds of nuts or candied fruit: candied orange will do nicely, and if you don't want to make your own candied fruit, you can buy good-quality candied fruit in well-stocked grocery stores and spice markets. It's best cut into thin wedges and because it's forte, a good sharp knife is helpful to have on hand for slicing this.
To skin hazelnuts, rub the still-warm toasted nuts in a tea towel, to get off as much of the skins as possible. The nuts can be toasted in a 350ºF/180ºC oven for about 10 minutes first. If you want to make your own candied citron, you can find my recipe at that link. You'll often see Panforte baked on rice paper (or made of another edible starch), which is harder to get than parchment paper. You can buy sheets of wafer paper online, and cut them to size.
5
tablespoons (40g)
unsweetened cocoa powder
(Dutch-process or natural)
2 1/2
cups (325g)
nuts; any mix of walnuts,
almonds, or hazelnuts, toasted
1
cup (200g)
chopped candied citron or another candied citrus
1
tablespoon
ground cinnamon
2
teaspoons
ground ginger
1 1/2
teaspoons
freshly ground black pepper
1/2
teaspoon
red chili powder
3
ounces (85g)
bittersweet or semisweet chocolate,
chopped
extra cocoa powder,
for dusting the pan
powdered sugar,
for dusting the panforte
1. Preheat the oven to 325ºF (160ºC.)
2. Spray a 9 to 10-inch (22-23cm) springform pan with nonstick spray. Dust the inside with cocoa powder, making sure to get it up the sides. Line the bottom with a round of parchment paper.
3. In a large bowl, mix together the cocoa powder, nuts, flour, candied citrus, cinnamon, ginger, black pepper, nutmeg, and red chile powder. Use your fingers to make sure all the ingredients are separate.
4. Melt the chocolate in a small bowl set over a pan of simmering water. Set aside.
5. In a pan fitted with a candy thermometer, heat the sugar and honey until the temperature reads 240ºF (115ºC.)
6. Pour the hot honey syrup over the nut mixture, add the melted chocolate, and stir well. Scrape the batter into the prepared pan and smooth the top. I start by using a spatula and as the mixture cools, once it's cool enough to touch, I use a dampened hand to get it flat.
7. Bake the panforte for 30 – 35 minutes; the center will feel soft, like just-baked custard; if you touch it, your finger will come away clean when it's done. (Do not overcook it, or it will be too firm once cooled.) Let the panforte cool on a wire rack for 15 minutes, then run a knife around the edge to loosen it from the pan. Remove the springform carefully (sticky edges might tear, so keep an eye out), then let cool completely.
Once cool, remove the bottom of the springform pan and peel away the parchment paper. Sprinkle the panforte with powdered sugar and rub it in with your hands.
Storage: Panforte can be kept for several months, well wrapped, at room temperature.
Related Links and Recipes
Panforte (King Arthur Flour)
Panforte (Divina Cucina)
Candied Citrus Peel (Simply Recipes)
Panforte with Candied Quince (Wednesday Chef)