French Apple Tart (Tarte normande)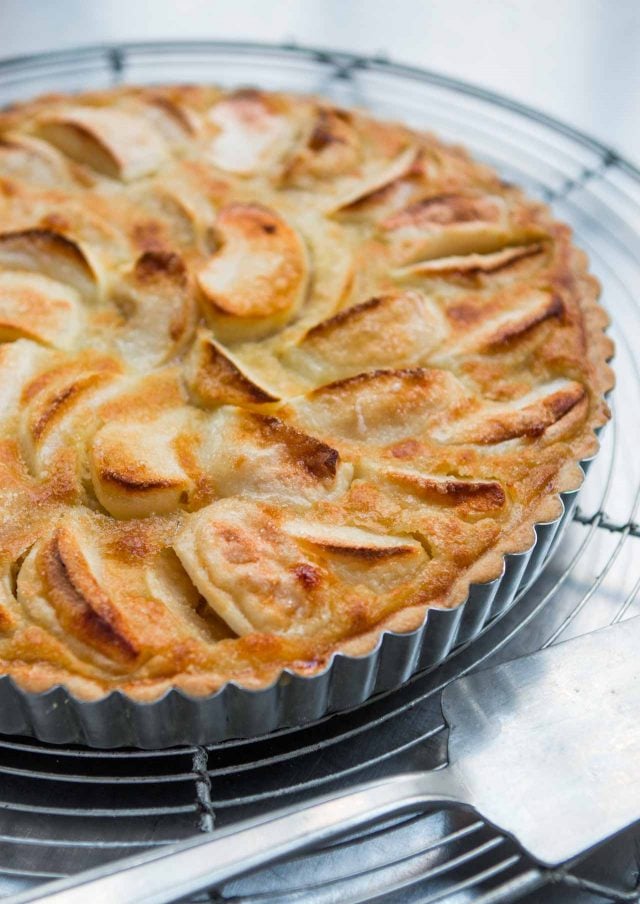 It's the season for apple tarts, Fall, when the biggest bounty of apples shows up at the market. I've had to learn about all sorts of other varieties of apples since the ones available in France differ from the ones in the United States that I was used to. But it's been a wonderful journey of discovery and I've found unusual varieties that were one day, abundant at the market, and the next week, all gone.
When I lived in California, we had some terrific apples, coming from places like The Apple Farm, which resurrected many varieties of "lost" apples, or what would be called in French – pommes oubliées. Thankfully most are as close as my local market.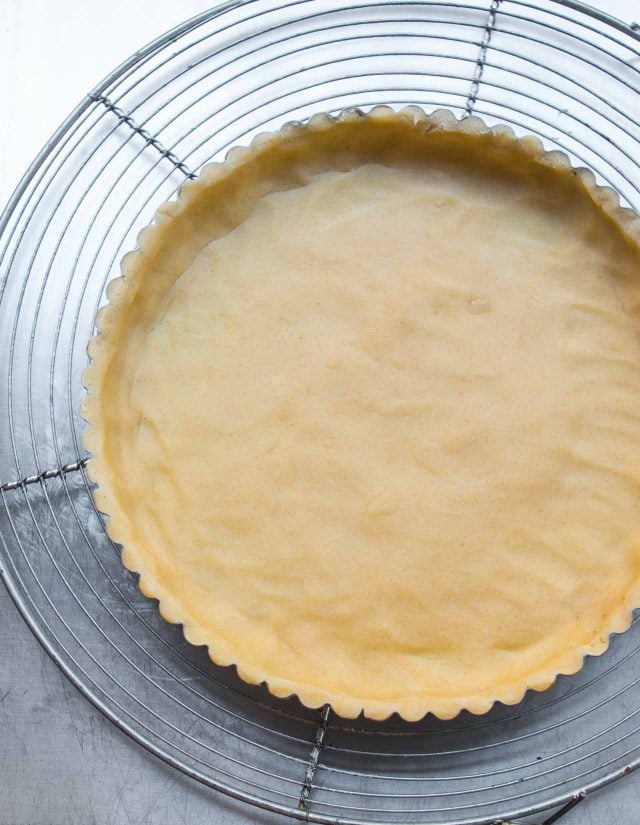 A few months ago, I posted about an apple tart that had won accolades as the best apple tart in Paris. Judging how many requests I get to name "the best" macaron, croissant, baguette, or bistro in Paris, it's a lot of pressure to name "the best" of anything. Fortunately, the best apple tart (and best baguettes in Paris) are decided by committees, rather than one individual, which takes the pressure to perform off for one single person to have to do the deed.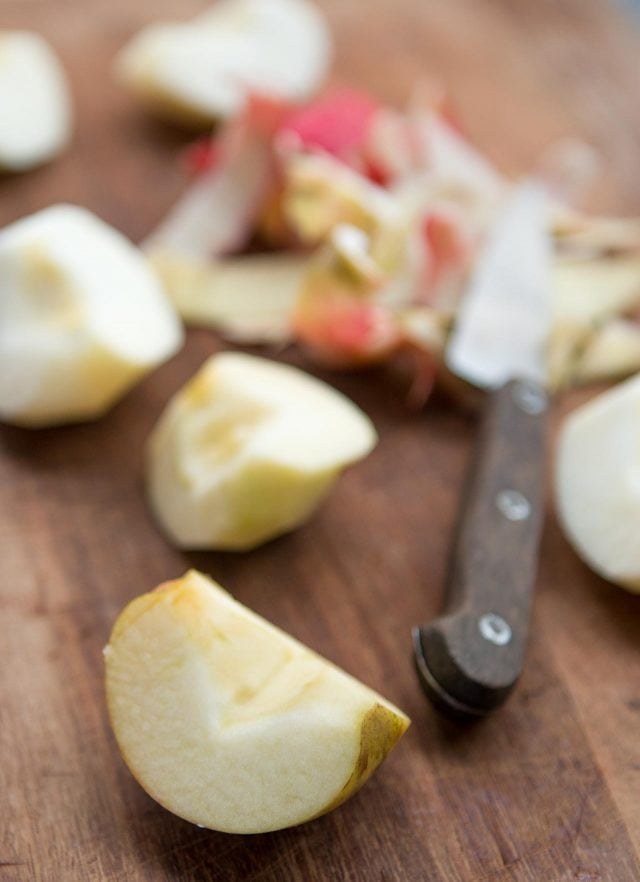 Home cooks also get a pass in France. In spite of magazines that promise to deliver the "crispest crust imaginable!" the search for superlatives, and "the ultimate" ends here. French home cooks and bakers cook without fear of reprisal for not reaching the same heights the local pâtissier does, and aren't as obsessed with perfection. Guests are appreciative when their hosts bake something homemade, overlooking details like an uneven crust or a few overly burnished spots.
Many classics, like the tarte Normande, fit that bill. It's meant to be a simple, unfussy dessert; apple slices baked under a buttery crust under a blanket of Calvados-spiked cream.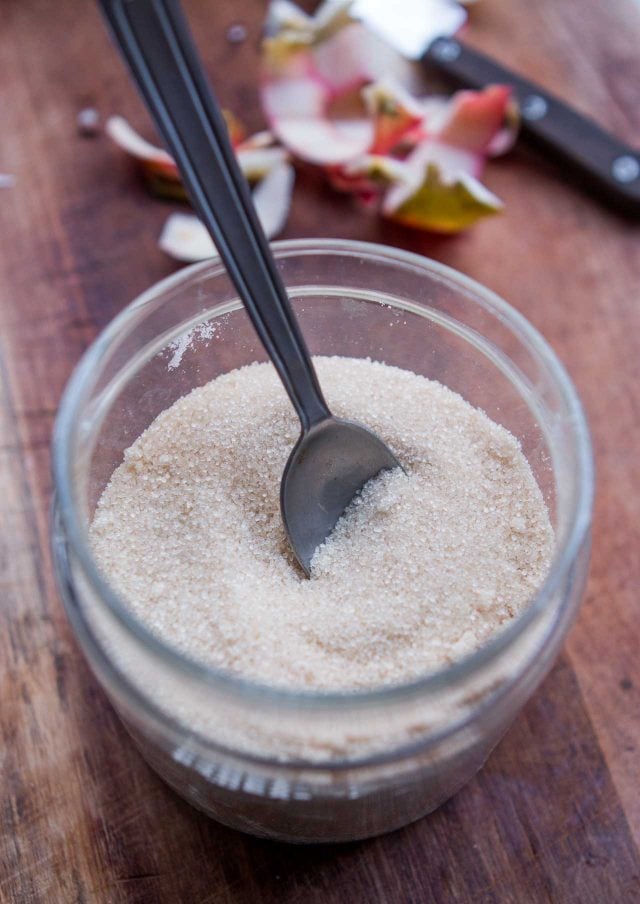 The crust on this tart is meant to meld with the fruit and custard filling, not be a completely separate entity. So it's not pre-baked. (If you want to do it, you're welcome to pre-bake the crust, lined with foil and pie weights, but I haven't seen any home bakers do that in France.) So I follow their example and just go for it, without adding the extra step.
Apples in France are sold by variety, but they change based on region and season. At the markets, vendors list what qualities each apple has: Croquant (crunchy), à cuire (meant for baking), acidulée (tart), so you can decide. If you don't have a local market, in the U.S., Braeburn, Granny Smith, Jonagold, and Winesap are flavorful apples that are good for baking.
The tart is called "Normande" because it uses heavy cream and Calvados, two staples of the hearty cuisine of Normandy. Notice there's no cinnamon; the French don't automatically put cinnamon on apple desserts, but if you feel compelled to add a pinch, I won't tell.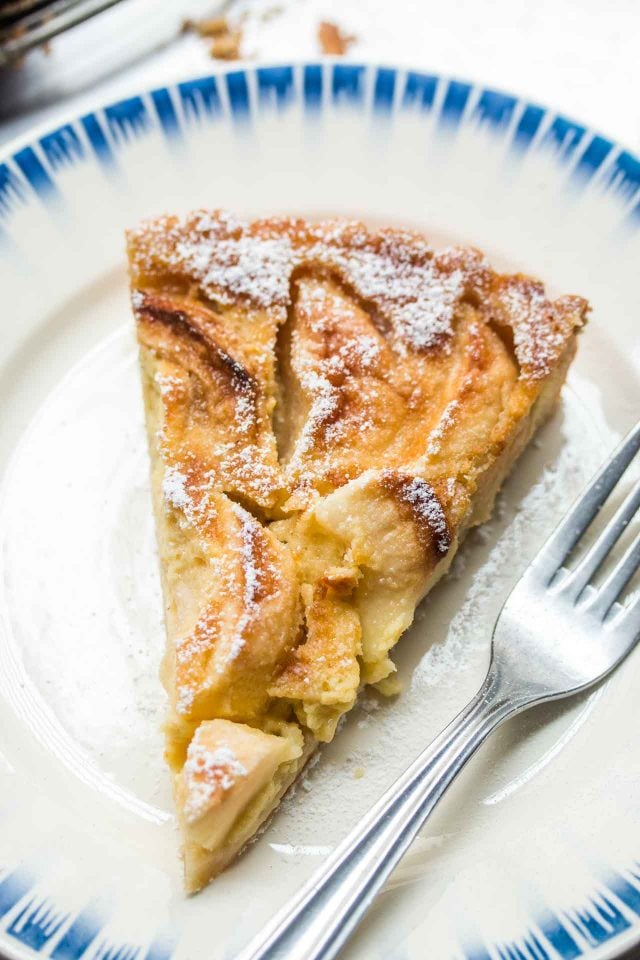 | | |
| --- | --- |
| French Apple Tart (Tarte normande) | Print Recipe |
Choose a full-flavored baking apple, and one that won't fall apart once baked. A trip to the apple stand at your farmers' market would be a good place to get advice about a local variety that's good for baking. You want one that's full-flavored, and to my taste, on the tart side. (If you like sweet apples, you could certainly use those.) I offered up a few varieties that are widely available in the post. To dial down the richness, you can swap out half-and-half for the cream in the recipe. Calvados is apple brandy from Normandy. You can substitute another apple brandy. If they're not available, you can use brandy, Cognac, or dark rum. If avoiding alcohol, omit the brandy and double the vanilla extract, although the tart gets its name, and flavor, from the brandy, so the taste will be different.
For the tart dough
6 tablespoons
(3 ounces, 85g)
unsalted butter,
cubed, at room temperature
For the filling
4
medium
apples,
(see headnote), about 1 1/2 pounds, 700g
1/2
cup (100g)
granulated sugar,
plus 2 tablespoons granulated or raw cane sugar, for finishing the tart
3/4
teaspoon
vanilla extract
2 1/2
tablespoons
calvados
1. Make the tart dough by mixing the butter and sugar together in a stand mixer fitted with the paddle attachment on low-to-medium speed, until combined, about 1 minute. (But do not whip.) Add the egg yolk and mix on low speed for 30 seconds. Mix in the flour and salt on low speed, until the dough comes together. If necessary, add a sprinkle of water if the dough feels too dry. Don't overmix it. (I often stop the mixer before the dough is done and mix it by hand, to avoid overmixing.)
2. Shape the dough into a disk and place in the center of a 9-inch (23cm) removable bottom tart pan. Use the heel of your hand, and fingers, to press the dough across the bottom and up the sides of the pan, getting it as even as possible. Refrigerate or freeze the dough until ready to use.
3. To bake the tart, preheat the oven to 350ºF (180ºC). Peel and core the apples, and cut them in eighths. Place the slices in concentric circles in the unbaked tart shell.
4. In a bowl, whisk together the eggs and 1/2 cup sugar, along with the vanilla extract and salt. Whisk in the heavy cream and calvados, until the mixture is smooth.
5. Pour the filling over the apples in the tart dough. Sprinkle the top with 2 tablespoons of sugar and bake the tart until deep golden brown on top, about 45 to 50 minutes. (The tart should not leak but if you are concerned it will, bake it on a parchment or foil-lined baking sheet.) Remove from oven and let cool on a wire rack.
Serving: Serve the tart warm or at room temperature. Normally tarts like this are served on their own but you can serve it with whipped cream or ice cream.
Storage: The tart is best enjoyed the day it's made. It can be kept up to 3 days but does not improve.