French Apple Tart: Tarte fine aux pommes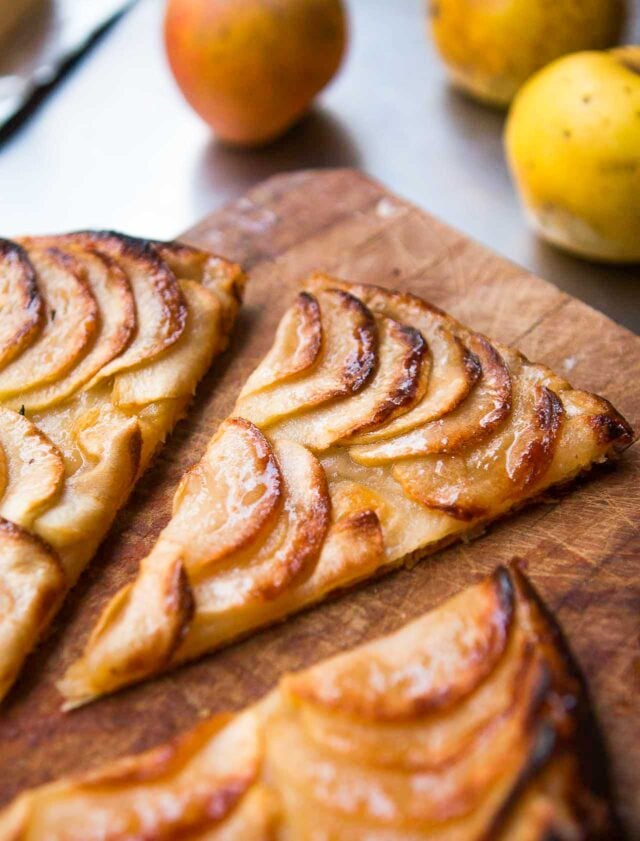 Come fall, you'll see tartes fines aux pommes in bakeries across France. In contrast to fancy pastries many pastry shops are known for, these thin apple tarts are French baking at its most basic, and at its best. A thin crust of buttery, crackly puff pastry with a fan of baked apples on top, then glazed, these simple tarts are normally served without any accompaniment, however you wouldn't get any complaints from me if there was a scoop of vanilla ice cream, cinnamon ice cream, or salted butter caramel ice cream, on top.
My discerning Frenchman likes things simpler and would tell me to leave it alone, but if I just happened to have some ice cream on hand, and was serving myself a scoop, I know from experience that he wouldn't refuse one, too.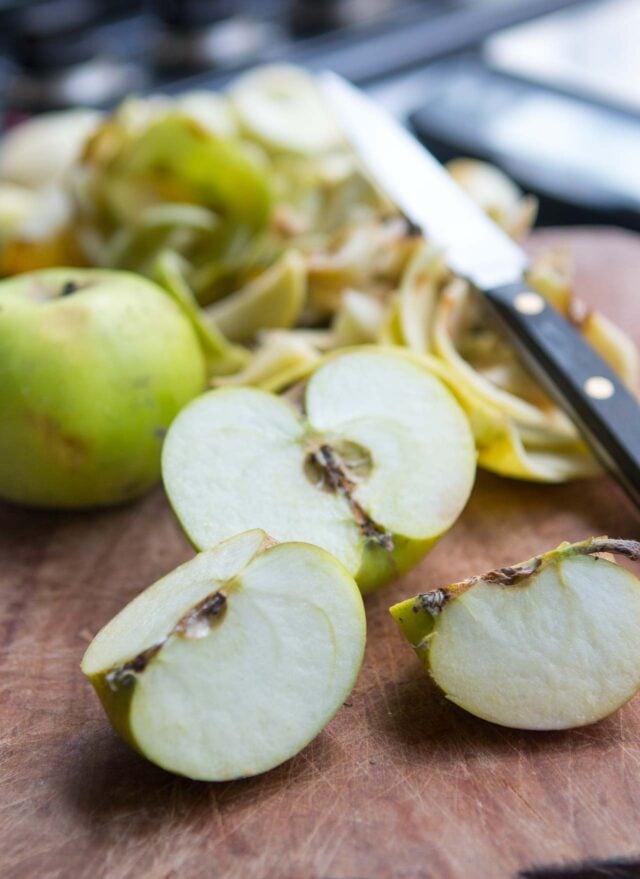 It's easy to want to complicate things, or add spices or whatever. But if you want to live like a local, the way to enjoy this tart is just as it is. That said, one variation you sometimes see is a layer of cooked-down apple puree spread under the apples before baking. But to me, good-tasting apples are enough. So try to find the best-tasting apples you can.
It's hard to recommend specific varieties since they vary by country and region, but seek out apples that won't get mushy when baked. (Macintosh apples, for that reason, are out.) At the markets in France, apples are labeled whether they are tart or sweet, crunchy or soft, and better for baking or for eating. When it doubt, if you ask, the vendor will have an answer and direct you toward the right one. (And sometimes madame behind you may chime in as well.) It may be a challenge to get to a greenmarket where you live, but if you can find a good, old-fashioned (heirloom) apple, those usually have the best flavor. When in doubt, Golden Delicious, Braeburns, and Jonagolds are reliable varieties.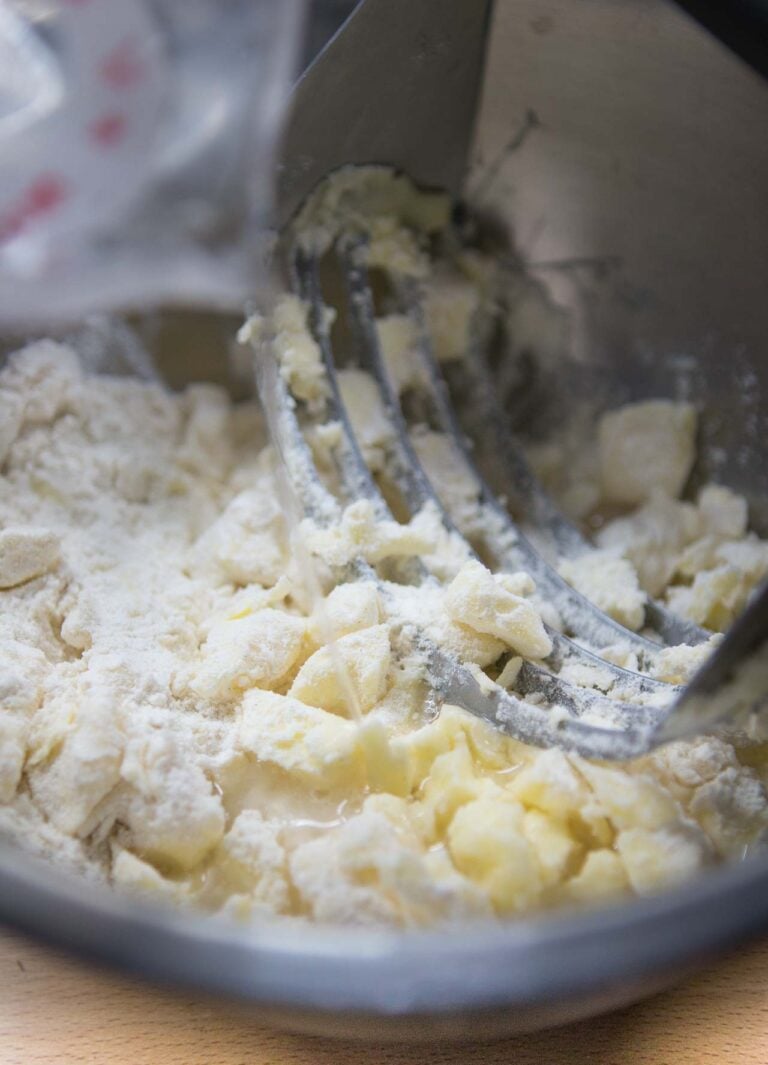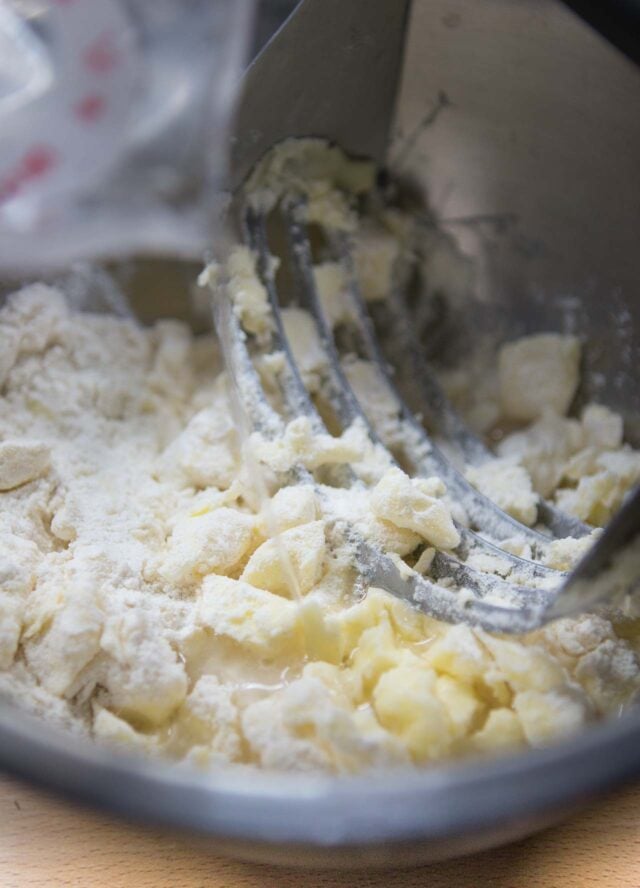 The dough is a riff off the "express" puff pastry in my book Ready for Dessert which we started making at Chez Panisse when my co-worker, the wonderful Linda Zagula, discovered that quick puff pastry almost nearly indistinguishable from the more laborious pâte feuilletée, the classic puff pastry, and is faster and easier.
There's no reason to hyperventilate – there's literally ten minutes of active prep time to make it. You roll and fold the dough four times, then chill it a few hours, then do two more rolls and folds. And that's it. When you start out, it won't look like much and you'll wonder how I talked you into this and how the shaggy dough with dice-size pieces of butter in front of you will ever be smooth, but it will.
While you might be tempted to take great care in making your tart look perfect, don't worry or fret about that; by the time you've rolled out of the dough, arranged the apples over it, baked it with a sprinkle of sugar, and glazed it, it'll be perfect. You've got this.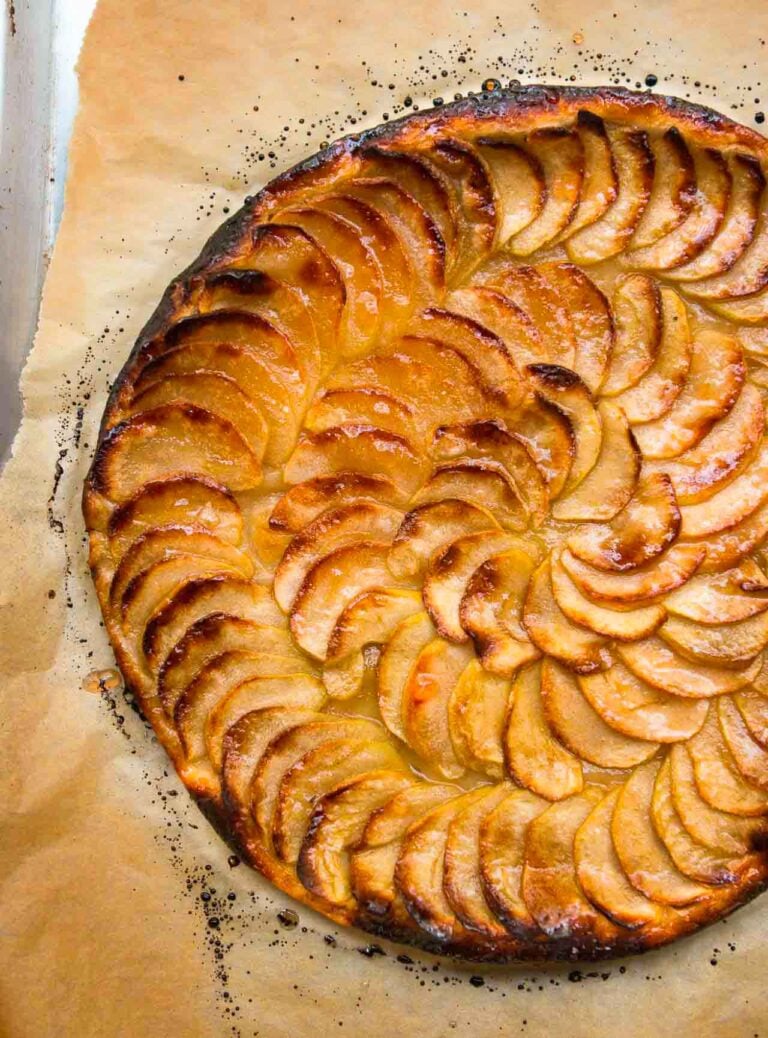 Apple Tart
This quick puff pastry is super easy to make and suprisingly, very forgiving. It'll start off looking shaggy and rough, with big chunks of butter visible. But as you roll and "turn" the dough, it'll be easier to roll out each time, and when it's done, it'll be smooth and easy to work with.
Two tips: Roll the dough in just enough flour to keep it from sticking on the counter but avoid using too much as excess flour can make the dough tough. Use a pastry brush (or even a kitchen towel) to wipe away excess flour before each folding and turning the dough.
And work quickly. Because the dough has a lot of butter in it, if it warms up, it tends to stick to the counter. So roll and fold it as swiftly as possible. Don't worry about it looking like a perfect rectangle; the idea is to get it close to that size and shape so you can fold it over in thirds, then move on to the next turn quickly.
If you want to use store-bought puff pastry, you'll need about 9 ounces (260g) and you can certainly double the recipe and freeze half to have on hand for another tart. It'll keep in the freezer for a few months.
For those with convection ovens, I found this tart browns better in a standard oven. So if you're oven offers the option of both, I recommend the standard (non-convection) setting. I used Apple Jelly to glaze the tart, but thinned out apricot or red currant jam works fine, instead.
For the quick puff pastry
3/4

cup (110g)

flour

1/4

teaspoon

salt

4

ounces (115g)

unsalted butter

,

cubed and well-chilled

3

tablespoons

ice water
For the apples and glaze
1 1/2

pounds (700g)

apples

,

about 4 medium apples

1 1/2 to 2

tablespoons

melted butter

2

tablespoons

sugar

apple jelly, apricot jam, or red currant jelly

,

thinned with just enough hot water until brushable
To make the quick puff pastry, in a medium bowl mix the flour and salt. (You can also make this part of the recipe in a stand mixer fitted with the paddle attachment.) Add the cubes of butter and mix quickly with a pastry blender, or your clean hands, until the butter is in just slightly smaller pieces, about 25% smaller than they originally were. Add the water and mix (and knead a little bit), until the dough forms a cohesive mass, which will still be a bit shaggy. On a lightly floured countertop, pat the dough out into a rough rectangle.

With a rolling pin, roll the dough into a rough rectangle approximately 10 x 5-inches (25x12cm.)

Fold the dough over in thirds, starting with one side being folded over the center.

Then fold the other end over the center.

Now turn the dough so that the short ends of the rectangle are back on the left and the right. You've done one "turn."

 

Repeat that process of rolling out the dough again as you just did, folding left over the center, then right over the center. That is your second "turn." Repeat during two more "turns" until you've done a total of four turns. Wrap the dough and chill it at least 2 hours.

 

Do two more turns of the rough, rolling and folding (at this point, you will have done a total of six turns), then wrap the pastry and chill it for at least an hour, until ready to use.

When ready to prepare and bake the tart, line a baking sheet with parchment paper.

On a lightly floured countertop roll the pastry into a 14-inch (35cm) circle. Use a tart ring or round cake pan as a guide, trim the dough with a paring knife so it's a 12-inch (30cm) circle. If you don't have a similar-sized ring or pan, you can eyeball it. Fold the dough in half, which makes it easier to handle, then transfer it to the baking sheet and unfold it. Put the baking sheet in the refrigerator while you peel and core the apples.

To assemble and bake the tart, preheat the oven to 400ºF (200ºC.)

Peel and slice the apples as thinly as possible either by hand or with a mandoline. (Here I used a chef's knife.) Remove the dough from the refrigerator and arrange the nicest slices of apples in concentric circles over the pastry, leaving a small border of dough around them. (You can snack on the less-attractive apple bits.) Brush or drizzle the melted butter over the apples, as well as on the crust making the border, then sprinkle the sugar over the apples and exposed crust. Bake the tart until the apples and the crust are deep golden-brown, about 25 to 30 minutes, but rely more on how it looks rather than a kitchen timer since apples (and ovens) can vary. Let cool for a few minutes, then brush with the glaze.
Notes
Serving and storage: The dough can be made up to two days in advance and refrigerated, or frozen for up to three months. The tart should be served the day it is made. If you're entertaining and want to get ahead of the project, you can roll the dough and leave it on the baking sheet and put it in the freezer, so it's ready to top with apples and bake. (You can actually freeze the unbaked tart with the apples on it too, which, admittedly, isn't in the spirit of a fresh apple tart, but works.)