This year, it's a sure bet that holiday gatherings will likely be more intimate, with perhaps more celebrating online rather than around a table. As you cozy up to the chimney…or computer, it's nice to have a drink in hand either to take the chill off or to make things feel more festive. Unless you're the lovely Ina Garten, who prefers to make drinks by the pitcher, individual drinks are a nice way to celebrate more intimate gatherings and you can make just one to two, or scale 'em up to make four or six, if necessary. My hot chocolate recipes (below) can easily be made in advance – in fact, they're better if they are – then rewarmed right before serving. Marshmallows and whipped cream are optional, but if I'm going to be honest, they're encouraged.
Here are my favorite and most popular drink recipes on the blog that'll warm you up, including two types of hot chocolate (there are several others in Drinking French, including a Salted Butter Caramel version), French mulled wine, an apple-based cocktail, and a few libations with cranberries. There's also a brown-buttery Old Fashioned, a pink Cosmo to brighten things up, a creative Kir, and Jeff Morgenthaler's amazing eggnog. So no matter where you are, whether you're at home with friends and family or able to gather out and about, here are some drinks I hope will help make this holiday season more enjoyable…
A winter classic in many countries, when they're open (they're closed at the moment), cafés in Paris will have the words 'Vin chaud' scribbled on a blackboard either inside or out, beckoning people to come in from the cold to have a glass. Patrons are usually huddled around terrace tables or standing at the bar, sipping glasses of warm spiced wine, but this year, mulled wine maison will be in fashion. My version of vin chaud is spiced with cardamom, star anise, cloves, and fresh ginger. And it's even better if you tip a bit of brandy in it!
'Tis the season for apples, and nothing pairs better with these fall fruits than calvados, the famed apple brandy from Normandy. Named for the Gare du Montparnasse in Paris where trains depart for Normandy, this spirited cocktail is tempered with a dash of floral elderflower liqueur and bolstered with apple cider (or juice) to make it just the right cocktail for toasting the season.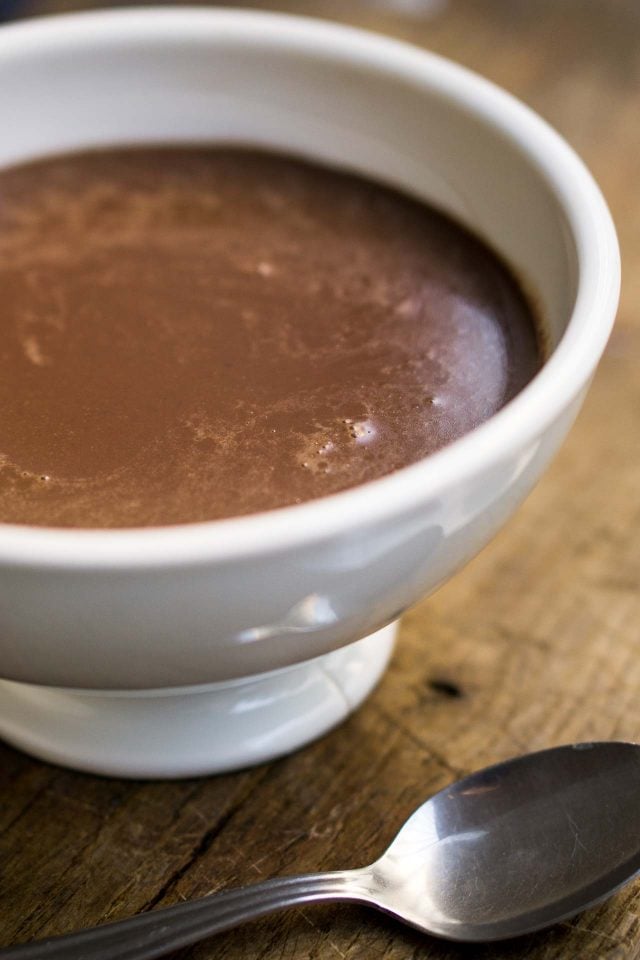 People travel to Paris from all over the world to sip the ultra-rich chocolate chaud sold in cafés and swanky tea salons. This year that's likely not in your cards, but not to worry, it's easy to make Parisian hot chocolate at home…and it's quicker than you think, as mine his just two ingredients. (Spoiler: One of them isn't cream…)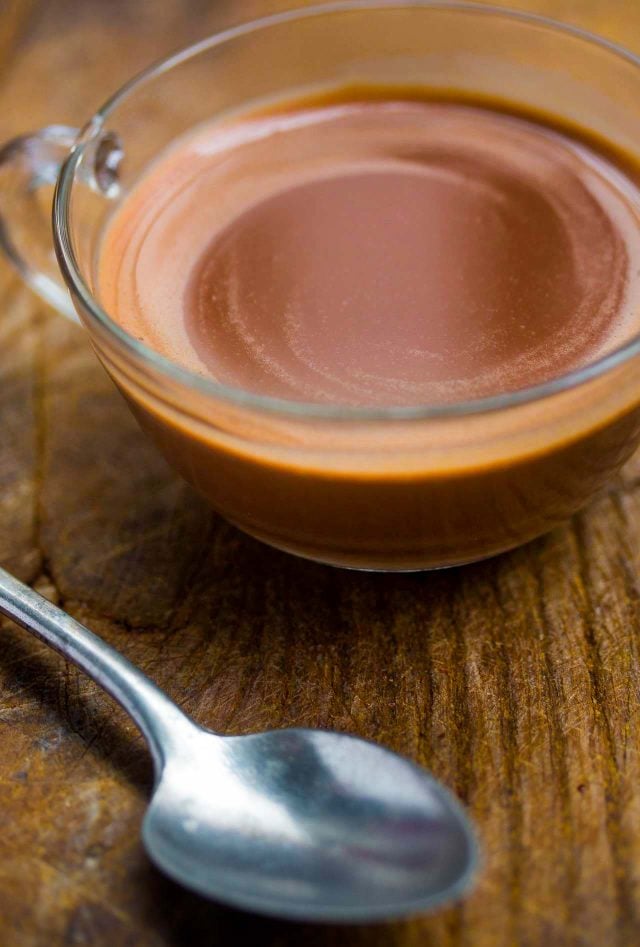 When I went to chocolate school in Belgium, then did an apprenticeship at a notable chocolate shop, one of the things I picked up was this recipe for a sensational Belgian hot chocolate. It's silkier and milkier than its Parisian counterpart and has a touch of spice and salt. You can add a plouf of whipped cream if you want to take it over the top, but it's delicious enough on its own and doesn't necessarily need any embellishment.
I don't know about you, but on some days this year, I'll admit to being Monsier Crankypants. (Sorry, I don't know how to say "crankypants" in French. So if you're French, maybe help me out with that one?) It's been an up and down year, with more downs than many of us can count. However, there's nothing that brightens things up like a good ol' Cosmo. Carrie and the girls from Sex and the City knew how to turn any event into a good time with these pink libations and I take a tip from them and whenever I make one up at home, I feel like I'm drinking in celebration of better times ahead. Here's to 2021!
I am a very fast drinker, something I picked up working in restaurants. But I'm also a very fast eater and am inevitably the first person done at the dinner table. (Probably because I'm also keen on moving on to dessert.) But hand me a glass of something, whether it's water or wine or whiskey, and I tend to down it quickly. Which is why I love the Negroni Sbagliato. It's based on the flavors of the classic Negroni, but in place of the gin there's prosecco which makes it light and spritzy. It still has the same forceful flavor of the Negroni, courtesy of the Campari, so it won't leave you feeling like you're missing anything. But unlike Negronis, having a second round won't knock you for a loop. Serve it in a tall wine goblet if you want to make it more festive.
Genepy liqueur isn't widely known in the U.S. but in the French alps, it's a classic winter drink. Made from yellow flowers found in the mountains, its herbaceousness comes through loud and clear in whatever it's added to, or enjoyed on its own. (Forthave Spirits in the U.S. makes a genepy liqueur if you want to give it a taste. And French-made Dolin is also available stateside.) Dialing up the herbal flavors in this sunny cocktail is gentian liqueur and Cap Corse blanc (made with citrons), from sunny Corsica, or you can use Lillet blanc, which will add some orangy notes.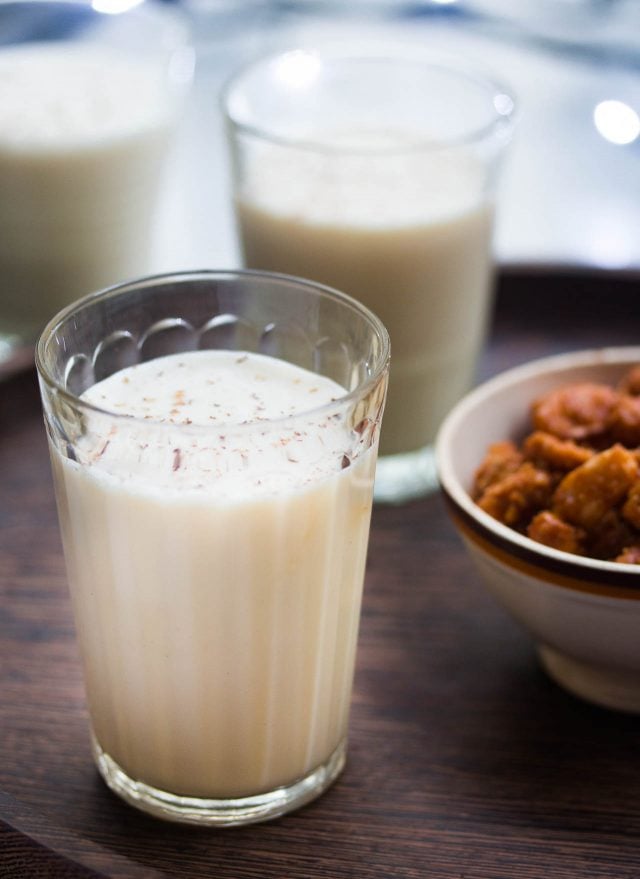 Toss all other eggnog recipes out. Go ahead, I'll wait. This one from bartender and author Jeff Morgenthaler surprises with tequila and sherry in place of the usual whiskey or brandy, and hoo-boy, is it good. The eggnog is as fun and delightful as Jeffrey, and that's saying a lot. So give this recipe a go this year, and he's also no slouch in the chocolate chip cookie department either, which happens to be a perfect accompaniment to a tall glass of his holiday nog.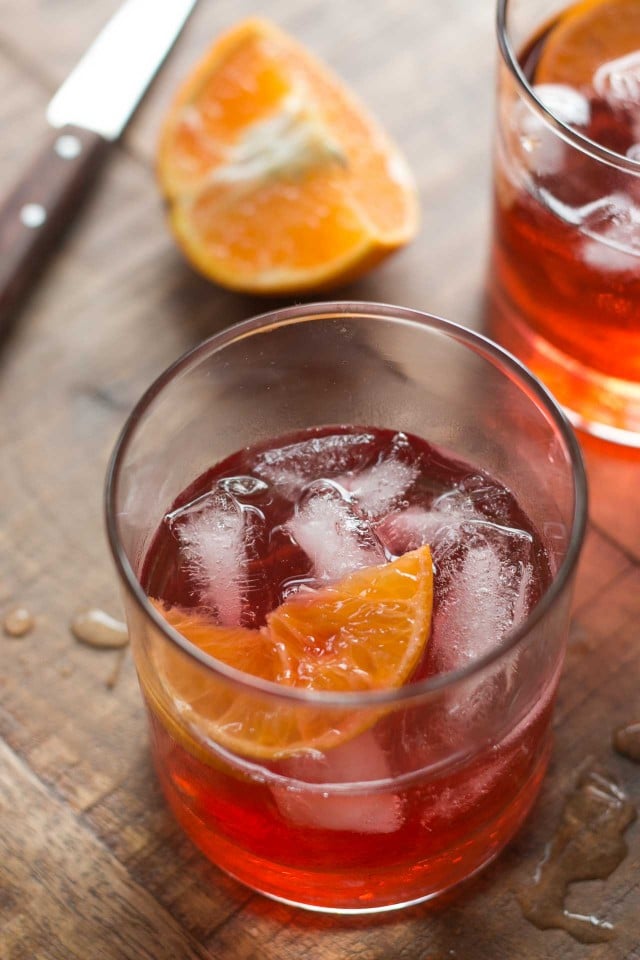 Fresh cranberries aren't easily available in France and when I find them, I use them intelligently. (Which will only make sense to you if you live abroad and are used to rationing things like aluminum foil and chunky peanut butter.) One of the best ways to use them is in this cranberry shrub. With vinegar as a base, it makes a slightly sharp, refreshing non-alcoholic drink mixed with sparkling water or tonic. But for those who want a cocktail, a little bourbon, some maple syrup, and a dash of bitters, make a great cocktail.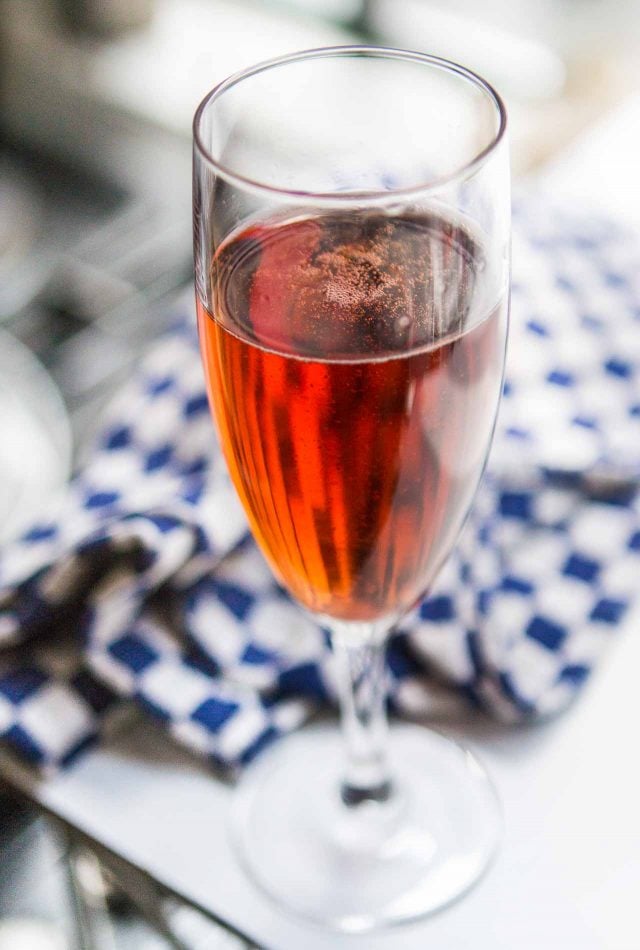 Many know – and love – the Kir royal, which is a short pour of crème de cassis topped up with champagne, but sparkling apple cider takes this regional apéritif in a new direction. Using hard cider for the adults and non-alcoholic sparkling cider for the kids, or for those who aren't imbibing, means that everyone can join in any holiday toasts around the table. Or in the case of this year, around the tablet. (Or computer.)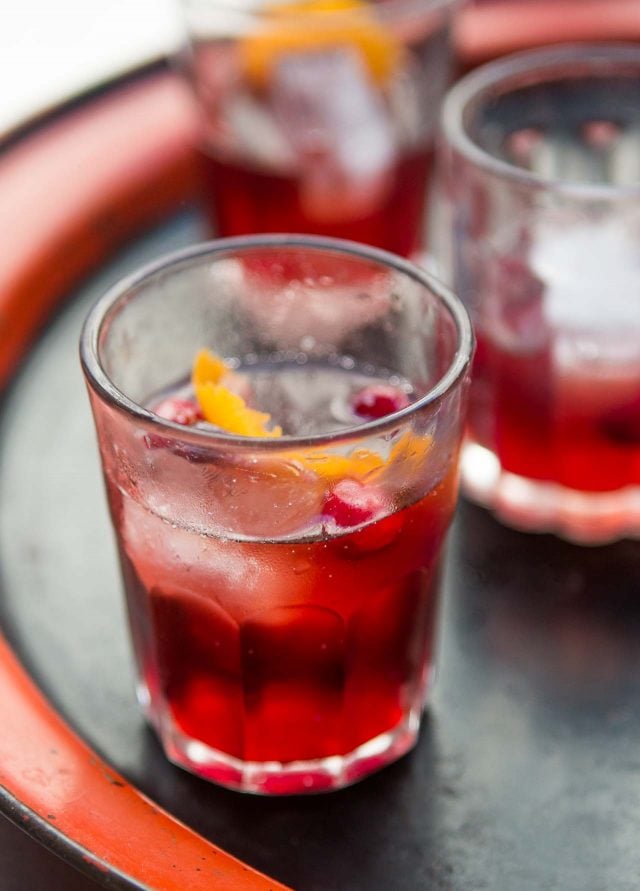 Inspired by a mythical-sounding French auberge, rather than relying on fresh cranberries, widely-available cranberry juice is the base of this sprightly apéritif which also includes red vermouth, or another wine-based apéritif like Byrrh or Lillet rouge, which is topped off with eau-de-vie, which'll warm your soul and make you feel like you're tucked away in a cozy retreat in the French alps, drinking like a local.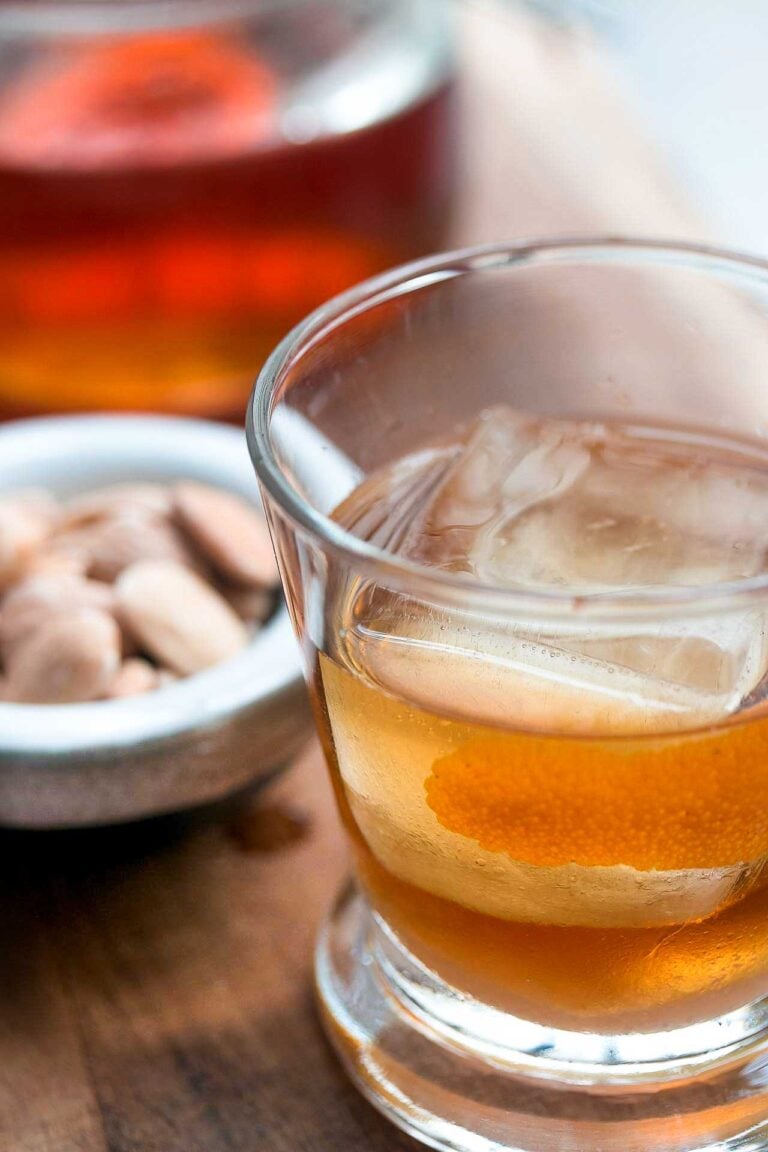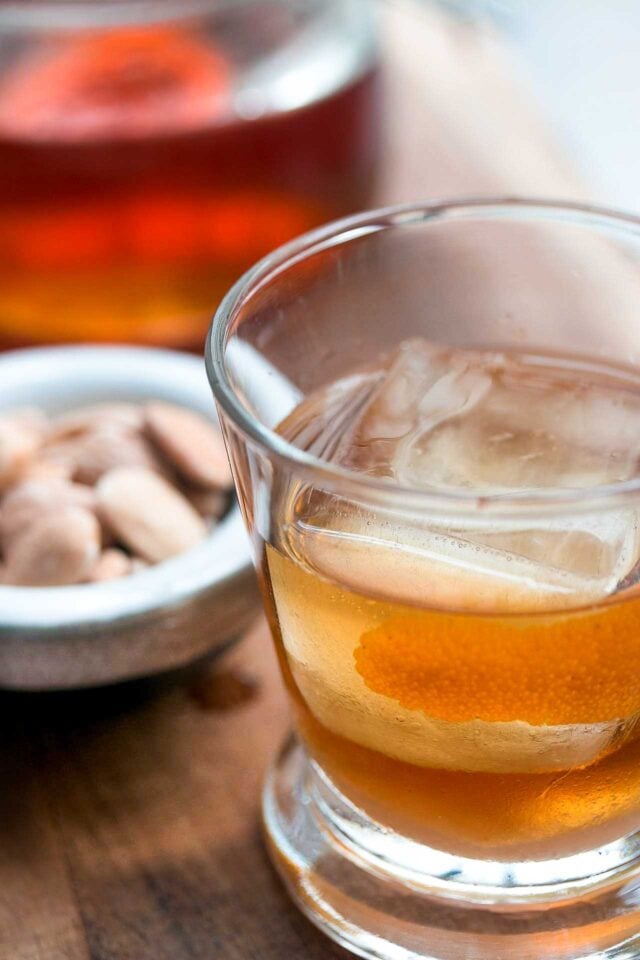 I don't know about you, but I'll take butter anywhere I can get it. And if bourbon happens to be part of the bargain, so be it. Browned butter "fat-washes" the bourbon during a leisurely maceration in the refrigerator, which is a fancy word for saying, "Let the marriage begin!" Once strained, the brown-butter bourbon goes right into the glass along with bitters. While the easy-going classic Old Fashioned has a sugar cube in it, maple syrup in its place will take it in a decidedly holiday-friendly direction.
This is everyone's favorite cocktail from Drinking French, including Romain's, and with good reason. It combines aromatic rosemary and gin with tangy lime juice to make what I, too, consider the perfect drink.
Looking for a low-ABV drink that isn't low on flavor? This Byrrh-Cassis combines two French stalwarts; black currant liqueur and Byrrh, which was once the most popular apéritif in the world. It's worth tracking down a bottle of this juicy, fruity, quinine-based spirit just to make this drink, although I'd admit I often enjoy a glass of it over ice with a twist of orange. (Don't tell, but sometimes I add a little mezcal, too.) When I garnish this drink with fresh currants, which resemble tiny holiday ornaments, I feel like I'm decorating the drink for the holidays. But a simple twist or an orange slice will do, too.
Is anyone else dreaming of going to the beach right now? When I first arrived in France I was surprised by all the advertisements for tropical beach vacations in the métro stations during the winter. After shivering through a few frightfully cold hivers, I understood the appeal (and marketing genius), and now I dream of Mexico from November through March, and there's nothing like a good Margarita to take you there. I'm always up for a classic Margarita but these Orange Margaritas, which I confess I make by the pitcher because it's hard to drink just one, are border-openers for me. So even though I can't enjoy one on a Mexican beach at the moment, I can hold on to my dreams – and one of these Margaritas – and pretend I'm there.