Cranberry Shrub and Cranberry Shrub Cocktail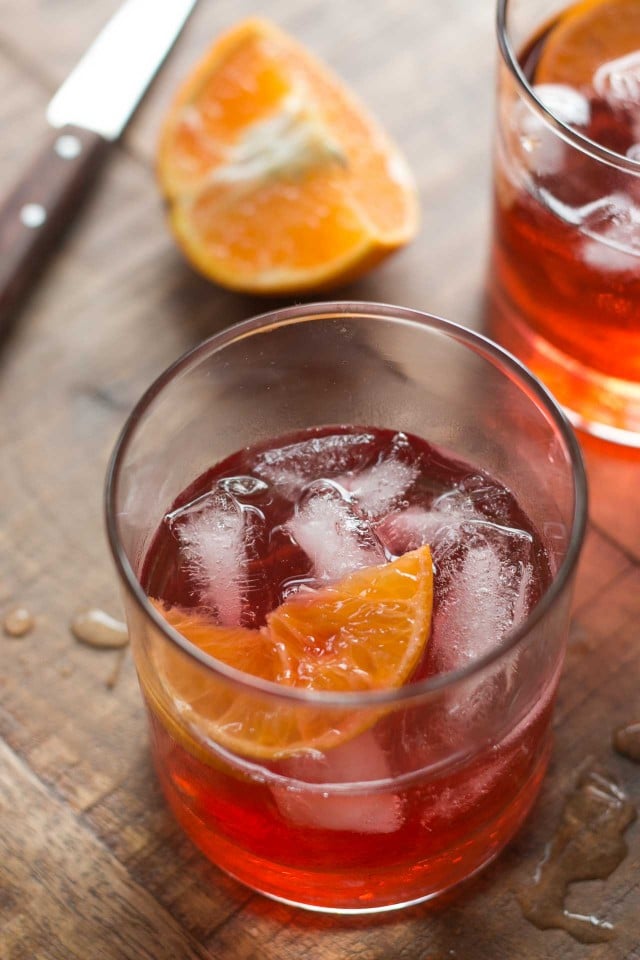 I've been laid up this week with a messed up knee, and let me tell you, it hasn't been easy. The moment the accident happened, I felt my entire leg buckle, and for the next 72 hours I could barely move. Stairs were impossible and even putting on socks was a Herculean task. Sleep also eluded me because there was no position that I could hold my leg in that wasn't excruciatingly uncomfortable. All I can say is, thank goodness for French pain-killers.
The first night of the incident, it was Romain's birthday and although I was laid up on the floor with my leg elevated on a chair, I still wanted to take him out for dinner. I didn't last long at the restaurant, but managed to down a glass of sparkling rosé in his honor, because soon after I felt woozy and just barely made it through the evening without being that person that you hope you're not seated next to at a restaurant.
I'm on the mend now, but before I ended up in my haze of pain, I'd made a batch of cranberry shrub because I had some cranberries on hand. You can get canneberges in Paris around the holidays, which they stock for les américains. Although every vendor doesn't quite get the memo that after Thanksgiving, we're no longer in a panic and willing to pay whatever price they stick on them, a few realize that after the holidays are over, our interest in them is vastly reduced. Occasionally you can pick some up at bargain prices, and thrifty ones (like me) will pick up any that he finds, and freeze them until the following year.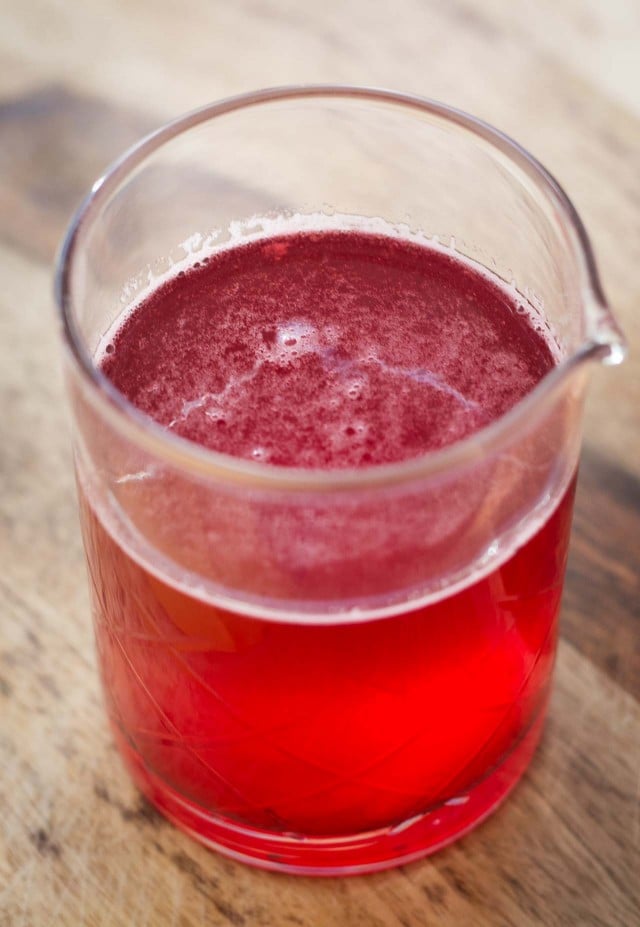 I don't quite know their origins, although shrubs seem to be Arabic, coming from the word sharab, or syrup, which the British may have adopted at some point. (This article about shrubs says they are Roman in origin.) Wherever they are from, shrubs are also called "drinking vinegars" and curiously, I've had some at Pok Pok Thai restaurant mixed in cocktails, but they can also be mixed with sparkling water to make a non-alcoholic drink.
A lot of shrubs are made by macerating the fruit or berries in vinegar for a number of days. Because cranberries have tough skins, they don't yield their juices (and flavor) like softer berries unless the skins are crushed or cooked. So I put them in a saucepan and let them do their thing, reserving a few nice ones for a garnish later.
The upside to this speedier method is that if it's the holidays (or you've just stopped taking your pain-killers) and you really need a cocktail, you can have one in your hands about an hour after you begin to make the shrub. How's that for efficiency, even with one leg still out of commission?
I couldn't race around very easily these past few days, but after not being able to hold my own after just one glass of Champagne, I wanted to celebrate getting (almost) back on my feet, figuratively and literally, with a cocktail. Gin is always nice for fruit-forward libations but bourbon seemed more in the holiday spirit. I added a dash of maple syrup and a few drops of pumpkin spice bitters that I got on a recent trip to San Francisco.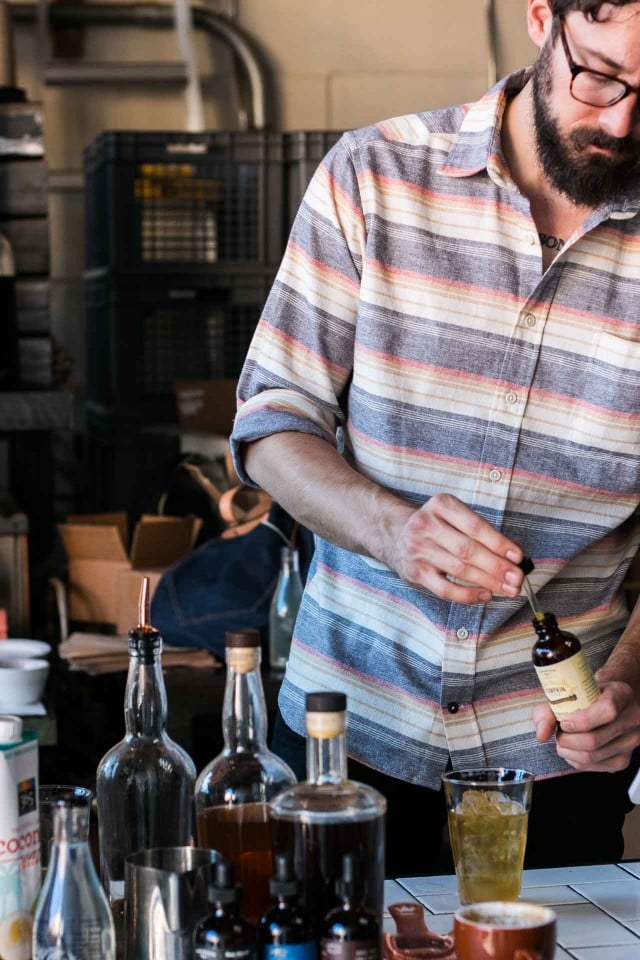 I'd been back-and-forthing with Rob Easter of Workhorse Rye in San Francisco over the course of the past year, for a number of reasons. One is that I had posted a picture of some rye whiskey on my Instagram feed a while back and we decided to try to meet up the next time I was in San Francisco. (The other reason that I wanted to meet is that he works with my friends at Dandelion Chocolate making salted cacao bitters.) Unfortunately my time is always so packed when I'm in San Francisco that it never seemed to happen.
But last month was a charm as Rob led a "Taking Back the Pumpkin Spice Latte" event at Four Barrel coffee, a valiant effort to one-up the omnipresent pumpkin-spiced coffee drinks (and other stuff) that seem to proliferate every October.
I reserved a bottle of rye whiskey for the future, since they were out-of-stock, but he gifted me a few bottles of his bitters, including this pumpkin one, which is made from five kinds of roasted heirloom pumpkins as well as an intriguing blend of artichoke leaves, rooibos, sea salt, rye, cranberries, and spices.
A few drops were perfect in the cocktails, which I was able to enjoy a few days later when I said adieu to the pain-killers. I still, however, am holding onto my cane. That thing is like a cow-catcher on the sidewalks of Paris and I don't know anything better for clearing a path through oncoming walkers, intent on playing sidewalk "chicken" with me. (I have learned that holding a baguette, straight out at groin level, works to clear a path, too.)
For those who don't drink alcohol, shrubs are the perfect libation for making sure people feel included at a holiday fête, and aren't just handed a glass of mineral water as an afterthought. But the one I had, just above, I used to toast being back "in the pink", an expression we used to say when someone was back in good health. However in this case, maybe I was toasting myself being back in the red?
Cranberry Shrub
Because shrub is vinegar-based, yup – that's right, it has the flavor of vinegar in it. I like that biting tang, but it may or may not be to everyone's taste. However it makes a nice base for a cocktail, or for a non-alcoholic alternative drink to pass around during the holidays. If you can get a good apple cider vinegar, perhaps from a local apple farm, use that. It's more fruit-forward than the store-bought stuff. If you have another natural fruit vinegar, you could use that. If you don't have either, white wine vinegar works instead. If you don't have allspice berries, you can use a cinnamon stick, a few cloves, or another favorite spice. The cooked cranberries can be reserved and used to mix with apples or pears if you're making a fruit
crisp
, or used as a replacement for some of the raisins (by weight or volume) in
mincemeat
or
instant mincemeat
. You could also be creative and turn it into
cranberry sauce
.
1

cup (250ml)

water

2 1/4

cups (235g)

fresh or frozen cranberries

3/4

cup (150g)

sugar

8

allspice berries

,

crushed, or another spice

1

cup (250ml)

apple cider vinegar
In a medium saucepan, heat the water, cranberries, sugar and allspice until the mixture starts to boil. Reduce the heat and cook at a very gentle simmer until the cranberries are completely soft, about 8 minutes.

Remove from heat and pass the cranberries through a mesh strainer, letting the liquid drain into a bowl. Press down on the cranberries to extract as much juice as possible from them without pressing too hard, as you don't want to get any solids into the shrub. (You may want to reserve a few nice cranberries if you'd like to use them as a garnish before pressing them down.)

Add the vinegar to the cranberry syrup and transfer the shrub into a bottle or jar, cover, and refrigerate until ready to use. The shrub mixture can be kept for several months in the refrigerator.

To make a Cranberry Shrub Cocktail, fill a cocktail shaker halfway full of ice. Add 3/4 ounces of shrub and 2 ounces of bourbon, along with 1 teaspoon maple syrup and three drops of a favorite cocktail bitters. Shake until well-chilled, then pour in a cold glass. Garnish with leftover cranberries skewed on a toothpick or a strip of orange zest. An option to jazz it up would be to add 1/2 ounce of orange-based liqueur, such as Grand Marnier or Cointreau, to the cocktail mix in the shaker.
Notes
To make a non-alcoholic cranberry shrub beverage, add 2 tablespoons of cranberry shrub to a tumbler. Fill three-quarters full with crushed ice, a slice of orange, and fill with sparkling water. To take it in another direction, you can add some Lillet to it.
Related Recipes
Raspberry Shrub (My Baking Addiction)
Blackberry Shrub (Port and Fin)
Cherry, Vanilla, Maple Shrub (Bojon Gourmet)
Blueberry-Ginger Shrub (Food in Jars)
Apricot-Ginger Shrub (Washington Post)
Concord Grape Shrub (The Year in Food)
Apple Shrub (Food 52)
Tomato, Lovage and Lemon Balm Shrub (The Botanist)
Cucumber Shrub (Washington Post)