Pumpkin Pie with Toasted Marshmallow Topping
When I was growing up, I would not eat pumpkin pie. My mother never made it but they served it at our school cafeteria in New England and the orange filling looked a little jelled. It certainly wasn't as appealing at the Boston Cream Pie on plates just next to the slices of the pie, with the glossy chocolate icing and the cool vanilla pastry cream piled up in the center. It was a no-brainer.
Interestingly, I don't think I've ever made Boston Cream Pie, perhaps because it's something that's so mythic to me, and I hold it on such a high pedestal, that I'm not sure I could make one that meets my own unreasonable standards. But another, and perhaps a more important reason, is that if I made it, I would eat the whole thing in one sitting.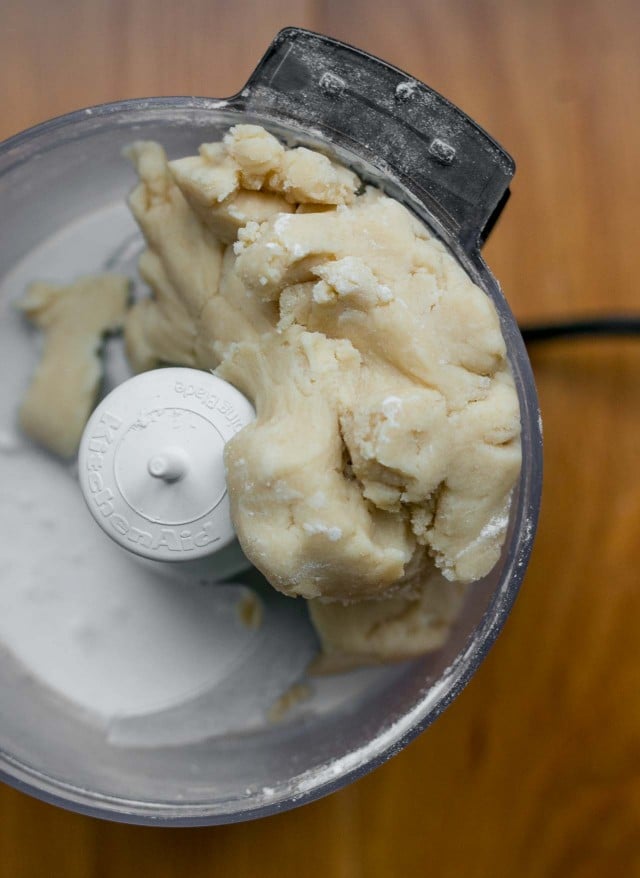 Another thing I wouldn't eat when I was growing up was lobster for an unspecified reason. (Which I am still kicking myself about to this day.) It's such a shame because even though there is a drop in prices in the U.S., they were very, very inexpensive back in those days.
In France, prices are steep: A live lobster can set you back up to €70 per kilo, which is roughly $30 per pound. I can't imagine how a family of four – or even two people (no matter how much in love they were and wanted them for a romantic evening) – could swing paying $45 per lobster, per person.
But Europeans can't imagine putting marshmallows on sweet potatoes or squash, as some of us do around the holidays. I can't say that it's a dish that I am happy to defend. I never really took to this uniquely American mélange of candy meets courge (squash), instead scraping off the toasted marshmallows and just eating those, leaving the orange paste behind.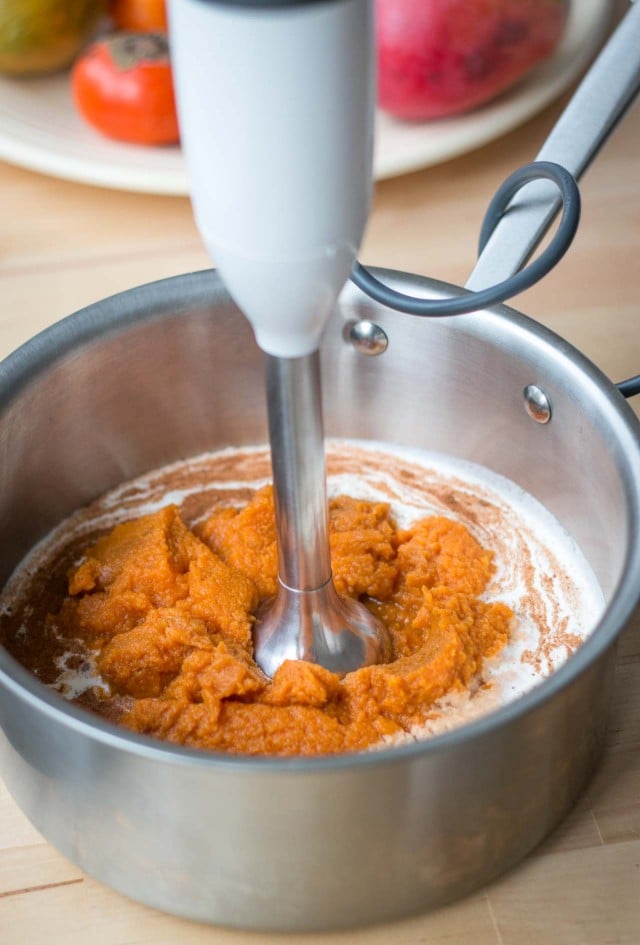 But in dessert, it works. True, there aren't many pumpkin-based desserts in the French pastry canon, although melons do get candied in Province, and their candying syrup is the base for calissons d'Aix, almond paste candies that are a specialty of the region. Yet while mine was cooling, Romain went over to it, picked it up and took a good sniff (how do you say "nosy" in French?), inhaling deeply.
He hovered around for a while, and I was so rushed to get him a slice that I probably could have toasted the marshmallow topping a little further. My next kitchen, I think, might have to have a door.
For the holidays, I often make a plain pie using butternut squash since it has less moisture and is more flavorful than many of the varieties of pumpkin that are available. But I realize there are many classicists out there, so you can use whatever puree you want as the base for this recipe, although I recommend if going with pumpkin that you find an heirloom sugar pumpkin as those are the best of the lot, in my experience.
However there's no shame in using shortcuts. Canned pumpkin, which is actually not made with pumpkins as we know them, but squash. It's actually fine to use and shaves a bit of work off this project. Since you're making a homemade crust, pie filling, and marshmallow topping, cutting out some of the work isn't the end of the world. And take it from me, any less stress you can have this time of year is worth mitigating.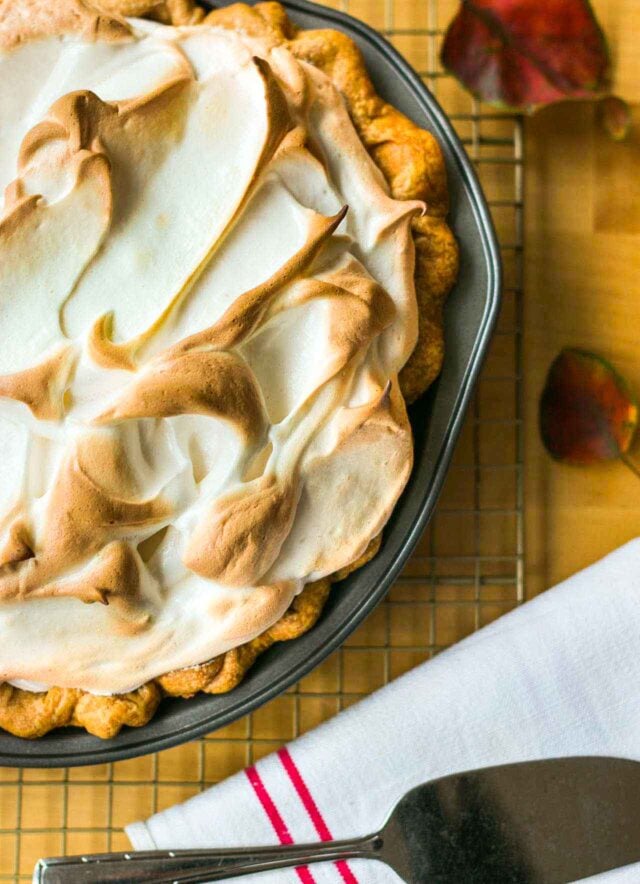 The good news about this pie is that unlike whipped cream or meringue, the marshmallow topping doesn't weep or seep liquid onto the pie, so it can be heaped and toasted in advance. An extra bonus? It tastes great, too.
Pumpkin Marshmallow Pie
You can use canned pumpkin for this if you wish. Make sure you get 100% pure pumpkin, and not "pumpkin pie filling," which is spiced and sweetened already. If you want to make your own
sugar pumpkin
or squash, puree that's fine to use too. If you don't want to use the Cognac or liquor in the filling, you can leave it out and increase the vanilla extract to 1 1/2 teaspoons. A nifty trick is to warm the pumpkin pie filling before adding it to the baked pie shell. It'll take less time to bake in the oven, resulting in a smoother pie and crisper crust. Tip: If you have an
immersion blender
, you can mix the pumpkin pie filling in a saucepan, the same one you use to warm the filling before baking. Overcooking a pumpkin pie will cause it to crack while cooling, which isn't the end of the world, as some people think it is. (Hey, it's only food…) It will still taste good and the marshmallow topping will cover it up nicely, so no one is the wiser if it happens. Lastly, if you're just looking for a great pumpkin pie, you can use this recipe without the marshmallow topping. Just add some whipped cream or serve it with a favorite ice cream, such as
cinnamon ice cream
or
vanilla ice cream
.
Pie Crust
1 1/4

cups (175g)

flour

2

teaspoons

sugar

1/4

teaspoon

salt

4

ounces (115g)

chilled unsalted butter

,

cubed

3-4

tablespoons

ice water
Pumpkin Pie Filling
1 3/4

cups (425g)

pumpkin or butternut squash puree

1

cup (250ml)

heavy cream

1/2

cup (125ml)

whole or lowfat milk

3

eggs

,

at room temperature

3/4

cups (160g)

packed light brown sugar

1

teaspoon

ground ginger

1

teaspoon

ground cinnamon

1/4

teaspoon

ground cloves

1/4

teaspoon

ground black pepper

Pinch of salt

1/4

teaspoon

grated nutmeg

1/2

teaspoon

vanilla extract

1

tablespoon

Cognac or brandy
Marshmallow topping
1

envelope (7g)

unflavored powdered gelatin

1/4 (60ml), plus 1/3 (80ml)

cup

cold water

1/3

cup (80ml)

light corn syrup

1/2

cup (100g)

sugar

1

teaspoon

vanilla extract

3

large egg whites

,

at room temperature
To make the pie dough, mix the flour, sugar, and salt in the bowl of a stand mixer fitted with the paddle attachment or a food processor. (The dough can also be made by hand, in a bowl with a pastry blender, or using your hands.) Add the chilled butter and mix the dough until the butter is broken up into small pieces, about the size of peas.

Add 3 tablespoons of ice water and mix until the dough begins to come together. If necessary, add 1 more tablespoons of water, if the dough needs it to come together. Turn the dough out on a work surface and give it a few turns with your hands. Shape the dough into a disk, wrap in plastic wrap, and refrigerate for at least 1 hour.

Roll the dough on a lightly floured surface, or between two pieces of parchment paper, until it's about 13-inches (33cm) in diameter. Brush off any excess flour and transfer it to a 9-inch (23cm) pie plate or pan. Fold the overhanging edges under, and crimp the dough around the rim of the pie plate.

To bake the pie dough, preheat the oven to 375ºF (190ºC). Prick the pie dough a few times with a fork. Line the pie dough with aluminum foil and fill halfway with beans, rice, or pie weights. Bake the pie dough until the dough is golden brown, about 15 to 20 minutes. Lift out the foil with the weights, and bake for another 5 to 8 minutes, or until the dough is well-browned. Turn the oven down to 350ºF (180ºC).

While the crust is baking, make the pumpkin filling by mixing together the pumpkin puree, cream, milk, eggs, brown sugar, ginger, cinnamon, cloves, pepper and nutmeg, salt, vanilla, and Cognac or brandy in a blender or with an immersion mixer.

In a medium saucepan, gently heat the filling, stirring constantly, just until it's warm to the touch. Do not overheat as you don't want to scramble the filling. (Eggs begin to cook at approximately 140ºF, 60ºC.)

Pour the warm filling into the prebaked pie shell and bake until when you jiggle the pie, the center looks just about set, about 45 to 50 minutes. The pie should puff up a little but still be slightly jiggly in the middle. To be safe, start checking it about 10 minutes before the suggested times. Let pie cool completely on wire rack. Once cool, the pie can be chilled (for up to two days), or left at room temperature for serving.

For the marshmallow topping, sprinkle the gelatin over the 1/4 cup cold water in a small bowl. In a small saucepan fitted with a candy thermometer, heat the remaining 1/3 cup water with the corn syrup and sugar. When the sugar syrup has reached around 210ºF (99ºC) degrees, begin whipping the egg whites until frothy. As the syrup inches up to 245ºF (118ºC), increase the mixer speed to high and slowly dribble the syrup into the whites as they are whipping, being careful to avoid pouring on the whip. (You don't want the syrup flinging away and sticking to the sides of the bowl.)

Scrape the softened gelatin into the warm pan that was being used to make the syrup, and stir until dissolved. Slowly drizzle the gelatin into the whites as they are whipping, being careful to avoid pouring it on the whip. Add the vanilla and continue to beat for 5-10 minutes, until room temperature.

Preheat the oven to 450Fº (230ºC) and put the rack on the upper third of the oven.

With a spatula, swirl the marshmallow over the entire top of the pie, making billowy peaks and crannies. Bake the pie for 4 to 5 minutes or until the top is deep golden brown. (As mentioned, you can get it a little darker than the one I made for this post.) Be sure to watch it carefully as each oven is different. Let cool before slicing.
Notes
Notes: The corn syrup is necessary for the marshmallows for them to have the right texture. The most widely available brand doesn't have high-fructose corn syrup in it.
Some may ask about using agar-agar in place of the gelatin. I've not used it so can't advise, but you can read more about gelatin and substitutions (including using sheets of gelatin) at my post: How to use gelatin. There is kosher fish gelatin although I've not used it.
The best way to slice the pie neatly is to use a thin, sharp knife dipping in a glass of warm water. After making each slice, wipe the blade clean and dip it again in warm water, shaking off most of the excess water before making the next slice.
Do-ahead tips: The dough can be made up to two days in advance and refrigerated, or frozen for up to two months. It can be rolled out and placed in the pan before being frozen if you wish. Don't defrost it before baking: just line with foil, fill with pie weights, and bake. It may take a few extra minutes to bake.
The filling can be made up for two days in advance and warmed slightly before adding it to the baking pie crust.
The pie can be refrigerated with the marshmallow topping on it, browned or not. Browning the pie in advance and chilling it will make the topping a little tough and harder to slice. If not browned in advance (which I recommend), you can brown it at your convenience. The pie can be served at room temperature or chilled.
Related Recipes
Sweet Potato and Apricot Cake with Cream Cheese Frosting
Pecan Pie with Bourbon and Ginger