I was lucky to be at my friend Kate's house and extensive fruit and vegetable gardens in the Lot a few weeks back, when the seasons were overlapping. The last of the red peaches were still clinging to the trees, while the branches of the nearby pear and fig trees were filled with wonderful fruit ripe for the picking – and baking. And I couldn't resist spending my time wandering around the yard and gardens, picking what I could, doing some impromptu tasting, and enjoying some down-time in nature.
While I like fruit just as it is, there's also something satisfying about rustling up a whole bunch of fruit that's just free for the grabbing, and then making a dessert that uses plenty of them without a lot of fuss. After some peeling and the inevitable goofy chit-chat cooks like to do when doing rote work such as peeling apples, we headed to the kitchen counter where Kate rolled out dough she had quickly put together, and lined a deep baking dish (from her fabulous collection of local pottery, which – of course, I covet with my heart and soul…or what's left of them) with it.
As she rolled and rolled, Kate told me she calls this Harvest Tart. This particular version uses apples, figs, grapes from the market, with a few walnuts crisped over the top. For those of you who are scared of making dough, get over it. There's nothing to worry about, especially with this tart, where the dough is used to line a dish then filled to the brim, so any imperfections will get lost in the jumble of cooked fruit. And if guests are coming to criticize or look for any faults, maybe it's time to revise that guest list (!)
Speaking of fruit, you can certainly take some carte blanche with this one, and use apples and plums, or toss some berries in there. I would caution against using very juice summer fruits like peaches and nectarines, unless you toss them in a spoonful of flour to absorb some of the juices. Around the holidays, I would think that cranberries and pears mixed together, with some apples (and mincemeat) would be terrific as well.
Like Dorie's French Apple Tart, this tart also works best with a jumble of apples; some sweet ones, and some on a tart side. I just picked what looked good to me and the variety isn't as important as using good baking apples. So maybe hit your local farm stand or greenmarket in search of some interesting varieties.
In France, apple sellers usually have a bin of pommes à cuire (apples to cook), which have a few dents and dings, but are perfectly fine.
And because I'm so frugal, I confess that I buy those for eating as well. In fact, I have a friend that works for a French farm organization and he says he only buys fruit that is getting on, or just about to rot, because it's the fruit that has the most flavor.
But still, I can't really get it out of my craw that tarts are something that people are often afraid to make, put off by those too-perfect ones they see in bakeries and in food magazines. One French secret is that some folks buy pre-made, pre-rolled dough in supermarkets, ready to unwrap and fill. So if you want a perfect appearance, you can buy it.
It's similar to those pie crust sticks in America, but a little less-messier. (Plus a number of Parisian kitchens aren't quite large enough to roll anything out on.) Most brands don't list butter as a primary ingredients – quelle horreur!…in fact, it's often quite far down the list – but they are convenient, I suppose. Me? I'll stick with flour and butter.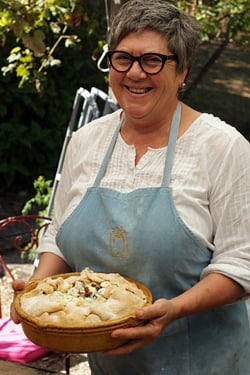 The good news is that this buttery dough comes together really quickly and because it's meant to be rustic, any flaws or goofs are easily overlooked when it's brought to the table. And a big dollop of cream flavored with Armagnac on each portion doesn't hurt either. And neither does a shot for the hard-working bakers, too, I might add.
As we peeled and rolled, folks were setting the table for brunch. And because a few folks were getting a jump-start on the meal, we could hear the sound of rosé being poured over crackling ice. It was so tempting that we moved outside to finish assembling the tart so we could savor the last days of summer weather with everyone else.
Then, into the oven it went. We had a lovely meal, which was a mélange of good things from America (grits), French eggs (can't get more French than the hen house near the kitchen), and bacon from the Agen market, properly crisped by a British cook. Some people deride multiculturalism, but I don't really give a rats derrière who is doing the cooking, or where the cuisine is from – if it's good food and drink, can't we all be happy?
Our timing was a little off (I blame the rosé…) and by the time we had finished our enormous repast, we were a little too-full for dessert. So we had it after dinner later that evening, accompanied by small glasses of Armagnac while the sun went down. And we raised our glasses and toasted the fruits of our harvest, in anticipation of polishing off dessert.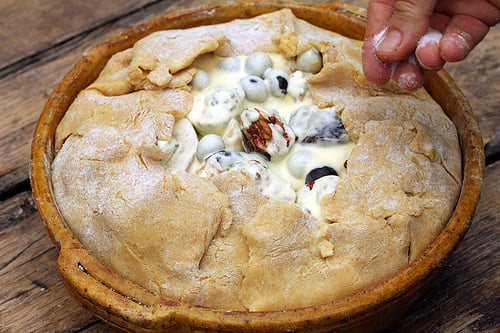 Harvest Tart
For the dough
2 3/4

cups (400g)

flour

1

tablespoon

sugar

pinch

of salt

9

ounces (250g)

unsalted butter

,

chilled

2

large eggs

,

(total)

3

tablespoons

water
For the filling
2 1/4

pounds (1kg)

apples

,

peeled and cored

12

figs

,

halved

1

small bunch (2 to 4 ounces

,

60-120 grams) fresh grapes, stemmed

1/3

cup (65g)

sugar

,

plus additional sugar for sprinkling

a big handful of whole walnuts

1 1/2

tablespoons

Armagnac (or brandy

,

or 1 teaspoon vanilla extract)

1

cup (250g)

crème fraîche

1

large egg
To make the dough, in a large mixing bowl, stir together the flour, sugar, and salt. Cut the butter into cubes and mix together with your hands or using a pastry blender until it's in small pieces no larger than the size of corn kernels.

Add one egg and the water, and mix until the dough holds together. Roll the dough out on a lightly floured surface until it's about 18-inches (45 cm) round. Brush off any excess flour and fit into a 9- or 10-inch high-sided round baking dish or cake pan; the edges will overhang the sides quite a bit. (If using a springform pan, double wrap the outsides with foil to avoid leaks.)

Beat the remaining egg in a small bowl with a fork, then brush the insides of the dough with the egg.

Prepare the filling by slicing the apples into eighths. Mix them together with the figs, grapes, 1/3 cup (65 g) sugar, and Armagnac, then transfer the filling into the tart dough. Strew the walnuts over the top of the fruit.

In a small bowl, mix together the crème fraîche with the egg and pour it over the fruit and nuts. Lift the edges of the dough and cover the fruit, then sprinkle a good amount additional sugar over the top of the dough. (When making tarts like this, I brush the dough with melted butter to help it stick.)

Put the tart on a baking sheet and bake in a 425Fº (218ºC) oven for 55 minutes to 1 hour, until the top of the dough is browned and the fruit is cooked through, which you can verify by poking the center with a paring knife; when done, it should meet no resistance. (Note: During baking, the walnuts may darken, as shown. This is a rustic touch and typical. If you are concerned, you can drape the tart with foil if they become too dark for your taste.)

Remove the tart from the oven and let cool down a bit before serving.
Notes
Serving: It might be hard to get a clean slice from this juicy tart, so feel free to serve slabs into bowls. Kate serves the tart with sweetened crème fraîche fortified with a shot of Armagnac or brandy. Vanilla Ice Cream or regular whipped cream are other possible accompaniments.