Sometimes I think I am living in the wrong département of France. Don't get me wrong, I'm happy to be able to walk out my door and get a baguette Parisienne or a sachet of les macarons, libremente (freely). But Breton food is all the flavors I crave: buckwheat, honey, sardines, oysters, fleur de sel, seaweed, and sparkling apple cider. Oh yes, and butter.
The popular Breizh Café in Paris has expanded into the space next door, creating an épicerie, featuring the best products from Brittany.
Such as Bordier butter, which the refrigerator was stacked full of because it has attained 'cult- like' status. (Don't you love a country that has a cult around butter?) Bordier has branched off into a few newer flavors, like butter scented with Madagascar vanilla, lemon-olive oil, smoked salt, seaweed, and yuzu, a flavor which has become very trendy in Paris.
Bordier butter also figures into the tins of sardines I saw, flavored with seaweed (les algues) or yuzu. They were a bit pricey, but I didn't think they'd let me open up a tin and fry them up in the store to show they to you what they looked like. So I bought one to bring home, thinking they'd make a quick, and nutritious lunch, since sardines are so good for you. I peeled back the top of the tin, emptying the contents into a skillet, and fried the little fellas up. (At least I think they were fellows. It was hard to tell with all the butter on them!)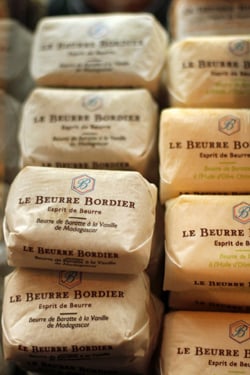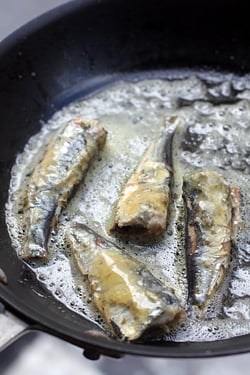 Immediately a swarm of yellow richness bubbled up and took over the pan – which I entirely take all blame for since I maniacally scraped the every bit of butter from the tin into in the pan. After the fish bobbed around for a few minutes in a fragrant puddle of butter, I placed the sardines on unbuttered toast (since the tin of sardines were already quite well-buttered, adding more butter to the toasts would have been redundant), and made a nice lunch, although am thinking perhaps some of that butter counter-acted the Omega-3s from the little fish. But a pile of salade de crudités (raw vegetable salad) helped. Well, kinda.
At the shop, in the "healthy" category, there are little pots of Bordier yogurt, including one with the strawberries of Plougastel which I tried once and they were the best strawberries I ever had. Can't vouch for the yogurt, though, since this was the first time I've seen it in Paris.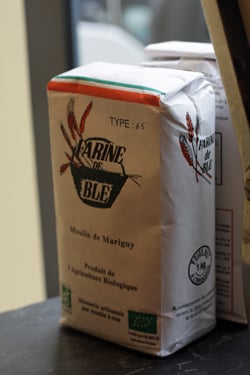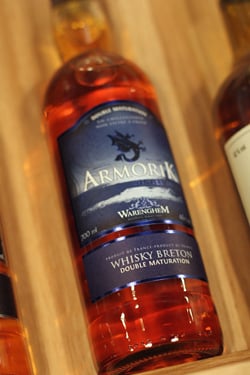 Not everyone appreciates it, but like my Breton compatriots, I love lait ribot (buttermilk.) It's served in a bowl alongside crêpes and galettes, and I've never been able to discern the right way to drink it. I usually pick up the bowl and drink it like one does with Breton cider, but was told to spoon it up, like soup. Yet in reality, doesn't everyone know that no matter where you are, lait tastes best chugged from the bottle? Well, assuming that no one is looking ; )
Speaking of Bordier, I've never seen the full line-up of their salted butter caramels anywhere else, flavored with (of course) yuzu, sesame, or chocolate-honey-pimente d'Espelette (Basque red pepper), as well as everyone's favorite – nature, or plain. Well, mine at least.
I noticed they were also offering bags of the same salted butter caramels served in the crêperie next door. I asked why they had two kinds and they told me that the Bordier ones are cooked less so they're softer in texture and a bit mellower, whereas the Breizh Café ones were as dark as espresso, and firmer.
So I channeled smart – and thrifty – consumer and shopper advocate Judith Beasley, and asked "Is there a difference that's discernible by…taste?" which prompted them to unwrap a few to let me see for myself. Conclusion: Go for the darker ones if you – and your molars – can handle it.
And while we're on the subject of caramel, when I saw chocolate oysters stuffed with praline packed in a sweet little wooden crate, I had to buy a box. They were lovely to look at, although when I tore into the bag later at home, the filling was too sweet for me. So I think I'll keep my enjoyment of oysters to the non-chocolate varieties.
Everyone seems to like jams, and their Raphaël jams, made in Brittany, with beautiful painted labels of rhubarb plants, purple figs, and pears, an ingredient in the Pear-Earl Grey Tea confiture artisanale.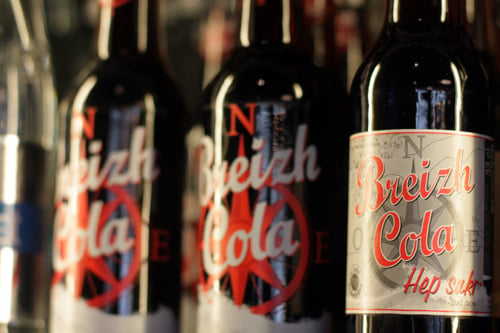 I suppose I could go on and on (and on), but it's making me want to get on a train to Brittany, to admire the stunning ocean and to enjoy galettes made with organic buckwheat flour (the same used in the buckwheat galettes at the café next door.) Perhaps one day I'll get around to trying a Breizh Cola and a slug of Breton whisky, because now I know where to get all those things – right here in Paris.
L'Épicerie Breizh Café
111, rue Vieille du Temple (3rd)
Tél: 01 42 71 39 44
Métro: Filles du Calvaire or Saint-Sébastien- Froissart
Related Posts
Where to Get the Best Crêpes in Paris