Breizh Cafe: Buckwheat crepes in Paris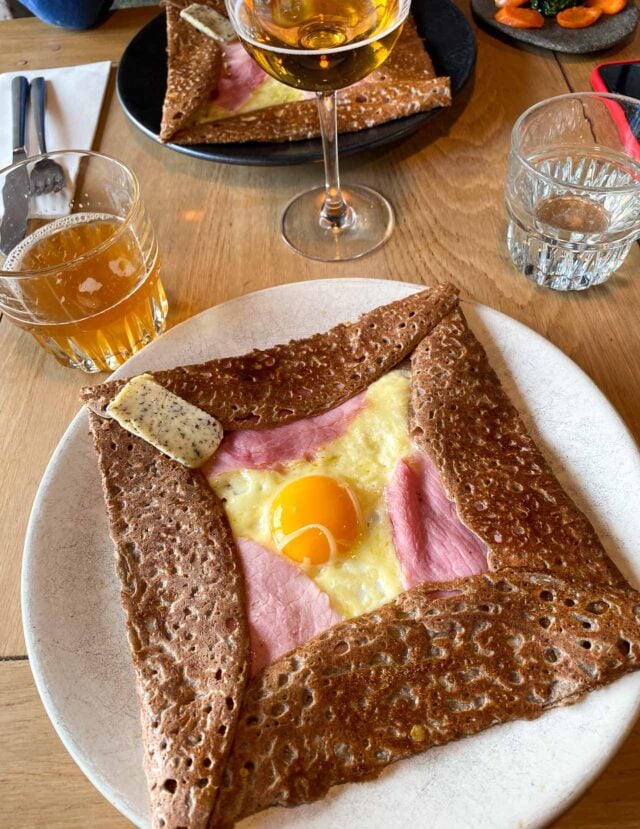 Le Brunch is indeed available at some places in Paris, but I'm not necessarily at my best being around people first thing in the morning—and I'm not so fond of Le Brunch either. So I compromised on the more civilized hour of 1pm for dining on the weekends. Not much is open in Paris on Sunday, so I had suggested Breizh Café, a tidy corner spot specializing in galettes de blé noir, commonly known as buckwheat crêpes.
There's no shortage of strollers or hipsters hanging out in this part of the Marais on Sunday. Once you get by all the folks peering in gallery windows, cigarettes perched in the corners of their mouth and the obligatory Sunday morning/afternoon dark glasses (whether it's sunny or not), it's a relief to find an inexpensive place to eat where the food is absolutely delicious.
Oso wner Bertrand Larcher is a true Breton, the Breizh Café focuses on the quality of the products and lets them shine, rather than trying to mess with the originals: there's no red pepper dust on the corner of the plate or twirls of squiggly balsamic sauces that have no business being there.
Some of the presentations—like the line-up of freshly-shucked oysters—reflects more of the Japanese sensibility of Larcher's cuisine rather than the annoying need of other places to do something…anything…to be different.
What is different here are the galettes. Each one on the menu is made with organic buckwheat flour and filled with premium ingredients, but not offered at premium prices. My Compléte au jambon cru de Savoie was filled with nutty, melted gruyère and topped with a lacy rosette of top-quality ham, rather than the industrial slabs of salty pork served at other crêperies.
The butter is from Jean-Yves Bordier, which you can purchase to go (and I sure did!), as well as his yogurt and rice pudding. To swill with your galette, there's a huge variety of artisan sparkling ciders, Breton cola, and my favorite; lait ribot, the French version of buttermilk that stunned the waitress a bit when we ordered two bowls of it.
I guess it's just as popular to drink in France as it is in America, although neither one of us could figure out why they served a spoon alongside. But it's fine to pick up the bowl and drink it that way. (Bretons drink cider from bowls, or low cups with handles, too.)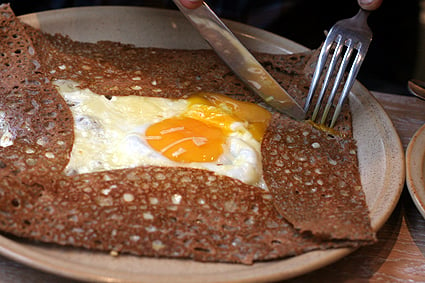 But judging from the crowd of Parisians, Japanese…and a couple of Brits and one American, the freshly-made galettes at Breizh Café seem to be universally loved by everyone—no matter where you're from.
Breizh Café
109, rue Vieille du Temple (map)
01 42 72 13 77
Also at:
1, rue de l'Odéon (6th)
and
14, rue des Petits Carreaux (2nd)
The restaurants now offer online book through their website.
In the Marais location, the Breizh Café Epicerie next door offers high-quality specialty foods from Brittany.
Related Links
Restaurants In Paris (Archive)