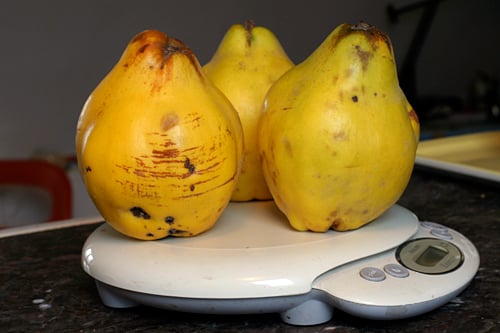 It's annoying to come across a recipe raving about the taste or beauty of something exotic or unattainable. You can't please everyone (no matter how hard I try…) and although not everyone can find quince in their local market, they're not necessarily all that hard to track down. Heck, sometimes they're right in your own back yard.
Yet even if you do scope some out, the bummer is that quince aren't all that easy to prepare. But like most things that we so desperately want, they take time and patience, and they take work. If not, all us men would be walking around with abs like Daniel Craig. No matter how hard some of us try.
Fear not, although some of us are too far past our prime to have les tablettes de chocolat that are the envy of all, anyone can prepare quince. You just need a sharp paring knife and a bit of daring. The most vital thing to know is to be very, very careful when cutting the quince. Although they look as innocent as apples and pears, the flesh and core can be especially tough and a slip of the knife is all-too-easy, so pay attention. Some folks slip out the core with a melon baller, which is possible, although may take a bit of effort as well.
Resist the temptation to add too many kinds of spices to the poaching liquid. You can follow my example, keeping it simple, or add a few cinnamon sticks, allspice berries, slices of fresh spicy ginger, some 5-star anise, a mini-blitz of whole cloves, or a combination of a couple of them. But don't add handfuls of spices, since you want them to augment the flavor of the quince, not obliterate it.
The great thing about poached quince is that they can be made up to a week in advance and stored in their poaching liquid,. The longer they marinate, the redder they get. The ruby-red quarters in the photo were just-poached, but a few days later, when I opened the lid, the color was almost neon-scarlet.
Quince are very good served with other poached dried apricots and prunes, or in a compote with any other poached fresh fruit, like pears or apples. Or if you have any fresh or frozen raspberries on hand, you can add a handful to the quince and their liquid, once cool*.
I add a few chunks to my mid-morning bowl of granola and yogurt, which I eat around 10 am each day, to tide me over during that terribly-long stretch between breakfast and dinner. (Unfortunately I eat a lot of other stuff during the day, too, which I'm certain contributes to my non-Daniel Craig-like physique.)
Speaking of tasty dishes, poached quince are delectable spooned over vanilla ice cream or tossed with some apples and cranberries for a terrific fruit crisp, capped with polenta crisp topping. If you don't feel like poaching your quince, grate the raw flesh right into a bowl of apple or pear slices destined for a pie or crumble.
Because the fruit has beaucoup de natural pectin, when reduced to a honey-like syrup in a saucepan, the liquid is exceptionally beautiful and thick, and makes a lovely, thick liquid nectar for drizzling or glazing a fruit tart. And it keeps for longer than you think; I have a small container that I made last year that I've been dipping into the last few months, in anticipating of the next batch, which, as you can see, is just about ready.
Poached Quince
Quince are not usually raised commercially, so you won't find many picture-perfect specimens. Expect a few
bruises and scrapes
, but avoid fruits with soft, dark spots. Like pears, quince ripen from the inside out, so later in the season, you might find fruit that's past its prime when you cut them open. I look for firm quince and lift them to my nose; if they have a nice fragrance, there's a good chance they're good candidates for poaching. Some recipes advise soaking the peeled quince slices in lemon-tinged water to avoid browning. I've never done that, but instead, I simply slip them into the warm poaching liquid and any trace of discoloration soon disappears. Of course, this recipe can be halved, or increased.
7

cups (1.75l)

water

1

cup (200g)

sugar

1/2

cup (150g)

honey

1

(preferably unsprayed)

lemon

,

cut in half

1

vanilla bean

,

split lengthwise

6

large or 8 medium

,

quince
Mix the water, sugar, honey, lemon and vanilla bean in a large non-reactive pot and turn it on to medium-to-high heat. You can add any additional spices or seasonings, as indicated above, if you wish.

While the liquid is heating, quarter, peel, and remove the cores of the quince. Make sure to removed anything tough for fibrous, being very careful with the knife.

As you peel and prepare the quince quarters, slip each one into the simmering liquid. Once they're all done, cover the pot with a round of parchment paper with a walnut-sized hole cut in the center and place it on top.

Simmer the quince (do not boil) for at least an hour, until the quince are cooked through.

Cooking time will vary, depending on the quince. They're done when they are cooked through, which you can verify by piercing one with the tip of a sharp paring knife. It's not unusual for them to take up to 2 hours, or more.
Notes
Serve warm, or at room temperature. To store, pour the quince and their liquid into a storage container and refrigerate for up to one week. You can also use these poached quince to make my Quince tarte Tatin.
*After I wrote this post, I consulted The Flavor Bible, a brand new, comprehensive dictionary to pairing flavors, and there were some I never thought of or had overlooked: whiskey, goat cheese, lamb, mascarpone, Armagnac, cardamom, black pepper (oops…I had that one), raisins, and Riesling. It's an interesting guide!
And here are two previous posts I wrote on quince: There is a simple Vanilla-Poached Quince recipe with photos and tips on peeling and preparing the fruits.
And you can also read Quince Revisited on how to reduce the syrup to a quick jelly which is great with cheese, well as Elise's version of Quince Paste, also known as Membrillo.