I don't know why, but on my recent trip to San Francisco, I was having a really hard time remembering the name of the restaurant called Fish & Farm. Maybe it was the jet-lag, or all the chocolate and cookies that were coming at me from all angles.
But I kept calling the restaurant Farm & Fish.
Or Fish Farm. Or Farm and Fowl.
Aside from having a hard time trying to find a listing for a restaurant about fish farming, because of the offbeat name, I thought the Fish Farm was somewhere in the outer Mission, one of the fringe neighborhoods of San Francisco. Not right downtown, in the gentle theater district.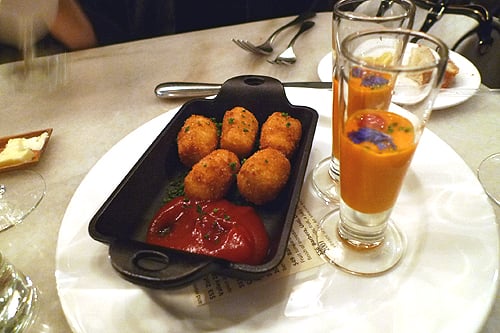 When we pulled up to the restaurant, I was surprised at how slender it was. (What was I expecting? A farm? A hydroponic tank?) But then I was glad, because it's small size gave them the luxury of spending more time on the food for each guest.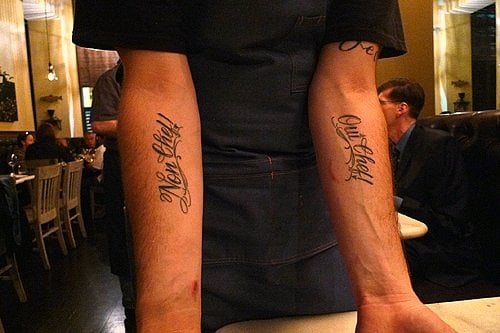 Doubly-inked chef Chad Newton sources as much of the food as possible as close to the restaurant as he can.
And another curiosity about the restaurant is that taxes and "fees" (which I'm not sure what those would be—fishing licenses?) are included in the menu price. And that diners were welcome to "…add the gratuity that you feel appropriate".
A few posts back, someone noted that I'd visibly winced when Ree, the Pioneer Woman, who I was speaking at a conference with a during my visit, mentioned that she uses Lawry's Seasoned Salt. I thought it was pretty clear that my gesture was meant to give her some a little ribbing. (After all, that woman castrates calves, for lord's sake—I certainly don't want to get on her bad side…) I just think it's interesting how different we folks with food blogs all are, but we have something even greater in common: we like to cook!
And for the record, one can't possibly make a proper batch of Chex Party Mix without Lawry's Seasoned Salt (although Furikake Chex Mix is pretty fabulous.) Heck, I've been known to shake in a little of the offending orangy powder while tossing up a batch of the aforementioned party mix.
It's be like serving a wedge of iceberg lettuce and crispy bacon without creamy bleu cheese dressing. Um, I don't think so.
I didn't seen any locally-sourced Lawry's seasoned salt in San Francisco, but at Fish & Farm, they did have homemade tater tots, which were much better than the frozen originals. And easily slid right down with our cocktails. In fact, I liked them so much that when the waiter put down the rectangular skillet of the crispy little beasts, stuffed with bacon, we got more than halfway through them before I could grab my camera and nab a shot.
Those who've dined with me know that I'm not big on sharing, especially when it involves multiple passing of the plates around the table. And these tater tots were no exception. But I'm glad I graciously agreed to share, since what came next were some picture-perfect renditions of American country classics. Ree would be proud.
Fish & Farm is famous for their juicy hamburger, called the best in San Francisco. But when I saw fried chicken on the menu, I melted into submission. Aside from bar-b-que, cassoulet, duck confit, and a patty melt, a burger smothered with fried onions topped with melted swiss cheese and served between slices of griddled rye bread, fried chicken is my all-time favorite food. And the buttermilk-soaked version here was great. I pretty much ignored the beans and cole slaw, which deserved more attention than they got, and the sweet madeleine-shaped cornbreads, in favor of the crispy-skinned pieces of chicken.
The only downside was that we virtually ignored our knife-stabbed hamburger, which sat patiently with a dagger stuck through it. The kitchen must've had some premonition and decided to do that to the burgers so they wouldn't get away. The one or two bites that I took weren't enough to verify the claim as the best in San Francisco, so I'm going to have to come back on the next visit.
Fish & Farm
339 Taylor Street
San Francisco
(415) 474-3474
Note: Because the restaurant is close to the theater district, it's busiest earlier in the evening. You have a better chance of scoring a table if you come after the theater-goers.