Monaco, Max, Martell, His Majesty, and Me
I'm tired. Or as Madeleine Kahn more bluntly put it in Blazing Saddles, "G-ddammit, I'm exhausted." The last few weeks I've been racing around Paris in my dusty clothes, trying to find things like electrical switches, bathroom shelves, and making a decision about kitchen cabinet knobs for much longer than any sane person would consider prudent. And I've been averaging about three hours of sleep a night. (I'm actually in bed for eight hours, but five of those hours are spent worrying about things.) Everything of mine is still piled up in boxes, including important tax documents (hello, April 15th..in just two weeks…), prescriptions that need refilling (hello, sanity…), and most importantly, a much-needed change of clothes.
I'd been invited to Monaco for the one hundredth anniversary of Martell's Cordon Bleu cognac, which I had accepted, then wrote a message declining. But something in me prevented my twitching finger, which normally hovers over the "Delete" key, from hitting the "Send" button. And when I finally got to the point where I had to make an absolutely certain decision (with substantial prodding from Hélène), I hit that all-important delete key and instead confirmed that I would attend.
The only dart-in-the-backside was when my formal invitation arrived in the mail, in the fine print, at the bottom was a line that said "Black tie" – which I had to Google to figure out what it meant. And sure enough, I found out a bow tie, white shirt (cleaned and pressed), dark suit (without plaster dust on it), and black shoes (without cement bits crumbling from the soles) were required for the gala dinner. Wikipedia didn't mention the dust or cement part, but I assumed those were a given.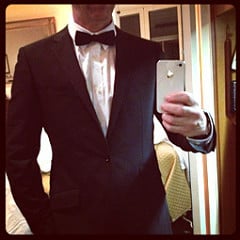 Although I had most of those articles of clothing already, and could have cobbled together a suitable get-up, they were packed up in one or more of my miscellaneous boxes under makeshift plastic tarps. And when I tried to peek into a few of the boxes near the top of the heap, handfuls of plaster dust slid inside, covering everything. So I embarked on a two-day shopping spree in Paris, trying to put together some fairly decent looking attire without spending a small fortune. I discovered that formal wear in Paris is almost as expensive as plumbing fixtures and light switches. And at this point, I would rather have a toilet, or an electrical outlet, than a pair of fancy lace-up shoes.
Somehow, I got it all together and managed to look presentable when I arrived at the airport in Paris. But of course, on the plane, when I opened my pen to write something down in my notebook, a drop of ink landed smack-dab in the middle of the leg of my one and only pair of jeans. Which, of course, I tried to rub away, which only made it worse. So much for arriving in Monaco with any sort of panache.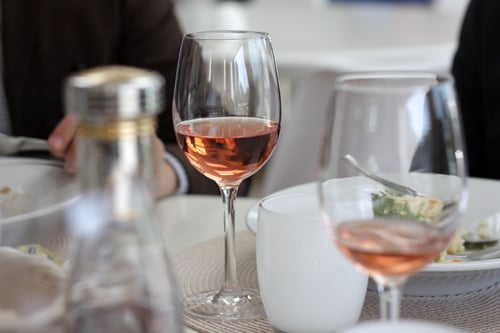 Aside from a stain stick, another thing I didn't have on hand, or even think about bringing, was a swimsuit. The moment we landed and exited the airport, and the warmth hit us, flowing from the gentle blue Mediterranean, the idea of jumping into the water seemed to be the first order of business after lunch, rosé – and, um, a bit of Cognac. Since it was just quick trip, Max and I were directed by the concierge at our hotel to a nearby shopping mall in Monaco for swimsuits.
However after finding out that the cheapest swimsuit was €169 (which was probably a bargain in Monaco, and in retrospect, we should have snapped up as many as we could), we both reluctantly passed and decided to head back to our rooms and try to sneak in a nap before the evening events.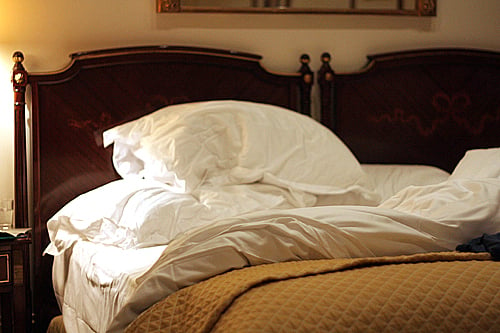 (And let me tell you, after being without my own bed for a month, there is nothing better than crawling into a sumptuous bed with freshly laundered sheets, surrounded by mountains of generous pillows, bedding free of plaster dust, and yes, electricity. Needless to say, that night I could barely sleep. I kept turning the lights off and on, as well as thinking about what I'd be having for breakfast the next morning.)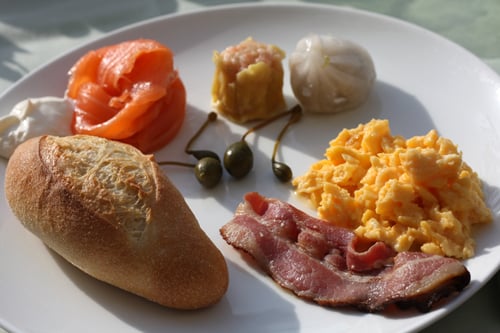 Anyhow, since the Prince of Monaco was going to be coming to the dinner, we got briefed about protocol when in the presence of His Royal Highness. When he came into the room, we were supposed to stand until he was seated. Photographs were interdit, except at certain photo-ready moments, which is a good idea since no one looks good – or wants to be photographed – when they're eating. (If you've ever tagged anyone on Facebook eating, do them a favor and after you read this, go untag them.) And we weren't supposed to go up to him and say "Hey, how's it going?" without him initiating a conversation. Fair enough. And when I get my own crown, I'm going to call the shots, too. And send my minions out to untag any photos of me eating as well.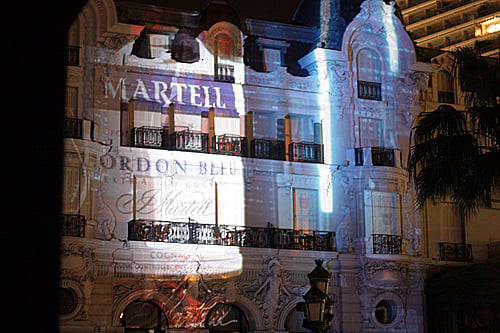 In my room, I gussied myself up for dinner, even donning a bow tie before our lovely dinner at the Hôtel de Paris, where the entire, splendiferous façade and dining room were bathed in a lot of blue, the color of Martell, a nod to their ancestors seafaring days.
While it made from a dramatic evening, consequently all my photos of the food and dinner ending up looking like they were taken by a member of The Blue Man Group. So I asked if I could visit the kitchen the next morning to meet the crew and share a little of their work.
Tucked within the Hôtel de Paris is the Louis XV restaurant, one of the many three-starred restaurants by French chef Alain Ducasse. In the kitchen, cooks were charring and roasting yellow peppers, sauces were reducing in copper pans, blood oranges and grapefruits were being prepared in sûpremes (sections), and the rest of the staff was buzzing around quietly, working hard at preparing the food for the day.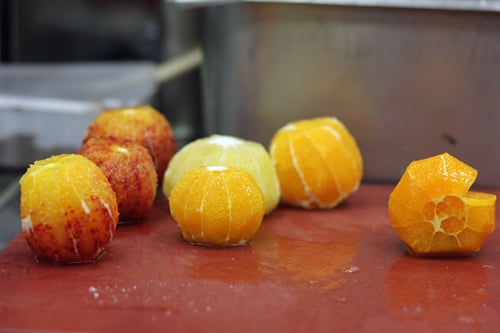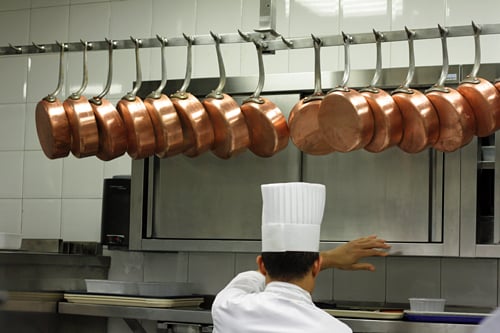 The restaurant is celebrating its twenty-fifth anniversary this year and during that time, Chef Ducasse has focused on using and highlighting products from the Mediterranean region. And his cuisine at the restaurant reflects the local flavors, and those of nearby Provence.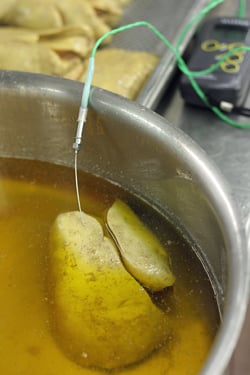 There were Menton lemons (from near Nice), and silky lobes of foie gras being gently poached to just the right temperature.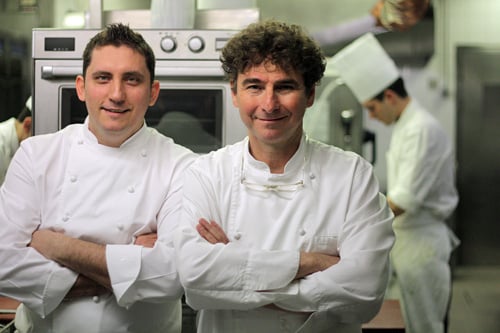 Franck Cerruti, the executive chef of the Hôtel de Paris, and Dominique Iory, the chef de cuisine at the Louis XV, were kind enough to show me around their kitchens. But, of course, I was anxious to visit the pastry section, since everyone knows that the desserts are the most important part of any meal.
So they led me to a separate area where the pastry cooks were putting together individual tarts with fresh fruits and berries, sandwiching tiny macarons, and unmolding individual savory tartlets, which get served to diners as a little amuse bouche, before dinner.
Interestingly, at the dinner the night before, our desserts were all citrus-based, since that's what in season in the south of France right now. And after our plates were brought out, the waiters served coffee with baskets of warm madeleines and tiered trays of orangettes (candied orange enrobed in chocolate), as well as the most delicate little tartlets – ultra-thin layers of pâte sucrée with a candied kumquat nestled inside, then topped with meringue and brûléed.
As someone who has made quite a few painstaking desserts in my time, when they were brought to the tables the night before, after the long dinner, most of the guests had stood up and were preparing to leave. Yet when I saw those shiny little gems come out, I could not resist heading back to the table and munching on a few. And they tasted even better than they looked. The perfect blend of tangy kumquat, a delicately buttery crust, topped with a sweet, creamy crown. So when I met the pastry chef and saw a tray of them in the kitchen from the night before, we immediately bonded when I pointed out how much work those were and he nodded in agreement that many of the guests didn't get a chance to give them the attention they truly deserved.
It was one of those professional "bonding" moments and I made up for the other guests oversight, and took advantage of the leftovers in the kitchen – which would not be the first time. And they invited me back to the restaurant for dessert later that day, which unfortunately I couldn't take them up on because I had to head back to Paris. (And when I got back, it was confirmed that apparently I'm not allowed to go away longer than twenty hours at a stretch.) But I do hope to go back to Monaco and take them up on it, although I'll keep my pens capped on the plane until I arrive.
Although the Louis XV kitchen doesn't make the breakfast pastries for the hotel guests, as we were checking out of the hotel, I saw another plate of the same lemon brioche pastries that they were serving at the breakfast buffet, resting by the coffee pots on a table in the hotel lobby. Since I'm surrounded by French pastries most of the time, I'd passed them over in favor of bacon and dim sum at breakfast. But here they were, once again, in the hotel lobby.
A friend said she had enjoyed one at breakfast, then launched into a full-on description of a buttery pastry shell enclosing a tart, lemony filling, with the slight bitterness of candied local Menton lemons. Since I'm not anyone's Royal Highness (heck, I'm still waiting for my throne to be installed at home), and I was back in my ink-stained jeans, I dared not to ask if they were complimentary. But I'm keeping the rest of my outfit handy, just in case I ever get summoned back.


Related Posts

Note: Travel to Monaco for the event, and hotel accommodations, were provided by Martell cognac. The kumquat pastries were given to me by the pastry chef, although I only took two (or maybe three) of them.