What to do when people call you thirty minutes before you've invited them for dinner? It's something I don't understand. If you're anything like me, during those precious few minutes before everyone arrives you're racing around (probably not entirely dressed…) trying to get everything together so you can at least attempt to give the appearance that you're relaxed when they arrive. 
There are a couple of rules in Paris about dinner parties. The first is that you never, ever show up on time. Twenty to thirty minutes late is normale, and if you show up earlier you just may catch your host in their unmentionables. (Which may or may not be such a bad thing, depending on who invited you.)
Another is that you need to remember people's digicode in advance. Most buildings in Paris have a series of numbers and letters that you need to enter in the right order on a touchpad by the entry to get into the building. And, once again, if you're anything like me, it's hard to remember everyone's codes.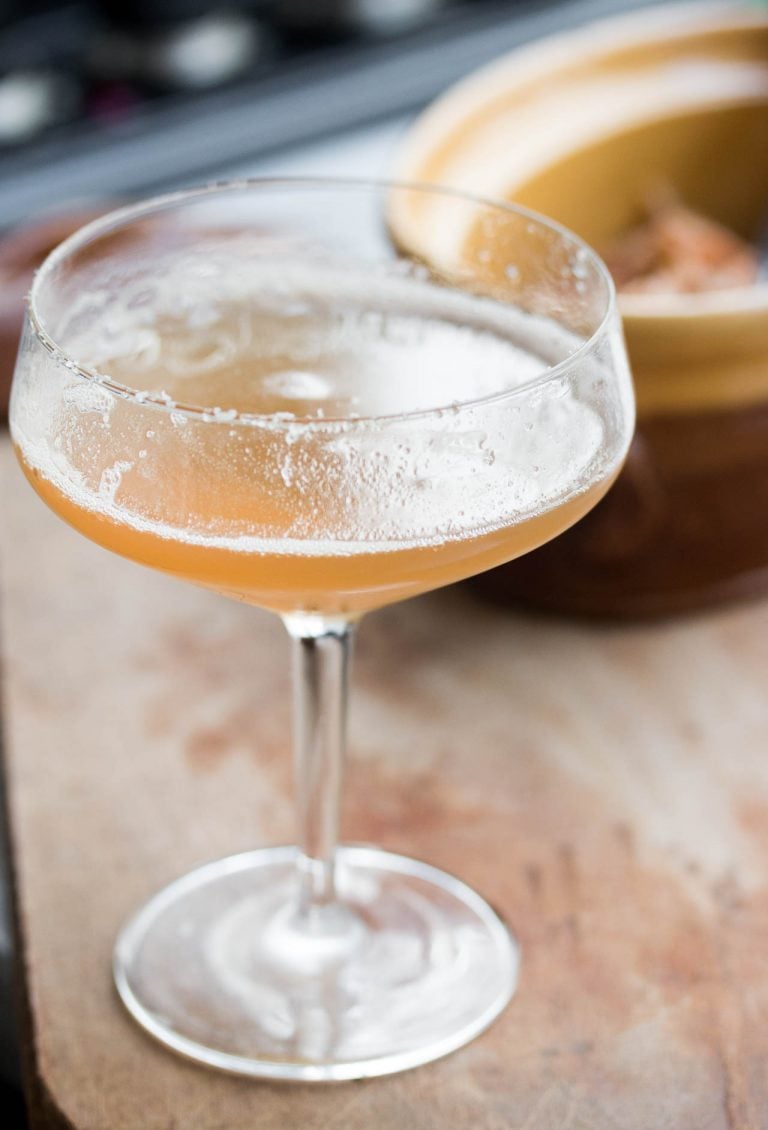 Last week I made carnitas for friends, which is the perfect thing to make since it is best made well in advance. It's great for Parisian dinner parties since you never know when guests will arrive – like the one friend I have who regularly arrives 1½ hours late. But Mexican food in Paris hasn't always had such a great reputation. I'm not sure why since it's one of the worlds great cuisines. But outside of the Americas….well, let's just say it hasn't traveled so well. So I like to make it, to shake things up.
We used to have a tortilleria in Paris, but they closed up shop*. These from Vista Hermosa, however, are worth packing across the Atlantic. And next time I go back to New York, I'm going to pay that pesky extra baggage fee (which someone told me is called "the expat tax") and bring more back with me.
In recent years, Mexican cuisine has made some inroads into the Paris restaurant scene and there are a number of places turning good Mexican far, as well as Margaritas, which are essential on taco night.
Interestingly, carnitas are one of the most popular recipes from my book, The Sweet Life in Paris.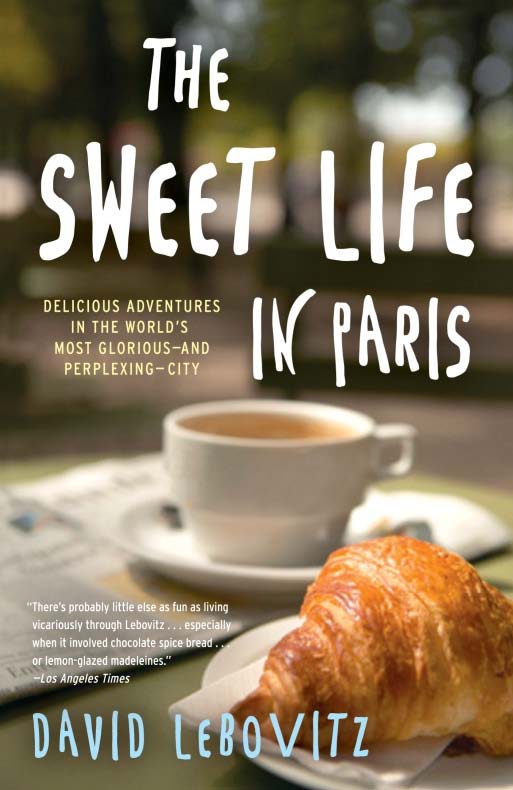 For queso fresco, I stop in an Italian épicerie and get ricotta salata, although I've also made it, too. Feta works fine, although it's a little moister so I crumble it and leave it uncovered in the refrigerator for a few hours or overnight. Cilantro in abundant in Paris, at the markets, so I chop that as well and pickle some red onions.
And margaritas? Oui, please. (Or, si.) The classic Lime Margarita is always popular, although sometimes I shake things up with Orange, Melon, Strawberry, or Persimmon Margaritas.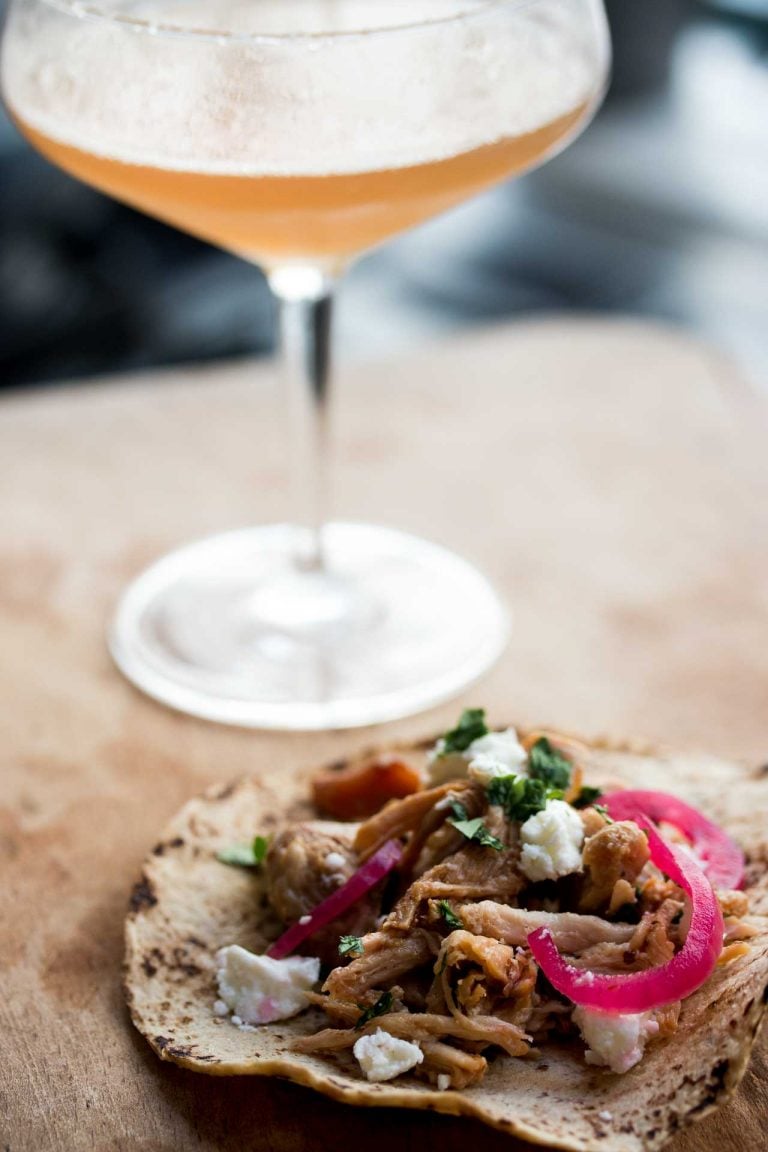 Carnitas
Adapted from
The Sweet Life in Paris
I revised and updated this post since I first published it. Since then, slow cookers and electric pressure cookers have become popular. If you make these in one of those vessels, feel free to leave messages in the comments about your technique and results. Carnitas can be made various ways. Some cooks add a teaspoon or so of Mexican dried oregano. To change things up, I often use beer in place of a portion of the water. Other cooks use orange juice...or even soda.
4 to 5

pounds (2-2,25kg)

boneless pork shoulder

,

cut into 5-inch chunks, trimmed of excess fat

1

tablespoon

coarse sea salt

2

tablespoons

vegetable oil

water

1

cinnamon stick

1

teaspoon

chile powder

1

teaspoon

ancho chile powder

2

bay leaves

1/4

teaspoon

ground cumin

3

cloves

garlic

,

peeled and thinly-sliced
Rub the pieces of pork shoulder all over with salt. Refrigerate for 1 to 3 days. (You can skip this step if you want. Just be sure to salt the pork before searing the meat in the next step.)

Heat the oil in a roasting pan set on the stovetop. Cook the pieces of pork shoulder in a single layer until very well-browned, turning them as little as possible so they get nice and dark before flipping them around. If your cooking vessel is too small to cook them in a single layer, cook them in two batches. If they are too crowded, they'll steam rather than brown.

Once all the pork is browned, remove them from the pot and blot away any excess fat with a paper towel, then pour in about a cup of water, scraping the bottom of the pan with a flat-edged utensil to release all the tasty brown bits.

Heat the oven to 350ºF (180ºC) degrees.

Add the pork back to the pan and add enough water so the pork pieces are 2/3rd's submerged in liquid. Add the cinnamon stick and stir in the chile powders, bay leaves, cumin and garlic.

Braise in the oven uncovered for 3½ hours, turning the pork a few times during cooking, until much of the liquid is evaporated and the pork is falling apart. Remove the pan from the oven and lift the pork pieces out of the liquid and set them on a platter.

Once the pork pieces are cool enough to handle, shred them into bite-sized pieces, about 2 inches (7 cm), discarding any obvious big chunks of fat if you wish.

Return the pork pieces back to the roasting pan and cook in the oven, turning occasionally, until the liquid has evaporated and the pork is crispy and caramelized. It will depend on how much liquid the pork gave off, and how crackly you want them.
Notes
Note: I like my carnitas <a href="https://flic.kr/p/54Jndm">deep, dark, and crisp</a> on the outside if serving them with rice and beans. For tacos, I shred the meat, as shown in this post.
*At the time of this writing,
Bocamexa
sells both corn and flour tortillas in Paris. There are online sources for Mexican products in France, such as
Aztek Comptoir Mexicain
,
Casamex
, and
Mi Tiendita
, although I haven't ordered from any of those sources.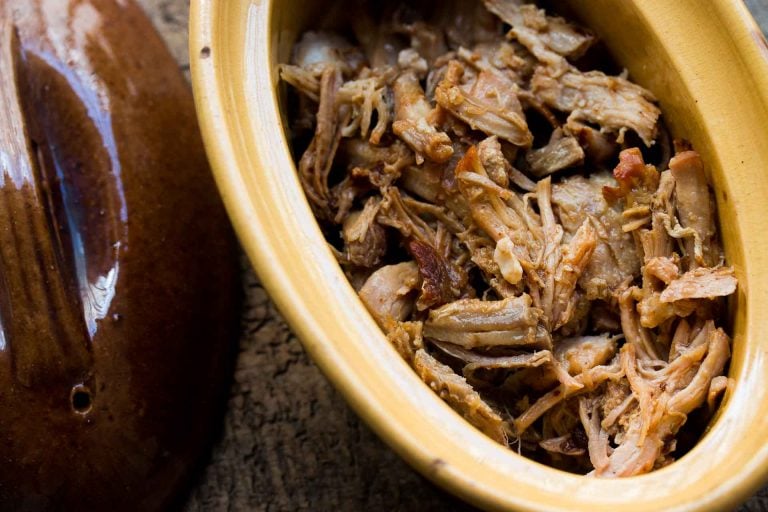 Related recipes
Mesquite Chocolate Chip Cookies