My recent trip to Mexico was probably my fifth or sixth in my life and I thought I'd tasted almost everything I could, so it was odd on this trip that I've never heard of, or tasted, atole. Although it was served at breakfast in a steaming cauldron, when I asked when people in Mexico drank it, a local chef told me "All the time."
The consistency is similar to crème anglaise, a pouring custard made with eggs. But since corn always figures prominently in Mexican cuisine and their culture, the drink is thickened with Maizena (corn flour or corn starch.)
Atole apparently has its roots in Mayan cuisine and I'm sure the earliest incarnations of the hot drink, like Mexican hot chocolate (called champuraddo), were thickened with coarse cornmeal. But as modernity surged forward, the taste for lumpy drinks likely gave way to the smoother beverage served today. Although for curious cooks out there, it'd be interesting to try this with grinding the same quantity of cornmeal to a fine consistency in a blender and cooking the atole the same way.
Once I had seen atole, I started noticing it in different incarnations, some with fruit added and others infused with pecans or cinnamon sticks. So I asked the chefs at the hotel where I was staying, if they would show me how to make it. And they invited me into their kitchen one morning to join them in whipping up a batch.
They had a few plump Mexican vanilla beans ready and waiting, which are my favorite kind of vanilla. Whenever I see a vanilla bean, the first thing I do is pick it up and inhale deeply. I just can't help it.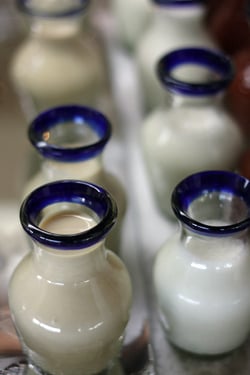 The chefs smiled at the odd stranger in their midst, then took their knives and split the pods lengthwise, scraping out the moist clumps of seeds to add to the drink. They pretty much put everything into one big pot, cranked up the heat, and whisked like mad for a few minutes until the steamy atole was rich and thick.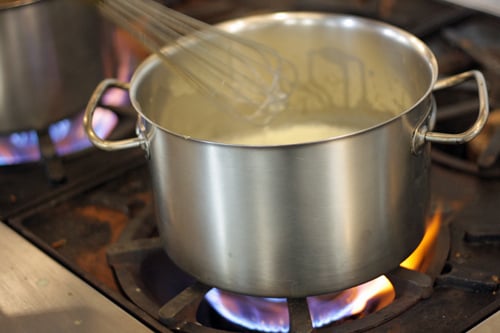 Another thing I was reminded of on this trip is what lovely people Mexicans are. To be honest, I remember my first voyage to this country decades ago and I had some predisposed beliefs and ideas about the people. Most of what was in my head was based on what I had read. But when I got here, I couldn't believe how friendly and laid-back everyone was. Of course, there are a few bad manzanas everywhere. But I kept returning to the Yucatán peninsula every few years after my first visit. And it's always a pleasure to be in Mexico. (Although I could never live here because all I would do is eat all day.)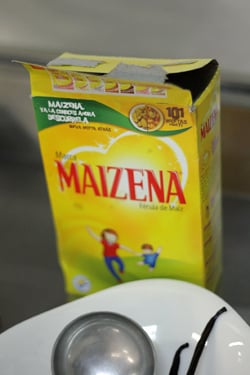 When I picked up the Mexican vanilla beans that they were using, which are my favorite kind of beans and extract, and took that big sniff, that was another reason why I like this country so much. Like those preconceived notions I had, Mexican vanilla got a bad rap because of all the cheap imitations, that bear no resemblance to the real thing.
Mexican vanilla is considered by many to be the best in the world and although it isn't cheap—unlike those imitation "pure" vanillas sold to tourists for a dollar (some contain toxins)—true Mexican vanilla has the scent of heavily scented vanilla custard; complex, elusive, and familiar at the same time. I buy it by the quart from a reputable source and use it as my 'house' vanilla.
After a few minutes of whisking, the atole was done and the thickened beverage was divided into cups, which we sipped together in the kitchen. A quality about Mexicans I really admire is their ability to relax and not takes things so seriously. Whenever I question the reluctance of Parisians to form a single line or to adhere to established rules, the usual response is "We're a Latin culture, that's what we do."
While in Mexico, I've had to curb my normal habit of trying to block others from cutting in front of me (I traded my Parisian shopping basket for a beach bag as my tool of choice in Mexico) and tried to slow down a bit from the hectic pace that's normal in Paris. But something I learned about myself after a few days on a nearly deserted beach was that although I didn't have to do much to keep people from line jumping, I wasn't very good at relaxing. Perhaps I'm more Parisian than I thought. So in addition to learning about atole, I think on my next trip I need to learn to relax—and drink more atole—if I want to consider myself even remotely Mexican.
Atole
This recipe makes quite a bit and you're welcome to cut the recipe in half. The chefs told me that sometimes people use rice or oat flour in place of the corn starch. To get the seeds out of a vanilla pod, split the bean lengthwise and use the blade of the knife to carefully scrape out the seeds. The pod should be reserved for another use, such as infusing
poaching liquid
or tucked in a bin of sugar to perfume it. They don't use much sugar in their atole but you might want to increase the amount to taste. If you can get Mexican piloncillo sugar, this is a good place to use it.
1/3

cup (40g)

corn starch

6

cups (1.5L)

whole milk

1/3

cup (65g)

sugar

the seeds of

1 vanilla bean

,

preferably Mexican
In a medium bowl, whisk together the corn starch with about 1 cup (250ml) of the milk until the corn starch is dissolved and there are no lumps.

Pour the rest of the milk, the sugar, and the vanilla seeds into a large pot, then gradually whisk in the corn starch mixture.

Cook the mixture at a boil over medium-high heat, whisking constantly and vigorously, until the atole is thickened to the consistency of runny pudding. It will take about two or three minutes.

Remove from heat and strain the atole through a mesh sieve before serving it.
Notes
Serving: Atole is served warm. If made in advance and you wish to reheat it, it will likely thicken quite a bit. If so, add some additional milk to thin it out.
Related Links and Posts
Mexican Vanilla (Vanillaqueen.com)
Rain's Choice Mexican Vanilla Extract (Amazon)
Chocolate Atole (Mexiconnect)
Atole de Nuez (The Second Helping House)
Champurrado (Homesick Texan)
Corn Atole (Souvlaki for the Soul)
Blue Corn Atole Pancakes (Ellie May's Blog)
Champurrado (Amanda's Cookin)