The Arnold Palmer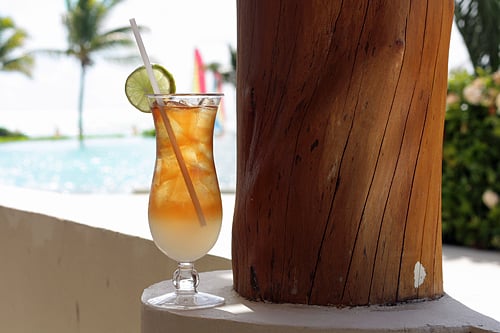 Proof that American imperialism isn't always a bad thing, the Arnold Palmer is a good example of American ingenuity. I first came across this drink just a few years ago, when reading A Passion for Ice Cream by Emily Luchetti. She talked about this mysterious drink with an off-beat name, one named after a famous pro golfer, which was said to be his favorite post-golf drink, a mixture of iced tea and lemonade.
I don't know much more about the origin of this drink because I'm sitting in my office (above, right) and don't have access to my usual arsenal of resource materials. But it really is the perfect beverage for lounging on the beach getting some work done. The ice tea is a good way to perk up and the lemonade tempers it with a bit of sweetness and citrusy tang, thanks to the juice of fresh lemons.
I didn't think anyone in Mexico knew what an Arnold Palmer was until Brooke ordered one. And when I gave her a funny look, as if to say, "Brooke, they're not going to know what that is." She told me that yes, they'd made her one before. In fact, I just ordered one a little while ago and the bartender made it for me. I asked if he knew what it was and he said "¡Claro que si!", or "Certainly!"
In a tall glass he put a dash of something like lemon soda, some sparkling water, and then something from a liquor bottle. (I don't say anything, because that would be rude, and possibly imperialistic.) After he added a dash more of each, including whatever was in that mysterious bottle, he topped off the glass with iced tea and I carried it back to my makeshift office.
Yes, indeed. It went well with the newspaper and the lull of the surf. (But since it's not sugary-sweet or alcoholic, one can spend as much time as they want in their lounge desk chair and not have to get up and you-know-what every few minutes.) And when it was time for lunch, I waddled up to the restaurant where I'd convinced myself that after almost of week of eating myself silly on Mexican food, that I'd just have a light salad or some vegetables.
Unfortunately I made the mistake of passing by the chicken mole and, well, there's some expression about the "best intentions…" But since I don't feel like looking that up either at the moment either, I'm just going to enjoy the chicken mole—and another Arnold Palmer, before heading back to finish up my work.