Xoco Hot Chocolate
At my get-together and book event the other evening here in Chicago, the biggest question I was asked by all who came by was – "Where are you eating while you're in Chicago?" Thanks to a vast network of friends, bloggers, and assorted other folks (who I'll get to in a minute), I've been eating incredibly well. People here are brimming with suggestions of places to go, near and far. And interesting, everyone wanted to know how long I was staying in town. Next time I come, I think I'll create an online calendar and let folks fill in my dining itinerary because not once was I steered wrong. The only thing I lack is time, and tummy space.
When I travel, aside from eating, my most important order of business is lying in bed in my hotel-issued zebra-striped bathrobe (a photo of me in it will not be forthcoming) watching American television, and it's hard to roust me from my horizontal position.
I've seen everything, from the sublime to the ridiculous. (Well, I'm still waiting for the sublime…and just who are all those housewives anyway?) I did have a mild panic attack when I inadvertently landed on Dr. Phil and the batteries for the remote control seemed to fail at that exact moment. And I had no choice but to scramble out of bed to flip the channel before I had to listen to too much of it. But whew, that was close…(but the image was still seared in my head, I'm afraid.)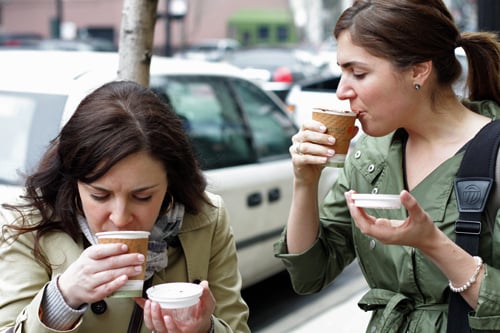 The day I arrived, the verdict from everyone seemed to be that I had to rise and shine, and go to Xoco, Rick Bayless's small Mexican restaurant which specializes in tortas (sandwiches) and caldos (soups), as well as breakfast foods. Thankfully it's near where I am staying so I didn't have to engage in one of my least-favorite activities when I'm traveling, that is, getting lost in a strange city.
But although Chicagoans love to eat, they also like to drink. And aside from a late-night finish the other night at a chilled-out cocktail lounge called The Violet Hour, my friends and partners in crime from Spice Islands decided to make a mid-afternoon detour to Xoco which pours housemade hot chocolate.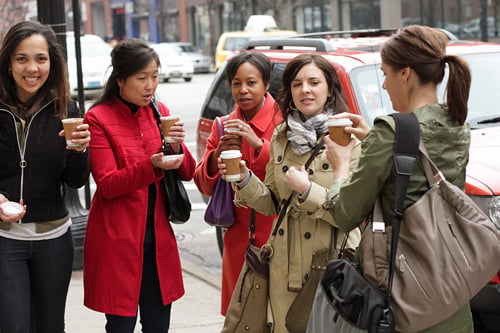 At Xoco, they don't just melt chocolate; they grind up roasted Mexican cocoa beans and blend them with water or milk into dark, chocolatey beverages. There's the Authentic, blended with milk and chocolate, another is whizzed together with almond milk called the Almendrado, and there's a spiced Aztec, seasoned with chile and allspice. And that's what I wanted.
We ordered all the cups we could carry and headed out to the sidewalk, due to limited seating. I think they gave me Authentic instead of the Aztec since it I didn't detect any spices. (I think my spice-less cup might have been a victim of an ordering system which I struggled to master on my previous visit.) We stood outside, bundled up in our winter clothes in the cold Chicago air, and silently sipped and sampled. Some of my companions thought it was quite rich but I found the texture just-right because I'm not a fan of the viscous over-thick hot chocolate that's makes me feel like I'm being force-fed, trying to get it down. My hot chocolate wasn't super hot, or spiced, so I think next time I'll wait for a seat inside.
It's a great idea, making bean-to-bar hot chocolate, and something I've wondered why it hasn't been done elsewhere. There's also gracefully curved churros, sugar-dusted Mexican doughnuts, which are available with the Mexican vanilla soft-serve ice cream. I've been told – by everyone – that those churros are great, but will have to put those on my calendar for the next trip, or let someone else do it.

Xoco
449 North Clark Street
Chicago
Tel: 312-334-3688


Related Recipes