During the next week, I'm going to do a series: Five Great Places in Paris That You Might Not Know About. In a city that hasn't been overrun by chain stores and restaurants, it's nice to be able to profile some of the smaller places around town that I frequent.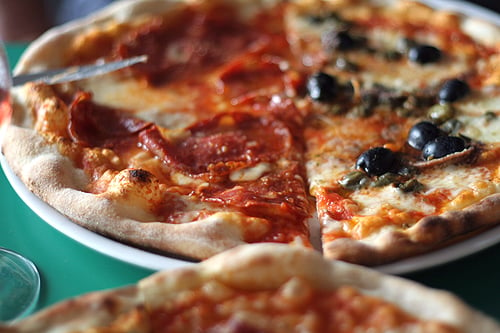 When I've had friends come to visit and suggested we go out for pizza, they balk.
"Pizza? I didn't come to Paris for…for…pizza!"
To which I always want to reply, "Honey, well I didn't come to Paris to listen to you diss my dining suggestions."
But when you live somewhere, no matter how good the local cuisine might be, one cannot live on duck confit and galettes de sarrasin slathered in butter forever, you know.
There's a handful of great pizza places in Paris, inevitably run by Italians, who make thin, blister-crusted pizzas in the best Italian tradition. They eschew heavy toppings and weighty crusts in favor for lighter and more traditional pizzas. Even if you're a jaded pizza-phile, coming from out of town, it's become decidedly very Parisian to tear into a well-made pizza and you shouldn't feel any regret for doing so. Although to be really Parisian, use a fork & knife, and don't pick it up.
(Except Romain does it, so I don't feel like such a slob if I do it once in a while.)
When three different people tipped me off to La Briciola, I finally had the chance to stop by for lunch with a friend, who ordered the Napoletana with anchovies and olives, while I had a pizza strewn with wispy slices of spiced sausage. We did the 'divide-and-split' method, which I've developed to avoid forks and knives wandering across my plate: each pizza is cut in half, then one half is swapped with my dining partner.
The Napoletana was fine, although would've been better with top-quality olives; my pizza topped with sausage was the winner of the two. With a chilled carafe of rossato, we were happy, and I'm looking forward to going back to try some of the other pies, as well as some of the terrific-looking salads and antipasti I saw on the other tables.
They even have a child's menu, for les bambinos, which includes a scoop of gelato. (Which I think is totally unfair!) But for us adults footing the bill, prices are reasonable, too. Pizzas run from 9€ to 15€.
La Briciola
64, rue Charlot (3rd)
Tél: 01 42 77 34 10
Map


Related posts:
Two Delicious New Dining Guides to Paris
Paris Restaurants (Archives)

Part of Five Great Places in Paris That You Might Not Know About (series):
1# La Briciola (Pizza)
2# Dot Paris (Vintage Kitchenware Shop)
3# Grom gelato (Italian Gelato)
4# Musée Fragonard d'Alfort (Veterinary Museum)
5# Goumanyat (Spices & Specialty Foods)