The Best Croissant in Paris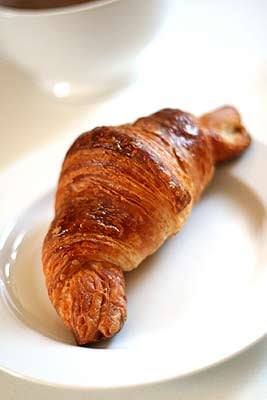 [UPDATE: The original bakery mentioned here is now closed. However it was replaced by Maison Landemain, which has excellent croissants, and other pastries and bread.]
Truth is, I don't eat croissants very often for the simple reason that I don't like to get dressed until I've had my morning coffee & toast. So having one is a relatively big deal for me, since croissants are only good early in the day: I refuse to eat one after 11 am if I can help it. Like anything made with copious amounts of butter, they don't get better the longer they've been out of a hot oven.
Although stories abound, no one quite knows who invented le croissant. It's believed to be in an invention of the Austrians, who created a crescent-shaped pastry to oppose the Ottomans, who had invaded their country. The symbol of Turkey is a crescent, and granted, who doesn't like to eat Turkey? Except maybe vegetarians. So maybe croissants were invented by and/or for vegetarians?
Aha…a new theory emerges…this is how rumors get started on the internet, folks, and perhaps people will be quoting me decades later: "David Lebovitz says croissants were invented for Austrian vegetarians!"
But today, I think few would argue that the croissant is most closely associated with France and in fact, one rarely comes across a bakery in Paris that doesn't offer their own version. If you need further proof of their proprietary alliance with French gastronomy, ask yourself when was the last time you heard the words das croissant?

A recent listing in Le Figaro to discover the 'best' croissant in Paris gave top nod to the buttery crescent at Pierre Hermé. Sorry Petey, but I ain't schlepping across Paris to the rue Bonaparte to get there before 11am. And, more importantly, my local bakery has extraordinary croissants, which I would put up against any other croissant in Paris' top honors category.
Whatever pâtisserie you visit, be sure to only ingest a true croissant au beurre, which has that unmistakable smell of deeply-toasted, caramelized-crunchy French beurre. Stay away from croissants ordinaires, which are made with margarine and are, oddly enough, usually crescent-shaped, but to the extreme.
Anyhow, I've been craving a croissant au beurre for a few weeks now and been vowing to myself to go out and get one in the morning. But when I wake up, with the gray winter haze peeking through the curtains, the idea of going out and facing the public has lost its appeal (no matter how much I convince myself the night before that tomorrow's gonna be 'the day', which I've been doing for a few weeks now.) But this weekend, I woke up determined. And it was bright and sunny, which gave me a little motivation for getting out.
Before doing anything else, I slipped on my Levis, put on a decent shirt, and made my way over to Au Levain du Marais. The woman behind the counter slipped two buttery beauties in a little waxy paper sack for me, snapped the ends closed with a deft couple of twists, and handed 'em over. I took a deep whiff in the bag while riding up my little elevator, and when I got back inside my apartment, I changed back into my pj's, fired up a steamy café au lait, and enjoyed each flaky, buttery bite with a creamy-yellow dab of salty French butter dotted with crunchy nuggets of fleur de sel.
Ah, the sweet life indeed…
Au Levain du Marais
28, Blvd Beaumarchais (11th)
Tél: 01 48 05 17 14
(Closed Tuesday and Wednesday)
Métro: Bastille or Chemin Vert
Related Posts and Links
Other reading on croissants: Go Ahead, Have a Croissant
Recipes at delicious:days and La Tartine Gourmand.
Pim has an interactive map for Where to find the best croissants in Paris.
There's an exhaustive pictorial to Finding The Best Croissant In New York, over at The Wandering Eater for those stateside.
How much butter can be in a croissant?