The French Bastards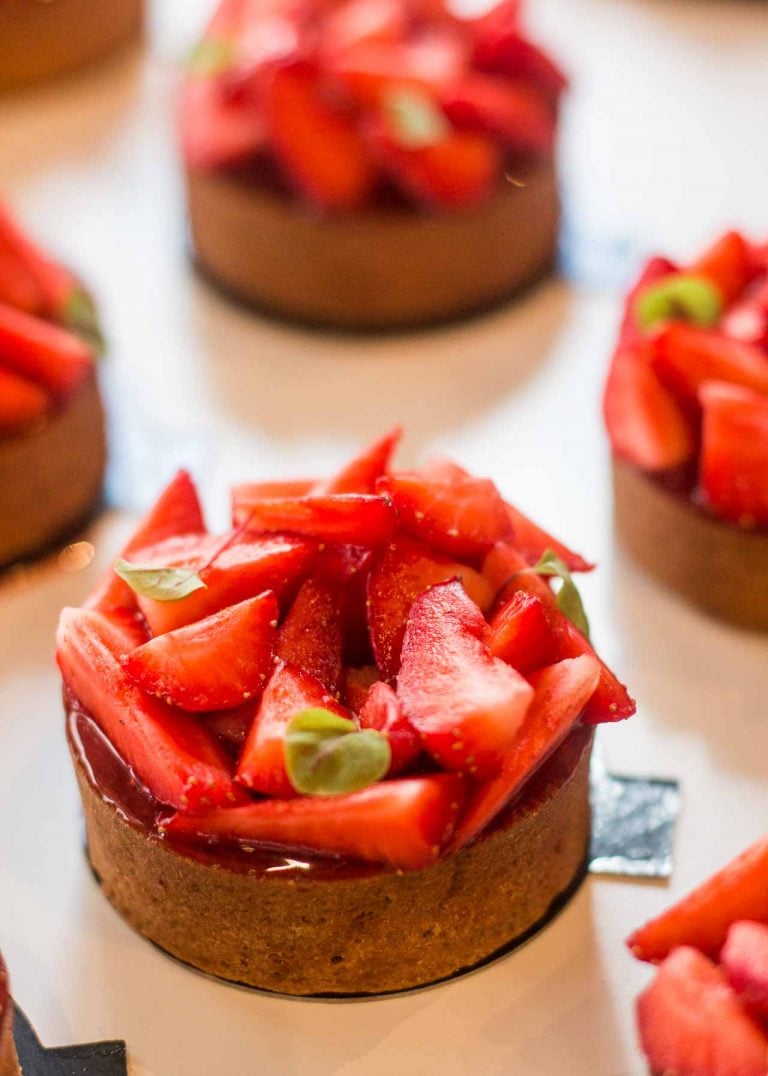 When the bakery sign went up, I thought, "Well, that's rather audacious. I wonder what it's going to be?" A bakery had been in that space, which had once been a pretty good, but had slid in quality, until one day, the doors closed for good. It's a bummer to see a place decline but exciting when something better opens in its place, which happened.
There's been a renaissance in Paris over the last few years of young bakers, who understand techniques and traditions, but use them as springboards to go beyond them. And three of them have set up shop, calling themselves The French Bastards.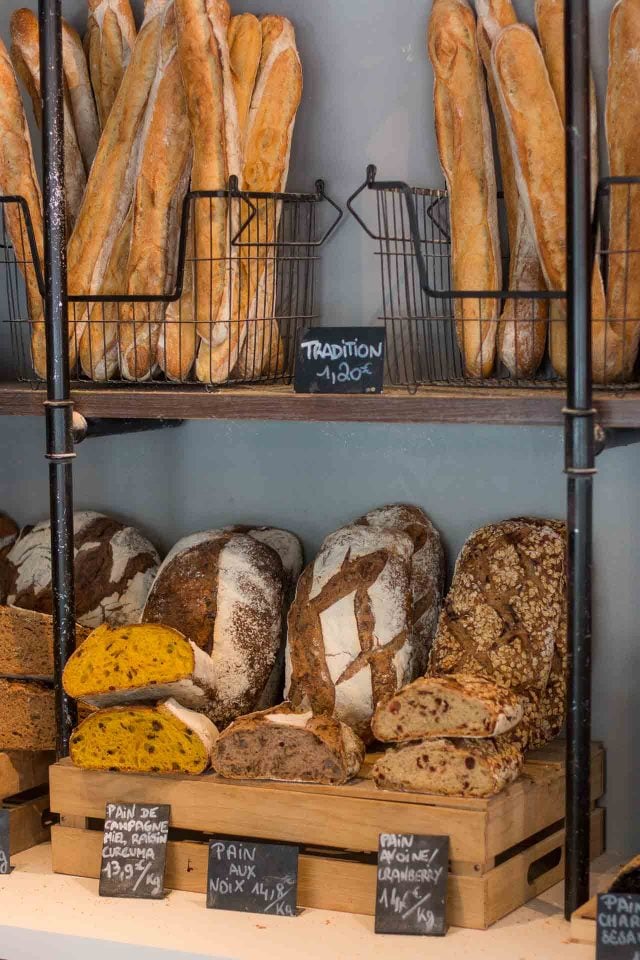 Their unconventional name comes from when one of them, Julien, worked in a restaurant in Australia. He was so talented and worked so well that the chef (affectionately) referred to him as "the French bastard." So he and his friends decided to use it to name their bakery in Paris.
The work bâtard (bastard) typically refers to a type of bread that's without a distinct form, like someone without the structure of a family. Romain told me the less-gauzy meaning of the word (because he's not writing for the general public, like I am) which refers to the child of someone aristocratic who has an affair with the domestique (the housekeeper. So it could refer to a bread that's a cross between a (refined) baguette, and more rustic country loaf. But bâtards come in many shapes, and fortunately, the only ones in this bakery are the ones in the bread baskets.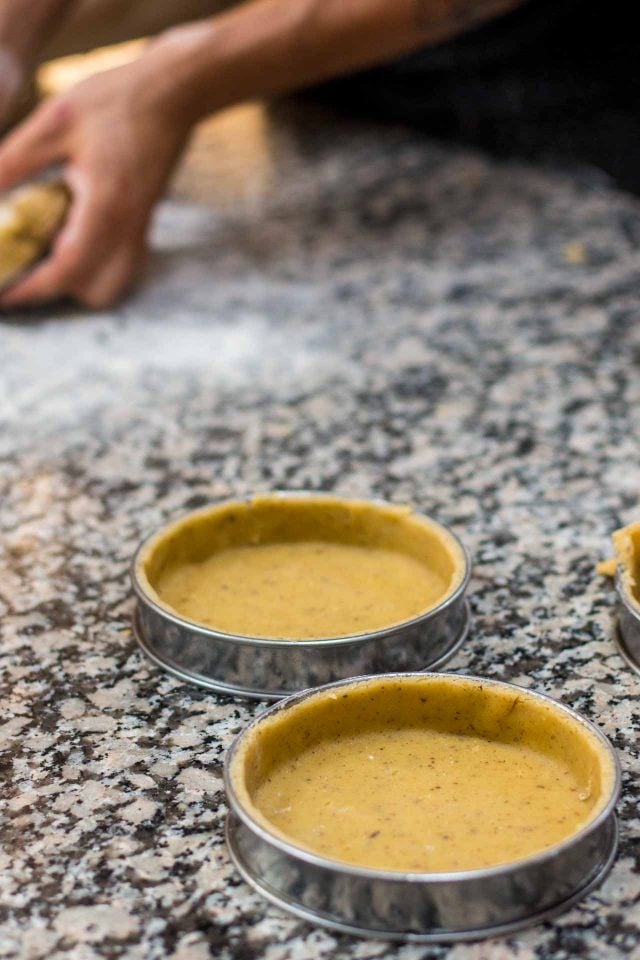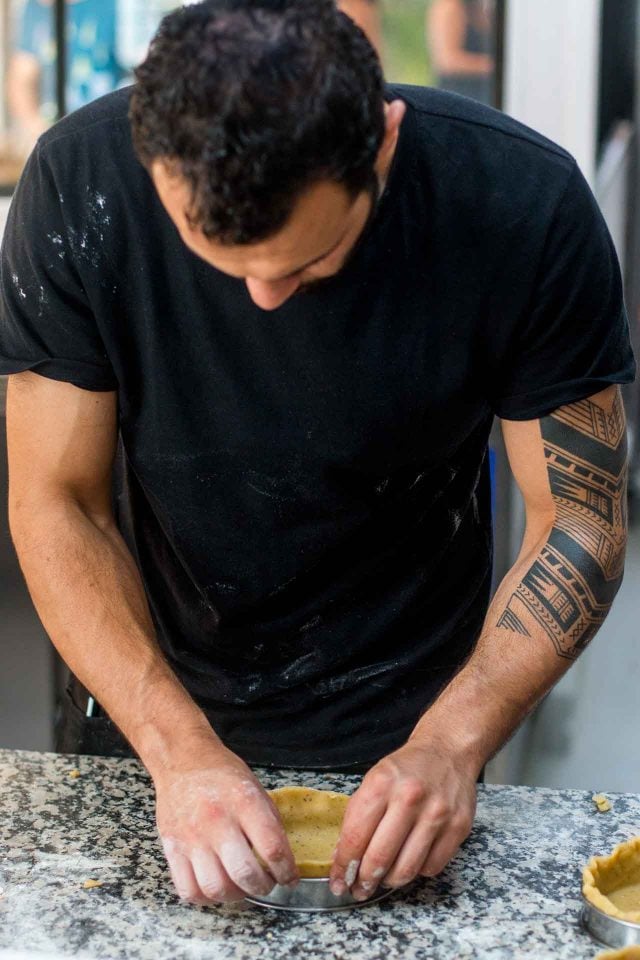 These guys are very nice, and the first time I stopped in, aside from the name, I knew this was a different kind of bakery. On my first visit, I met Emmanuel (one of the other bâtards), told me their signature bâtard was made with three different flours, two of them whole-grains, which made the bread healthier, and more aligned with modern tastes than if it had been made with white flour. He told me that the fatter, bâtard-shaped breads had mostly disappeared in Paris, but were still made in the countryside. At The French Bastards, theirs resembles a slender baguette, which hews close to a bread that's traditionally Parisian.
Emmanuel lived in the U.S. for a while, working at start-ups in Mountain View. Julien worked for the most famous caterer in France, as well as at La Manufacture de Alain Ducasse, the bean-to-bar chocolate shop in Paris. David, the third partner came from the diamond industry, but wanted to learn about pastry so studied for, and passed, his CAP (pastry professional) exam, and was the one who understood how to run a business. (Which is always helpful.)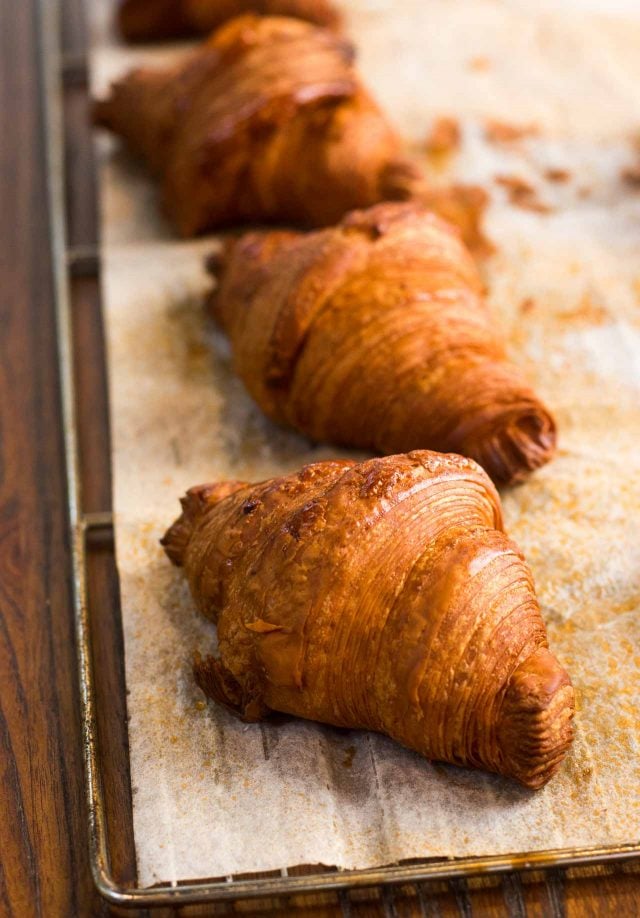 The three had been friends for fifteen years and dreamed of doing something together, until they finally did. They realized Paris was changing and the time was right for an updated bakery, hovering close to the classics, but "making them fun." They spent two years searching for just the right place and the recently-closed bakery was just the right fit. (And the bank lending them the money was also happy they were taking over an already established bakery, although in the end, they created something entirely different and new.)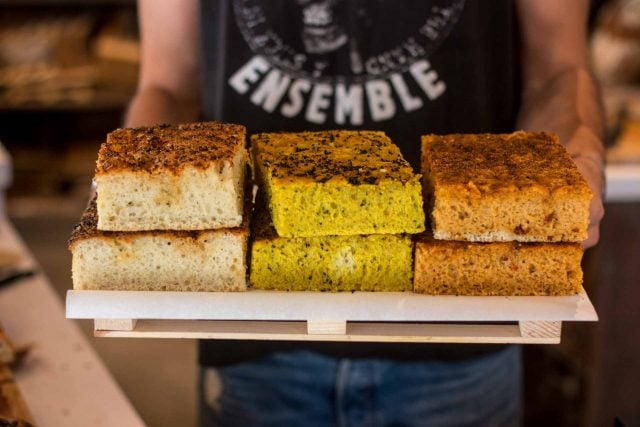 Paris has had a few challenges, and they felt people were ready to have fun again. But not everyone was amused; Emmanuel told me that some people come in off the street to tell him that they should call their bakery something French. He told me, "We are a bakery with an English name, but with a French spirit."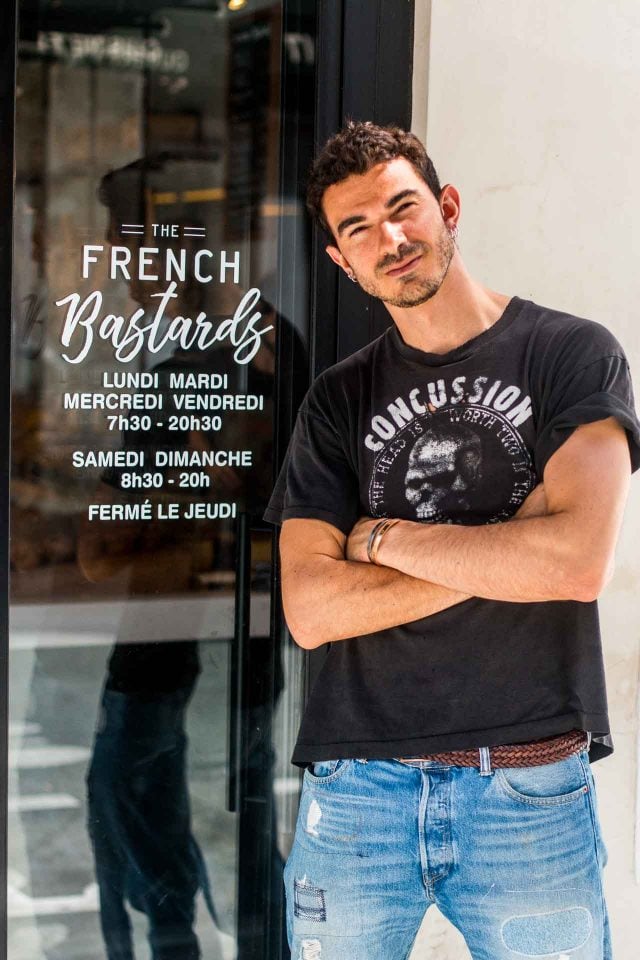 A number of people have said to me, "They're so nice!" which is also something the younger generation is bringing to Paris. Gone is some of the gruffness (who visitors tell me they are part of the charm of the city, but I doubt any of them would be happy to have that kind of service at home), and young people are excited about what they are doing, including the new generation of bakers in town.
Everything is made in the shop and if you walk down the side street, you can see everything being made in the big picture window next to The French Bastards as everyone works around the cool granite table, which keeps the butter in the laminated doughs that they use for their morning pastries (above), from melting.
Perhaps my favorite pastry here is the individual lemon meringue tart, which really, is generous enough to feed two…or maybe four. At my place, we eat it cut into four pieces, because it's so monumental. The pain aux raisins uses tiny currants, rather than the standard raisins, because they taste better to the bakers. And while they're happy to do French classics, they like to touch down in other cultures, too.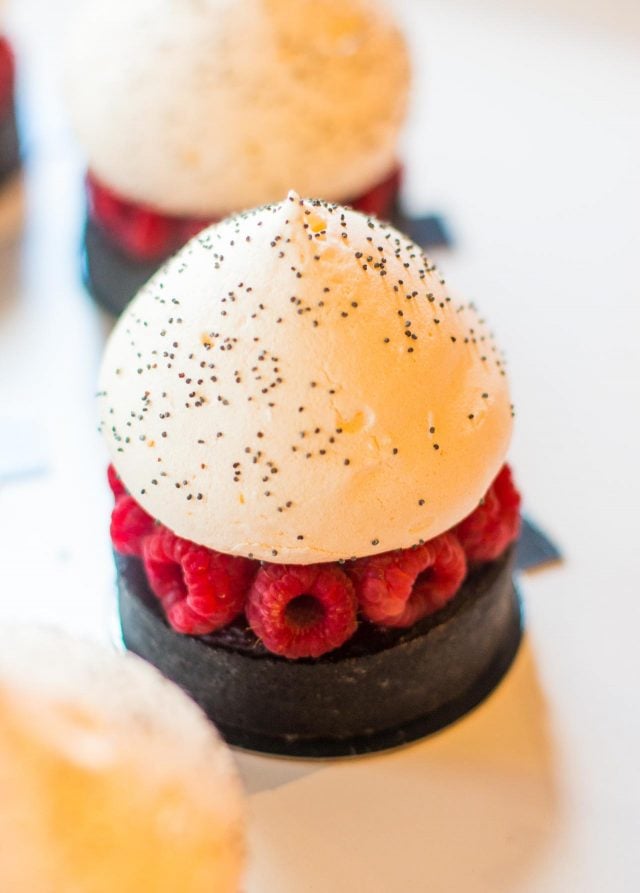 A new-fashioned Pavlova (above) has an activated charcoal crust and a poppy seed-filled dome of meringue. Chocolate babka, cruffins, and éclairs reference several cultures.
And yes, if you come during lunchtime, you can get a sandwich, or un sandwich…or whatever you want to call it.
I don't share text messages but one of them is from the team at The French Bastards, telling me shortly after they opened that I'm an "honorary" bastard. And while I wouldn't normally consider that a compliment, in this case, I'll make an exception.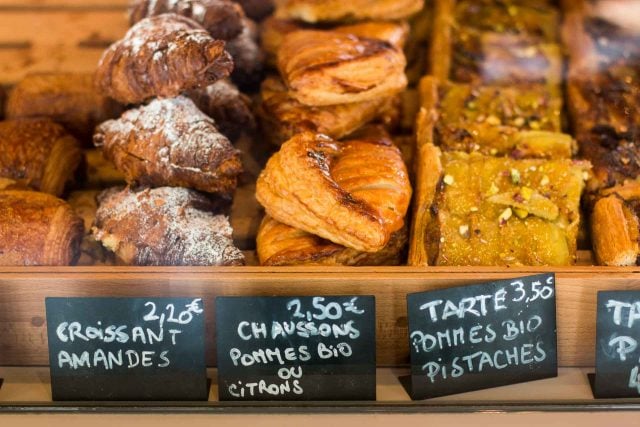 The French Bastards
61, rue Oberkampf (11th)
Métro: Oberkampf or Parmentier
Closed Thursday
[Follow The French Bastards on Instagram and Facebook.]