10 Fun Things to Do When Planning Your Food Trip to Paris
My friend Anne Ditmeyer has lived in Paris for over a decade and not only knows her way around town, but also helps others get around. She offers personalized Navigate Tours, she's also launched Navigate Paris Online, to help you plan the perfect trip yourself. On her blog, Prêt à Voyager, she's covered everything from the delights (and hazards) of Paris swimming pools, to her path to citizenship. I asked Anne to share some of her favorite food-related travel tips for visitors. From indulging in French butter, to finding the best Tarte au citron in town, here are her top ten tips for tasting the best of Paris.
---
Bonjour! It's Anne Ditmeyer here of Prêt à Voyager (translation: ready to travel). I just launched a new project called Navigate Paris Online, and to give you a taste, so to speak, of what it's about, David invited me to put this post together of food-related tips and suggestions to make your visit to Paris a little more delicious. Here are my top ten tips to help you make the most of your time in Paris!
Seasonal specialties aren't just relegated to the outdoor markets.

Paris pastry shops and bakeries get on board too. For instance, the

fraise

chou

(strawberry cream puff) at Popelini is only available for a couple of months each summer (except when they're closed in August). It's my all time favorite! During my 10+ years in Paris I've noticed chocolate shops also take it up a notch, not only getting even more creative than they usually do with their flavors, but also with the forms they make, and how they present them. It's like an unspoken competition between the shops.

Poisson d'Avril

(April Fool's Day) is especially popular, where you can expect to see chocolate fish in the window.

Watch the masters at work.


Keep your eye open for places where you can see into the kitchen and workspaces. One of the most intriguing is

Aux Merveilleux de Fred

where the pastry chefs put together their famous

merveilleux

(meringues filled with cream, then rolled in toppings) in the window where you can watch it all come together. Another tip: Their brioche is also to die for. Even more so when it's fresh out of the oven!

Eat yogurt in glass jars.


Glass jars were far more common back when I first studied abroad in Paris in 2001, but they're still my favorite vessel for eating yogurt from. (And I find them far less sweet than the mass-produced yogurts, sold in plastic pots.) They're getting harder to find at grocery stores, so use it as an excuse to visit the local

fromagerie

(cheese shop). The yogurt in ceramic pots you also find make for nice pen holders when you're done. The mecca for yogurt in Paris is the yogurt aisle at La Grande Épicerie.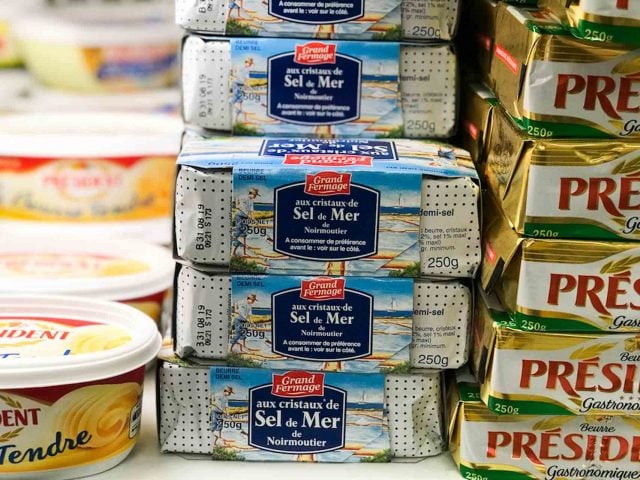 4. Butter can be your favorite food in Paris.
It sounds like a joke, but butter is my favorite food! From the grocery store I love picking up beurre au sel de mer (butter with chunks of sea salt)—I get the one in the blue and white polka dot packaging. Échiré is another butter I love. It's also worth checking out outdoor markets and high-end food stores. Or pull up to the stand-up wine bar L'Avant Comptoir, which has its own mountain of butter. I probably don't need to tell you, but butter goes great with a baguette tradition fresh out of the oven.
5. Food makes great souvenirs.
Not all food travels well, or is allowed back in other countries, but there is plenty you can take home: chocolate, cookies, tea, etc. The packaging design game in France is strong and makes everyday food items great for gift-giving. I love visiting places like Maison Plisson just to scope out the packaging. Don't forget to support the smaller independent shops, too, which are scattered across Paris.
6. A trip to Paris is not complete without a trip to a local neighborhood market.
There are outdoor food markets that pop up in different neighborhoods every week. This is where the locals shop, and where you can find great deals. Check out Paris.fr, a handy website from the City of Paris, to find the complete list of marchés (markets). Even if you're staying in a hotel and not cooking for yourself, the cultural experience of visiting a supermarché (grocery store) is always a fun experience, too.
7. Little things at a boulangerie can help you blend in like a local.
When ordering a quiche or pizza at the boulangerie you'll likely ask you if you'd like it rechauffer (reheated). A simple Oui, or Non merci is all you need to know to respond. If it's a place with seating you may be asked if you'd like it sur place (for here) or à emporter (to go). While it used to be interdit to eat on the sidewalks, Parisians can't resist diving into a jambon-beurre (ham and butter sandwich) as soon as they're out the door.
8. Fixed-price menus are great for lunch deals.
Many restaurants will offer special menus where you can pick from an entrée (starter) + plat (main dish) or plat (main dish) + dessert (dessert). Sometimes the boisson (drink) may be included too. Not every restaurant does this, and often it's a smaller menu to choose from, but the limited selection makes decision-making easier.
9. Always check opening hours.
Opening hours are always a game in Paris. Historically everything was closed on Sundays, but now I feel like Mondays or Tuesdays can be the trickier days. And yes, even for restaurants. One exception to the rule is Au Pied de Cochon near Les Halles, which is open 24 hours, 7 days a week. Eating there is truly a French experience, and they have my favorite soupe à l'oignon (French onion soup) in the city.
10. Try something new.
Travel is a great excuse to get out of your comfort zone and try something new. This doesn't mean you have to get crazy and eat something too unfamiliar to you, like frog's legs; it could even be a new-to-you pastry. Why not buy a couple different treats and taste test to compare? The obvious one is macarons from Pierre Hermé (known for his daring experimental flavors) and Ladurée (more traditional), but why not visit a couple of standard boulangeries, where the locals shop, and compare croissants or tartes aux citron (lemon tarts)? Get creative and have fun creating your own Paris experience!
---
Navigate Paris is an online experience that covers the nuts & bolts that guidebooks make assumptions about, while also including a cultural perspective and insider tips to help you travel like a local. It works like an online class that's self-paced and organized in a way that is easy to digest. Lessons cover everything from neighborhoods, to riding the métro, ordering at a restaurant, cool cultural stuff to see, and so much more. You can follow the lessons in order, or pick and choose as you go. Once you buy, you have lifetime access, so you can keep coming back for more (the beauty of it being online is it gets updated regularly too!). It's full of great resources to help you make the most of your time in Paris, in a way that will help plan your own adventure according to your own interests and get you excited about your trip. Find out more at navigateparisonline.com.
Follow Anne on Instagram, read her blog, Prêt à Voyager, and sign up for her monthly newsletter to get her Paris travel tips and more in your inbox.