Balsamic Glazed Roast Pork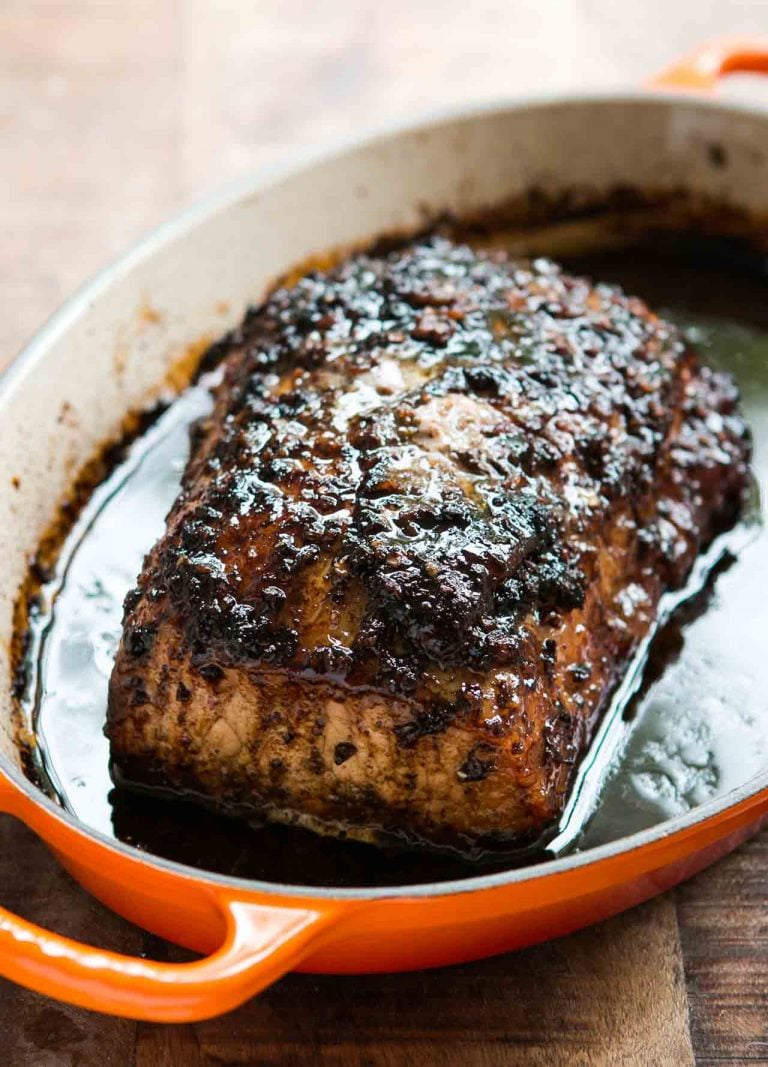 It's been a goofy month. I don't know if the word "goofy" exists or translates into French, but c'est comme ça, as they say, or "that's how it is." It seems like everything got discombobulated; even my vacation plans were thwarted by a server outage and a nasty jellyfish sting, whose only upside was that it was on my thigh – near, but not on, my génitaux. (I'll spare you the details, but you can look that one up if you want.)
My iPhone also mysteriously died one night, which I discovered the next morning and I couldn't get an appointment at the Apple store for a week. When I went in to the store in Paris, they told me the wait to speak to someone was three hours. (!) And when I went to put up a new recipe on the blog, I realized that I didn't write down the baking time. Zut.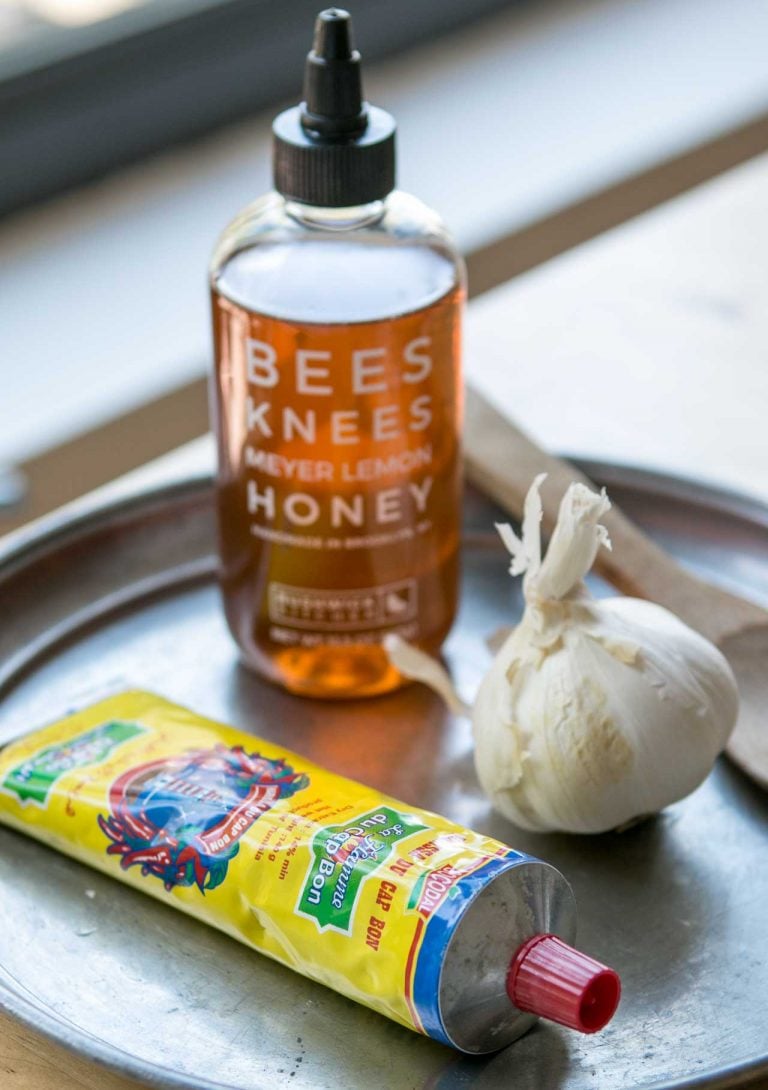 Fortunately I'm not a total nitwit, and had this recipe waiting in the wings. I had made it because I wanted to feature balsamic vinegar, which I have to admit, isn't one of my favorite ingredients to add to a salad. The sweetness, to my taste, doesn't enhance a salad, although it's not bad with bitter greens like radicchio. Still, I'm more of a red wine vinegar or sherry vinegar kinda guy and prefer a bit of sharpness in my salads. But I found a bottle of balsamic vinegar lingering in the back of my cabinet and wanted to use it up.
In addition to doing my best not to let anything go to waste around here, another thing I'm fanatical about is collecting condiments. I think half of my refrigerator is filled with them, everything from a few types of mustard, harissa (North African hot sauce), chipotle sauce, Sambal Oelek (which I'm not sure how it got in there since I don't remember ever using it), Char Siu sauce, jars of tahini that I bought in Lebanon, and a miscellaneous things that I forgot to label and have no idea what's in them, and will probably remain in there until the day I move, and either use 'em…or toss 'em.
I'm also really into honey and have a cabinet full of jars, ranging from bitter chestnut honey to a lovely Meyer lemon honey given to me by my pal Casey, at Bushwick Kitchen. Needless to say, I also have a sterling collection of zip-top bags for transporting everything in.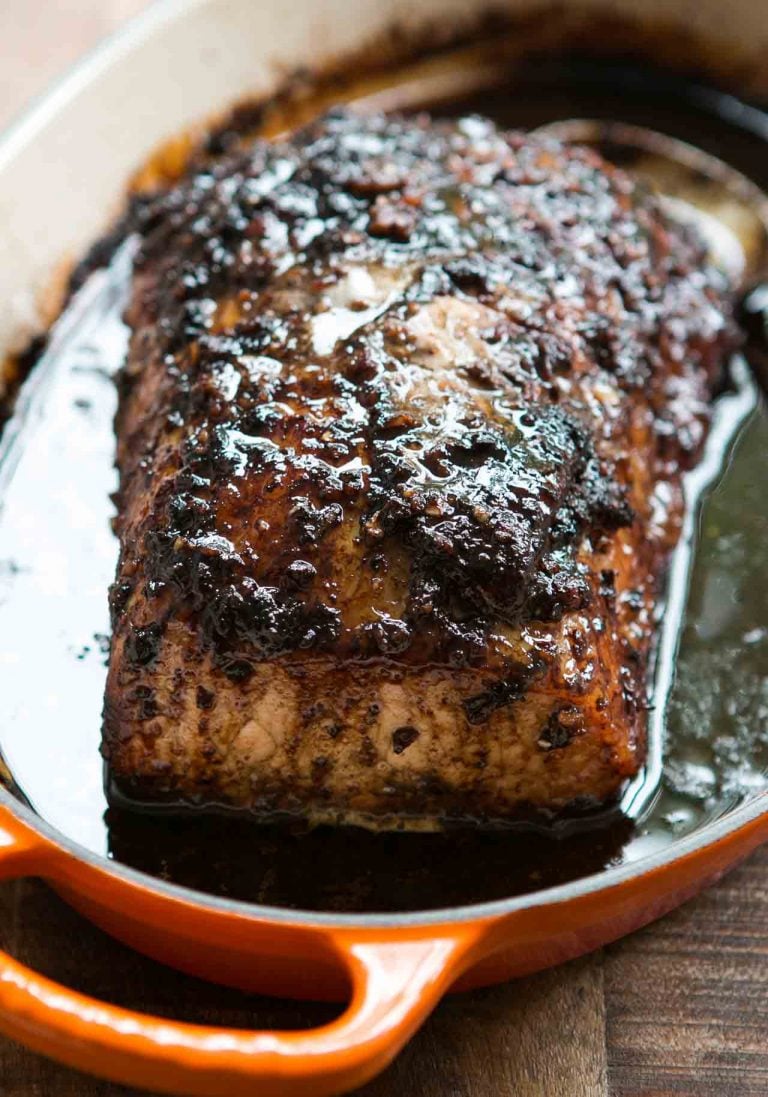 The oven-roasted pork loin is a terrific way to use balsamic vinegar, which reduces to a lovely syrup, which you bathe the pork in while it's cooking. It's also got plenty of fresh ginger to give it some zing, along with a soupçon of honey, soy sauce, and hot sauce, to balance out the flavors.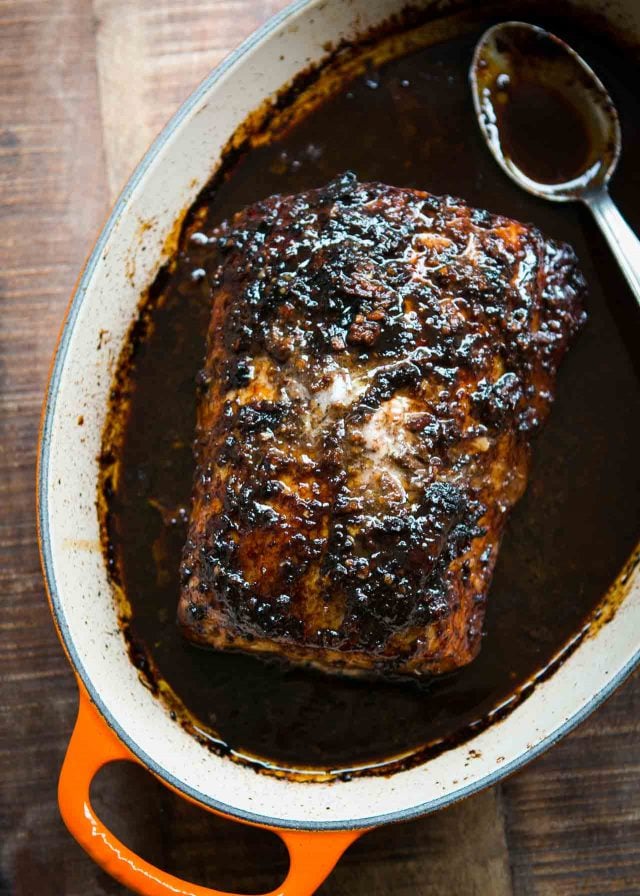 So I've got a few things to do before the next blog post shows up, including trying to figure out if my aging eyes will appreciate one of those oversized iPhone Plus phones, and if so, will I need to start toting around a man purse to carry it around in? And helping my pharmacist decipher my doctor's handwriting so he can fill my prescriptions for the antidote to that oddly shaped red swipe across my thigh, courtesy of a Mediterranean meduse. While I wait, here's a recipe for richly glazed roast pork, that anyone should be able to understand.
Balsamic Glazed Roast Pork
I used a boneless
pork loin roast
, called a
roti de porc
in French. It's a fairly lean cut, wider than a slender pork tenderloin (called
filet mignon
, in French). You can use this marinade for pork tenderloin, but you'll need to reduce the baking time. The
USDA
recommends cooking pork until the temperature in the center is 145ºF (62ºC), which you can determine with an instant-read thermometer. Be sure to let the pork loin rest before slicing into it.
2/3

cup (160ml)

balsamic vinegar

1/4

cup (60ml)

honey

3

tablespoons (45ml)

olive oil

3

tablespoons (45ml)

soy sauce

2

inch (5cm)

piece fresh ginger

,

peeled and minced

4 to 5

cloves

garlic

,

peeled and minced

2

teaspoons

hot sauce

freshly ground

black pepper

1

tablespoon

fish sauce

,

(optional)

2 to 2 1/2

pounds (1-1,25kg)

boneless pork loin roast
In a zip-top freezer bag, or a bowl, mix the balsamic vinegar, honey, olive oil, soy sauce, ginger, garlic, hot sauce, a few generous turns of black pepper, and fish sauce, if using. Add the pork. If using a freezer bag, press out excess air and seal. Refrigerate the pork loin for 24 hours, turning it a few times in the marinade during that time.

To roast the pork, preheat the oven to 375ºF (190ºC).

Place the pork roast in a shallow baking dish. Pour enough water (or leftover white wine, if you have any) into the bottom of the baking dish, so it's about 1/4-inch (1cm) deep.

While the pork roasts, liberally baste the pork loin with the marinade every 10 to 15 minutes, and spooning liquid that's pooling in the bottom of the baking dish over it as well. Be very generous with the marinade, as you go.Note: If the liquid on the bottom of the pan threatens to dry up, add more water (or wine) to the pan. (Do not add water to a dry baking dish if the dish is made of glass or ceramic, as it can crack.)

Roast the pork for 50 minutes to 1 hour. (You can check it using an instant-read thermometer, as indicated by the headnote, if you wish.) Remove the pork the oven, let rest 10 minutes, covered with foil, basting it with sauce a few times as it's resting, before slicing.