Rotisserie d'Argent
A stalwart of the "old guard" of classic Paris bistros has been revived. The reliable Rôtisserie du Beaujolais, across the street from the Seine, had been remodeled and refreshed as Rôtisserie d'Argent, the new name giving a nod to its famous cousin just across the street, the Tour d'Argent.
The Michelin-starred restaurant is a few centuries old, and it's evolved into a mini-empire, composed of the grand restaurant, the casual rôtisserie, and Le Boulanger de la Tour, where breads are baked for both restaurants, and some of the pastries served at the rôtisserie are assembled.
I happened to be walking by one day and decided to stop into the bakery, where I picked up a palmier to take over to the bridge and eat, while watching the boats linger on the Seine. Two of my favorite activities in Paris. (Watching boats and eating pastries.) It was spectacular. (It also got 3572 likes on Instagram, so I wasn't the only one who shared that opinion of it.) I wanted one of the well-cooked ones, and asked them to fish around the pastry case, until they grabbed the one that had my name on it. It was so good that I decided to return and check out the rebooted restaurant.
When I write about a restaurant here on the site, I don't usually get to go three times. Sometimes it takes me years to go back to a place, even if I like it a lot. My take on a place is based on how much I like the food, how the staff are, if I feel the prices are fair, and whether or not I think you'll like it.
Another criteria that make it worth sharing is if it's open on Sunday, when most good restaurants in Paris are closed, which is when the Rôtisserie d'Argent is open. Surprisingly, I found myself dining here three times over the course of two months, so I could give, and get, a better overview of the place.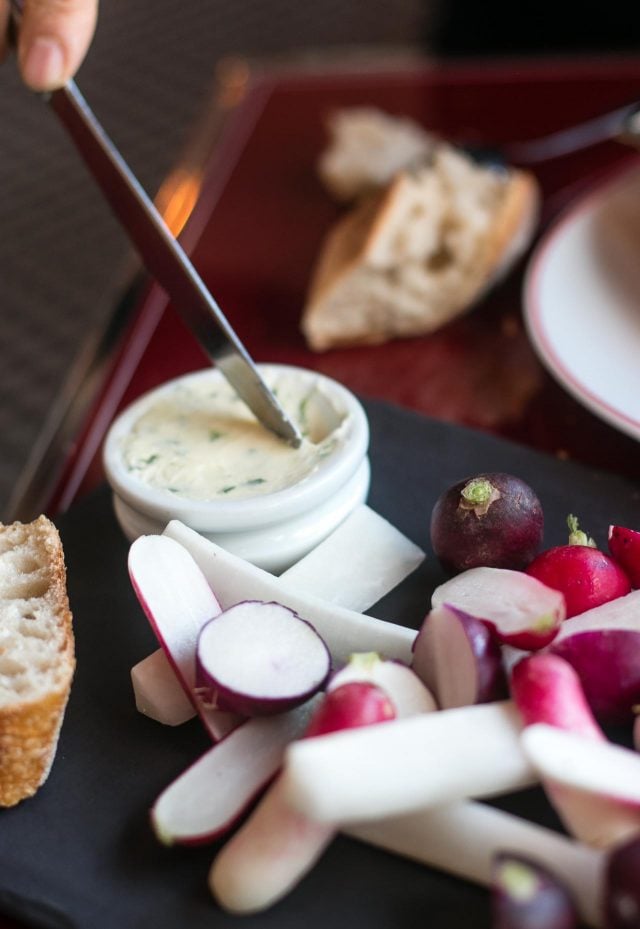 Because the restaurant sports an open kitchen, I got to talk to the chef on my second visit. He was presiding over the turning rôtisserie, slicing a pair of roasted canettes (duckings). Known for their pressed duck at the fancy restaurant (diners get a certificate with a number on it, as a memento), it's just as popular at the bistro. And they do a great job with it at a fraction of the price.
On one of my first visits, we had the radishes with butter, a popular starter in France, although usually not served in restaurants due to its humble nature. Here's it's given a more modern treatment with a colorful pile of radishes, a ramekin of silky chive butter, and grains of flaky sea salt to sprinkle over them.
However, on the third visit, the salt wasn't on the slate plate. When I asked for some sel, the waiter pointed to the salt shaker on the table. But it's the flaky salt that really makes the dish, so I smiled and asked if it was possible to get some flaky sea salt, and we were presented with a little dish of the flaky salt, but pre-mixed with pepper, which doesn't quite have the same effect as salt by itself.
I should add that the servers and hosts on each visit were always absolutely wonderful; thoughtful, attentive, and friendly. I think the miss was in the kitchen, where the salt should have been added to the plate, as it was before.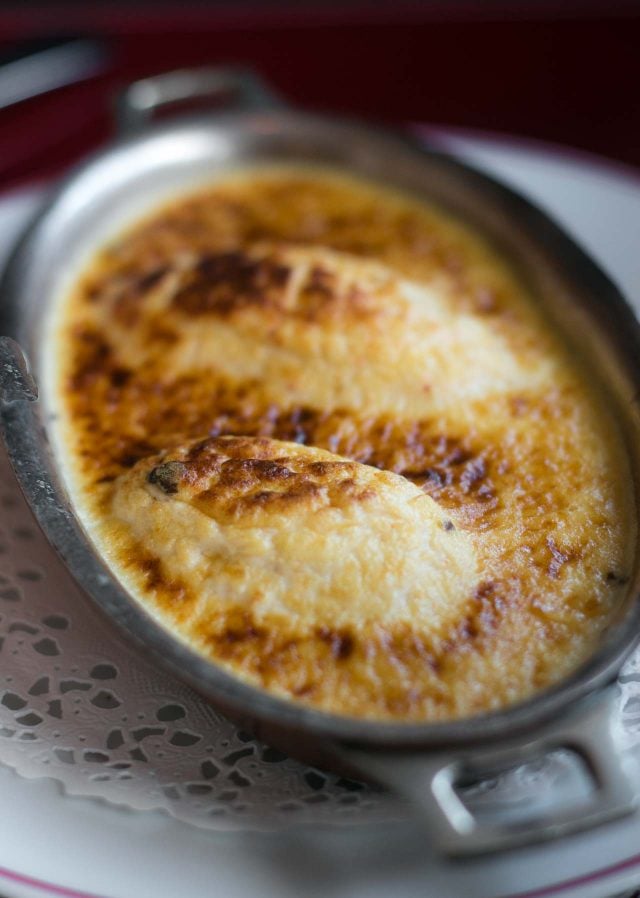 The other starter I've liked was the baked pike quenelles, two mousse-like ovals sitting over a bed of duxelles of mushrooms, blanketed in cream sauce. There was a lingering seafood-like flavor in the mushrooms, which I could have sworn was from snails, but the server said it was just from the mushrooms. They're quite delicious…and filling, although the portion size isn't overwhelming, although I recommend sharing an order, unless you have a particularly hearty appetite. I also recommend if there's a housemade terrine on the menu, that you order that, too.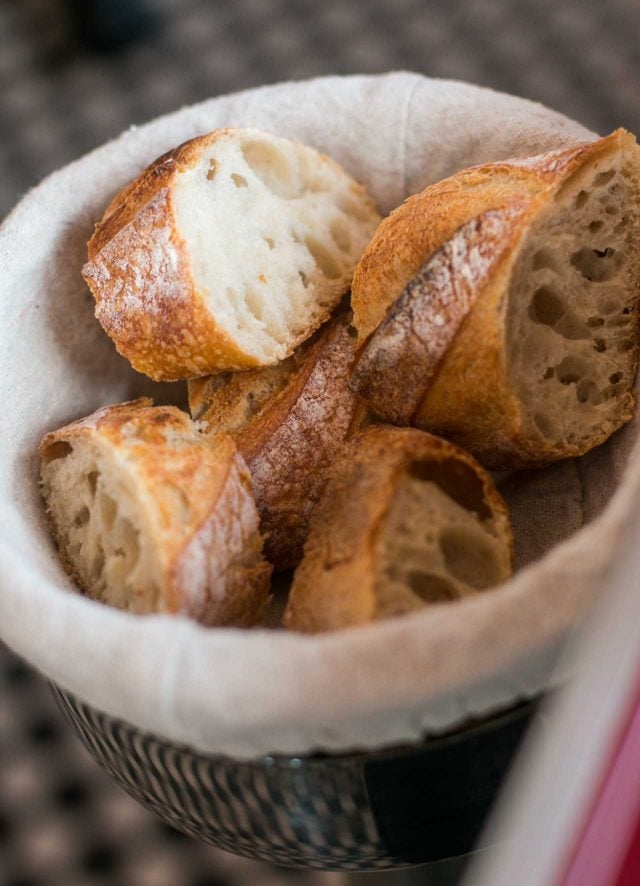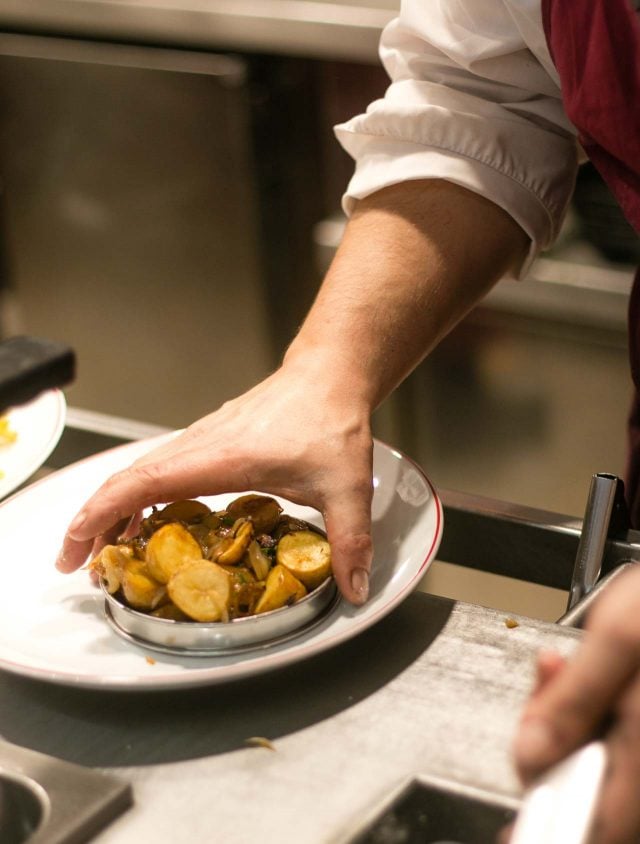 Even though the restaurant dropped Beaujolais from their title, the wines from that region are still the rule here. At some point, I'm going to learn more about wine. That's on my list, after I learn Italian and Arabic, and master the galaxy of French verbs, as well as how to make granola bars, how to use all the features in Lightroom, and figure out how all those people in Pilates class can squeeze that giant inflatable ball between their knees, and using the strength of their abs, lift it straight up to the ceiling for twenty reps, because I can't. Perhaps if I ate less and palmiers, I'd be able to.
But for now, I'm going to stick with knowing what I like, going by what I taste in the glass, and not what's on the label. That worked, and I didn't go wrong with the Mâcon (a white Burgundy), sold by the pot (a bottle that's refilled at the bar), and an excellent Brouilly, a cousin to Beaujolais (not to be confused with Beaujolais nouveau), served correctly at cellar temperature, that is, slightly chilled. It's fruity, with a flavor that reminds me of dark cherries, and is one of my favorites of all the red wines.
Our Brouilly was rich enough to stand up to the steak-frites that Romain had, but also went well with the roast Challans chicken that I ordered, as it wasn't too demanding or overwhelming.
The first two times I dined at the restaurant the French fries were outstanding. They were the kind of frites you dream about getting in a classic bistro in Paris; delectably thin, and perfectly crisp, with the flavor of fresh potatoes that were cut and prepared in a kitchen that obviously cares very much about the quality of its ingredients.
On my third visit, with a friend from New York and another from London (both esteemed cookbook editors, and discerning diners), after rhapsodizing about the fries, out came a plate heaped with white, soft, and undercooked fries, the kind I do my best to avoid in Paris – which is why I always say "Bien dorées, s'il vous plaît" ("Well browned, please") when ordering frites in France. My friend from New York was stumped.
One restaurant owner told Romain and I when we asked him about that, he told us that he used to serve the fries crisp, but customers complained. But I think we need to keep up our vigilance. Since we were there on a Sunday night, perhaps the chef had the night off. So I hope it was just an aberration. Just in case, though, you might want to memorize "bien dorées" or write it on your arm in pen so you don't forget.
Recently I had an online discussion about portion sizes for chicken. In the States, it's not uncommon for a half-chicken to be an order for one person, and some readers from elsewhere were shocked about that. Well, c'est normal at the Rôtisserie d'Argent as well, although to be fair, French chickens are a little smaller. However, like the U.S., the rôtisserie offers "ducky bags" so you can take any leftovers home. I didn't need a ducky bag as I was able to finish mine just fine.
Considering Americans get a bad rap for our food (usually by people that haven't visited in a while, or ever), many of us miss vegetables when we travel as French restaurants don't often feature them on menus. When they do, they're not paid much attention to. (Except potatoes, which have royal status in France – rightfully.) Here you can actually get a plate of carefully cooked vegetables, which my dining companions who were traveling really appreciated.
But the sautéed potatoes are no slouch either, especially the long-cooked onions that come with them. So good!
After being wowed by the palmier, the first time I ate here, I found the desserts to be…okay. The Île Flottante needed a shot of vanilla and the flavor of the tartlets didn't quite match up to how exquisite they were.
Then I had a Paris-Brest, shaped like an éclair (an idea I put forth in My Paris Kitchen, to please the pedants), and it was one of the best desserts I've had in Paris. My friend ordered the Île Flottante this time around, and it was excellent, with the smooth flavor of vanilla rounding out the eggy custard. They were out of the Paris-Brest, though, on my last visit, so I recommend asking them to hold one for you at the beginning of your meal.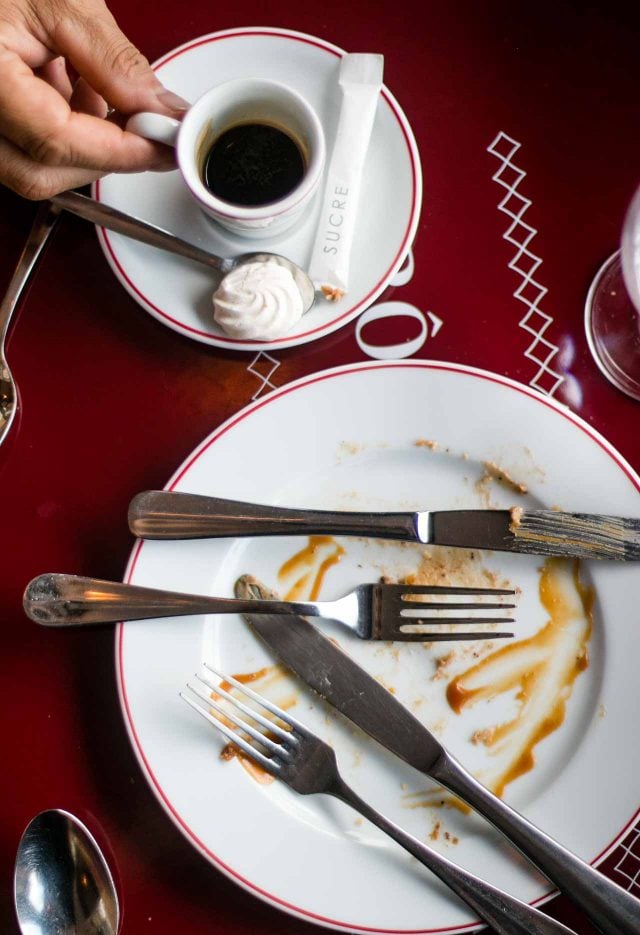 Rôtisserie d'Argent
19, quai de la Tournelle (5th)
Tél: 01 43 54 17 47
Open Monday through Friday, Noon to 10:30pm, weekends Noon to 10:30pm.