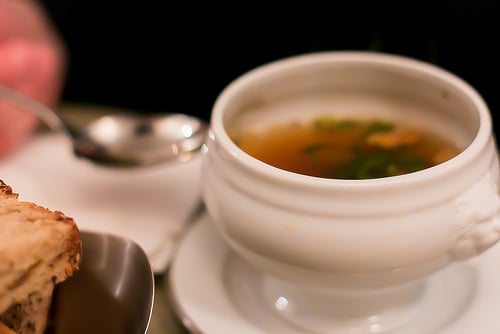 To be honest, I'm not one to run to the newest restaurant right after it opens. The main reason being that I don't like being disappointed, nor do I like eating bad food. It happened recently at a new place in town that had gotten some good press (which, suspiciously, may have been because they were invited guests), and found myself wishing I'd shelled out a few bucks for a sandwich jambon-beurre instead of a hundred or so euros for a meal that was misguided, with the food being mediocre, at best.
The company made up for it, fortunately. So when a fellow (or fella?) San Franciscan was in town recently, it was Sunday night and she asked me where we should go for good food. Sunday's tough because many places in Paris are closed. Some restaurateurs point the 35 hour work week, which was intended to employ more people and let people work less. And part of it are employee costs, which make it pricey to hire new people. So if you're wondering why small restaurants in Paris don't have dedicated people to answer the phone and take reservations, or are closed on weekends, those are some of the reasons.
I'd heard good things about Les Enfants Rouges, which is adjacent to the small, but busy covered market of the same name, that is a hodge-podge of restaurants (including a very good Japanese one) and food stands. I'd eaten there before and had the interesting experience of talking to the chef/owner, and letting him know how I felt how he could improve the main course I had. In the case of the place I mentioned in the first paragraph, I was rather straightforward because I felt it was my duty to make sure that no one else gets served eleven limp French fries lined up on a rectangular plate.
At Les Enfants Rouges, the food was far better and on the way out, I spoke with Daï Shinozuka (whose wife runs the dining room) and mentioned the pairing in my main course of a briny, raw oyster with warm oxtail stew, which was a bit jarring. I suggested a liaison to bring the two together – perhaps doing an oyster tempura, maybe with some horseradish in the batter.
The chef was considering it, which is always a sign of a good chef/cook – inspiration comes from everywhere; guest feedback, reading, eating out, etc. and even if my idea didn't pan out, from the look on his face, he was a bit intrigued. (And in other news, I recently discovered that the French fry place had stopped lining the eleven French fries on a plate, and serving them as they should be served – piled up.)
Because Chef Shinozuka cooked at Le Comptoir de Relais, which has excellent charcuterie, you should order whatever is offered in that department as a shared first course at Les Enfants Rouges. The terrines and cured sausages here are some of the best you'll have in Paris.
I started with a delicious small amuse of a marvelously smoky bacon-flavored cream atop of warm puddle of delicate potato puree, because the third in our party was recovering from a bout of tummy troubles, he was content to have a dark chicken bouillon with bits of walnuts for his first course. I didn't dip in (perhaps wisely, since I didn't want to get what he had) but he liked it.
My marinated mi-cuit (partially cooked) dorade was pleasant, if uneventful. A small tangle of rice noodles sat underneath and I was craving some pickles to give the dish a bit of sharpness and bite. Perhaps the chef has been catering to more subdued palettes, but I think he has the talent to be a little more daring. Why not go for it?
Because it was a chilly winter night in Paris, the main that called to me on this visit was braised pork cheek with root vegetables. There was no shellfish sharing the plate this time, but it was covered with foam, whose flavor I was unable to discern. And I'm also unable to discern why chefs in Paris (and elsewhere) are still fascinated by foam. Don't get me wrong – I have nothing against foam, or innovation. But if you're going to use it, it should have a purpose.
If you want to have the baba au rhum for dessert, it needs to be ordered at the start of the meal, presumably because it gets cooked to order. One of us wisely ordered it, and because I was in the middle of an overeating cycle due to the holiday season, for me, dessert was perles du Japon (tapioca) with tropical fruits that could have used a bit more sugar, perhaps in the form of a drizzle of palm or coconut sugar sauce.
The Guanaja ganache with a bitter Campari sauce didn't marry the two diverse ingredients very well, but the excellent baba au rhum with a generous drizzle of Saint James and a fleurette of whipped cream was a nice send off from this charming little bistro.

Les Enfants Rouges
9, rue de Beauce (3rd)
Tél: 01 48 87 80 61
Métro: Temple or Filles du Calvaire