White Chocolate Cake with Lemon Glaze
It's curious when people say, "I don't like white chocolate. I like dark chocolate." Because it's not fair to compare them, just like black tea is different from green tea. They're different and each has their fans. And honestly, you can enjoy both, on their own – for what they are. Happily I'm a fan of both on their own, and together as well, especially when they play off each other in desserts, such as white chocolate-fresh ginger ice cream with a dribble of bittersweet chocolate sauce. But white chocolate also goes well with tangy, citrus flavors, especially lemon.
When I saw these Brownies chocolat blanc et citron in one of the French food magazines I subscribe to, squares of yellow cake with a crunchy lemon glaze, I thought it might be nice to brighten up my winter with a bit of puckery lemon paired with white chocolate. I'm not entirely sure they qualify as brownies, per se, but since they have one permutation of chocolate in them, we could probably give them a pass.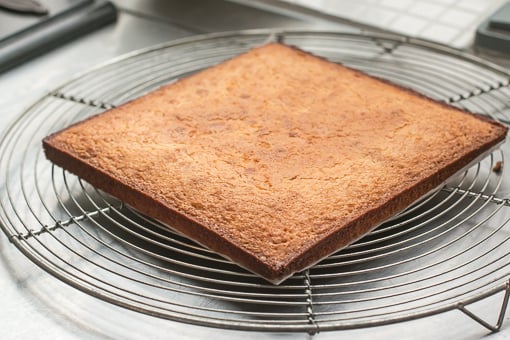 The first time I made them, I was a bit concerned because of the small amount of batter. The recipe just said to use un moule carré, a square pan, not indicating a size (as they often do in recipes in France, so I guess they assume you know?) So I went with the standard 8-inch (20cm) square pan, which I assumed is universal. The result (above) wasn't a tall cake, er, batch of brownies.
(On another note, I pointed out to Romain that the recipe also said that it is for 6 personnes, accompanied by a picture of the brownie/cake cut into 9 pieces. He said that was normale since some people might want another piece, and some might not. I think I will do that in future recipes…and watch the copy editors have nervous breakdowns.)
In addition to wanting to know the pan size – and taking a different approach to portioning – in cake and brownie recipes, Americans also have a propensity for tall, towering desserts like multi-layer cakes, and even the cronut, which is not something that you'd see in France. (Although I shouldn't say that, because we certainly have our share of cupcake shops and burger joints – and who'd have predicted those?)
And while I don't mind cakes that aren't sky-high, layered with frosting, I wanted a bit more of the white chocolate cake underneath the layer of tangy lemon glaze. So I reworked the recipe so the 'cake' part was a little taller, which is now what I'm calling it. But no matter what you call it, it disappeared pretty quickly.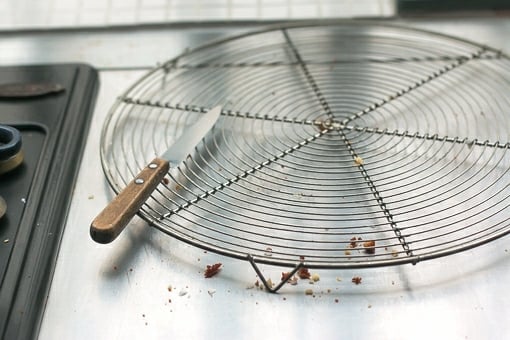 White Chocolate Cake with Lemon Glaze
Inspired by a recipe from
Elle à table
Make sure to use white chocolate that is real white chocolate; the only fat that is should contain is cocoa butter (and fat from the milk) and it should be a pale ivory color, rather than pure white. If there is another fat listed, such as vegetable or palm oil, it's not pure white chocolate. Products made with those ingredients are often labeled "white confectionary coating." For those who live outside the United States, powdered sugar is also called confectioners sugar or icing sugar. (In France, it's sucre glace.)
White chocolate cake
5 1/2

ounces (150g, 11 tablespoons)

unsalted butter

,

cubed

6

ounces (170g)

white chocolate

,

chopped

Zest of one lemon

,

unsprayed

Pinch of salt

3/4

cup (150g)

granulated sugar

2

large eggs

,

at room temperature

1

cup, plus 1 tablespoon (150g)

flour
Lemon glaze
3/4

cup, plus 2 tablespoons (120g)

powdered sugar

2

tablespoons

freshly squeezed lemon juice
Butter an 8-inch (20cm) square cake pan and line with bottom with parchment paper. Preheat the oven to 375º (190ºC.)

To make the white chocolate cake, in a bowl set over a pan of barely simmering water, warm the butter, white chocolate, lemon zest, and salt together, stirring gently, until the chocolate is completely melted. (The mixture may not look smooth, which is normal.)

In a medium bowl whisk together the sugar with the eggs, then whisk in the melted white chocolate mixture.

Use a flexible spatula to stir in the flour, mixing just until no visible bits of flour remain. Do not overmix. Scrape the batter into the prepared pan and bake for 30 to 35 minutes, until a toothpick inserted into the center comes out clean.

Remove the cake from the oven and as soon as it's cool enough to handle, run a knife around the edge of the cake to release it from the pan, and set the cake on a wire cooling rack, removing the parchment paper. Let the cake cool completely.

Make the glaze by mixing together the powdered sugar with the lemon juice until smooth. Spoon the glaze over the cake, smoothing it over the top with a metal spatula or butter knife, letting some of it drip down the sides. Once the glaze has hardened, cut the cake into portions.
Notes
Storage: The cake can be made up to one day in advance, and glazed, and stored at room temperature.
Related Recipes and Links
White Chocolate and Sour Cherry Scones
Caramelized White Chocolate Ice Cream
Caramelized White Chocolate Cake