A while back, I wrote about the first food truck that hit the streets in Paris. And at the time, that truck, as well as the ones that followed, were spearheaded by folks from other countries making food from their various homelands. And I expressed some ideas for how, perhaps, the food truck phenomenon could encompass la cuisine française as well.
Since then, a number of food trucks have, indeed, done that. And there are a number of people rolling around Paris, offering everything from candied nuts to Breton food. [I like the fact that their website says their salted butter caramel is "Fait camion" (truck-made), rather than "Fait maison" (homemade).] In spite of recent changes to dining habits in France, le sandwich remains a popular lunch and just about every bakery in Paris has a line that begins around noon of people clamoring for sandwiches to chow down on before they need to go back to school or work.
So I was excited to hear that Jérôme Boulestreau, who previously owned the Beillevaire cheese shop (which is now being run by people he worked with), opened up a sandwicherie with the Castro brothers. And in addition to sandwiches, their tiny shop is also crammed with interesting products like sardines from Brittany, tight links of Corsican sausages, Italian pasta, and even pistachios from California.
One look at the blackboard and it's obvious that this isn't the place to find just the standard sandwich jambon-fromage. Instead, you'll find a slew of interesting options that features Serrano ham and farm goat cheese, tapenade (olive paste), chèvre, arugula, and sun-dried tomatoes, or Corsican coppa with sheep's milk cheese.
So I stopped in with my friend Carlos and his sister Georgina, who were visiting Paris and hitting all the cheese shops, as well as making a few sweet stops as well – judging from the pastry-filled bags they were toting along! (Carlos is in the process of opening the first artisan Mexican cheese shop in Mexico City, and I am saving my centimes for a plane ticket to visit it when it opens.)
You can also request a made-to-order sandwich on excellent baguettes from Julien bakery, with everything from artichoke cream, Pata negra and lomo Ibérico (black-footed ham and pork tenderloin from Spain), Buffalo mozzarella, and honey from Crete, to Corsican sausage, English cheddar, and Italian air-dried beef.
I could easily stay there all day and watch them make sandwiches, and chat with Jérôme and the other friendly counter folks, but due to its size, Maison Castro is more of a take-away joint. There are tables outside on the busy rue Cadet (map), which is one of the mini-market streets in Paris that doesn't get a whole lot of press, but it definitely fun to stroll down mid-afternoon when the sun is shining and poke your nose into the various bakeries, butcher shops, wine caves, and cafés.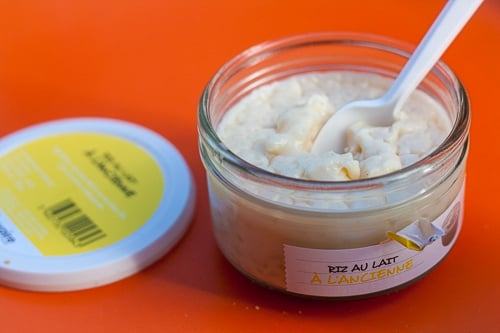 And if you come during nice weather, you can sit outside of Maison Castro and enjoy your formule gourmande (lunch combo) at one of the brightly colored tables and soak up some rays. The deal is that you get a sandwich, a drink, and a Beillevaire yogurt or other treat, for dessert. There are also pasta salads which they say are Mediterranean-inspired, and warm pasta, in case you visit in the winter and need to warm up. We stuck with sandwiches, which were, indeed, really great (although I am still a bit très américain and put more stuff inside my sandwiches than the French usually do). But this American, and his Mexican friends, were happy to be enjoying the best of France on a baguette together.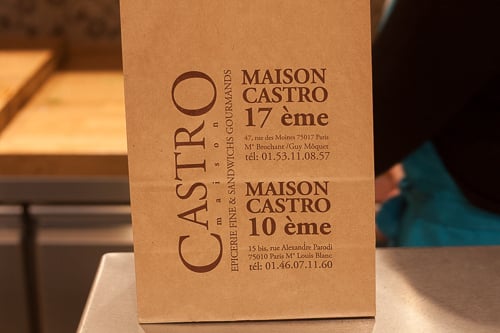 Maison Castro
9, rue Cadet (9th)
Tél: 01 45 23 59 61
Métro: Cadet
(There are two other locations in Paris, listed on their website.)