10 Ideas for Food Trucks in Paris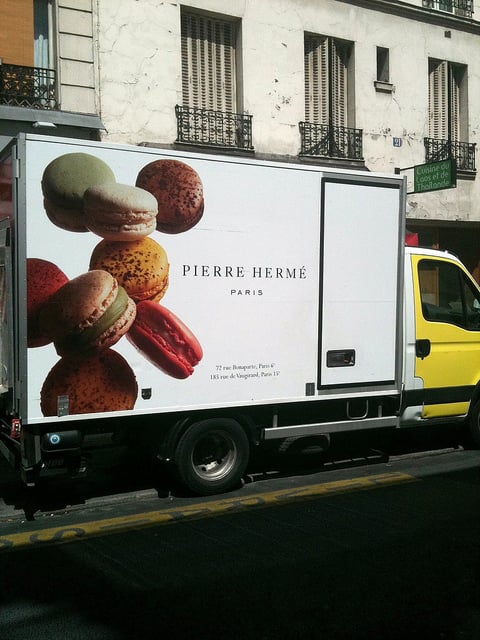 Aside from a few crêpe stands here and there, Paris isn't a city known for street food. And malheureusement, that Pierre Hermé truck isn't open for business…although wouldn't that be nice.
(However if it was, I would probably race around my house in search of spare change every time I heard it coming toward me, like I did when the Good Humor ice cream truck approached when I was a kid. Or haranguing my poor mother to dig furiously through her purse to dig up 40 cents for a toasted coconut ice cream bar to calm down her semi-hysterical child.)
Sure, come mid-day, the sidewalks of Paris are packed with people scarfing down les sandwichs (sic), which seem to have taken over as the lunch of choice in Paris. It's nice to see the crowds and lines at the local bakeries, but it's sad to see the long(er) lines at Subway sandwich shops, which I suspect are because people are craving a little creativity with what's between the bread. And while the one Subway sandwich I had in my life was inedible – I didn't realize you could screw up a sandwich…until then – I think the locals are fascinated by the varieties offered. Plus they're made-to-order, and served warm.
The French do have versions of les ventes ambulantes, such as the pizza trucks parked alongside the roads in the countryside and there are the gorgeous spit-roasted chickens sold at the markets and butcher shops in Paris. But recently an American launched a roving food truck in Paris to staggering success, and a second one followed her lead. And judging from the line-up, it's mostly French folks angling for a bite to eat.
While I'm happy for my fellow compatriots, and I love a good burger as much as the French seem to (judging from the crowds), I can't help thinking how kooky it is that American cooks get to have all the fun, and some French cooks might want to get in on the action. Here's a few ideas I've been thinking about…
1. Les Fromages Fondu
Image a truck with a row of blazing hot griddles, with sandwiches frying on them, topped with things like grilled goat cheese with tapenade, melted smoked raclette with cornichions and pickled onions on potato bread, poitrine fumé (smoked bacon) with Emmenthal and chives, and griddled Comté and jambon de Bayonne melding together two pieces of pain Poilâne. With all the great French cheeses available, and good bread (with brushed with a smear of salted butter before griddling, for good measure), I'm not sure if I can think of anything better on a brisk spring afternoon. Like right now, for example.
2. Choux On These
It's hard to imagine rows upon rows upon rows of golden-brown, tender cream puffs, light as a feather, filled to order with tangy lemon cream with salted caramel dipping sauce, or coffee –white chocolate ganache with bittersweet chocolate dipping sauce. Let people mix 'n match, then sold in little barquette of three.
3. Cassoulet Wraps
It makes perfect sense to me. A burrito is mostly beans and meat. Cassoulet is mostly beans and meat. So this one's a no-brainer. First shred some crisp-skinned duck confit and bake it with savory white beans along with chunks of sausage and perhaps lamb. (Although that's a little controversial in cassoulet, so perhaps offer two varieties, to keep the peace.) Then wrap it all up in a lightly seasoned pimente d'Espelette roll, flavored with the famed dried pepper powder from the Basque region.
4. Café Expresso
The coffee situation in Paris is getting better and a few folks have opened up shops that specialize is carefully brewed and extracted coffee. (And one mobile stand, here and there.) But it's not enough. I don't really want to see people toting 24-ounce paper cups of coffee around Paris, but how about a truck that pulls up with high tables next to it, near various neighborhoods and parks, where you can get a great cup of coffee?
This cart could serve two purposes: 1) To pass along good coffee to the people (I know I would like it, since the new quality coffee bars like Le Bal, Kooka Boora, and Coutume are kind of too far away from me), and 2) Silence all those people that correct you when you write café express, since that's what espresso is called in France. (I would add a final "o" to the name, just to be difficult. Which is probably why I wouldn't make a very good business person, such as giving all these ideas away and someone is probably going to make a fortune on one of them.)
5. Socca 'n Salt
Admittedly, few people in Paris (and elsewhere in France) know what Socca is – roasted chickpea flour crêpes, best when charred by a fire then cut into pieces and served with salt and some pepper (and rosé, on ice) in Nice. Whenever I'm in the vicinity of the Côte d'Azur, I try to eat as much socca as I can, or I make it at home when I'm feeling in the mood. There's a fellow at a stand at the Marché des Enfants Rouges, why not take it mobile? Although I don't know how les pompiers (firemen) would feel about a mobile roaring fire. However, I'd be delighted if it rolled up to my local curb.
6. Crème Brûlée To-Go
I can't take credit for this one. If I have my story straight, a young Frenchman apparently started a food cart in San Francisco, but was whisked away with immigration problems. I don't know if he was serving caramel-topped custards, but maybe if he's back in France, he might be interested in launching one here, torching up crème brûlées to order, with flavors like mocha, caramel, green tea, hazelnut-honey, lemon verbena with candied sour cherries, orange-cardamom, etc…
7. Dix-Huitre'r
In spite of the fact that everyone seems obsessed with the weight of French women (yawn), everyone in Paris seems to be on some sort of régime (diet), which is probably one of the reasons that so many of those inexpensive sushi bars are thriving. But who wants to eat endangered species and dubious salmon, when you could be eating freshly shucked huitres with buttered rye bread and a glass of bracing Sancerre from an eighteen (dix-huit)-wheeler?
8. Fou 4 Frites
French fries are a crapshoot in Paris. Some are dreadful, while others are made from real potatoes and are served nice and crispy. I don't think les frites are really all that hard to get right, it just takes a bit of care. But I only order them if I can see them first since I don't want crummy frites. I was once served plate of pale white ones, which were so soggy that I tied into knots, hoping the kitchen would get the message when the waiter took away my curiously uneaten plate of fries.
So with the amazing potatoes available in France (merci, Monsieur Parmentier!), it's a shame when their amazing spuds get desecrated by lazy cooks. But when made right, one could go crazy (fou) for French fries. Each basket could be double-cooked until crisp on the outside, soft and potato-y inside. Served nice and hot, with dipping sauce on the side. Options could be housemade ketchup, chestnut honey-Dijon dip, spicy harissa mayo, garlic mayonnaise, Indonesian peanut sauce, French chocolate-spiced mole, etc…
9. Les Sandwichs (sic)
While I like a good jambon-beurre sandwich every once in a while, a whole lotta bread and a few thin slices of meat isn't such a great meal. Plus I usually have a lot of bread for breakfast, so don't know if it's such a great idea to have a repeat at lunch. The French haven't been so creative with sandwiches, although lately, a few new places are challenging that norm.
Spit-roasted chicken with garlicky aïoli, pain bagnat (raw vegetables, and sometimes tuna or anchovies, "bathed" in olive oil, Mediterranean seafood salad with rouille (red pepper mayonnaise), or support the locals with Brie de Meaux on bread made with flour milled on the Île-de-France, and a side salad of shaved champignons de Paris.
10. Le Parfait Scooper
Wouldn't it be great if there was some guy making homemade ice cream, in flavors like French chocolate swirl, Café Frappé with cognac caramel, Breton strawberries and crème fraîche, fresh apricot sorbet made with fruits from Provence, served with icy crystals of Kir Royale granita, and Buckwheat honey topped with caramelized cocoa nibs on a buckwheat cone? He could drive around Paris, serving up scoops of freshly churned ice cream.
Hey…that gives me an idea…

---
UPDATE: Since I wrote this, some French folks have revved their own food trucks. Here is a list of a few of them: