I've been trying to tick off some of the places on the wad of post-its that are next to my front door, noting spots I've been meaning to visit in Paris but haven't quite gotten around to. There are a few restaurants, some pastry shops that at some point piqued my interest, and a couple of Turkish sandwich places that really should be moved to the top of the heap.
Looking at them now, I see that some of the restaurants have already closed. (So it's probably a good thing that I didn't go there in the first place.)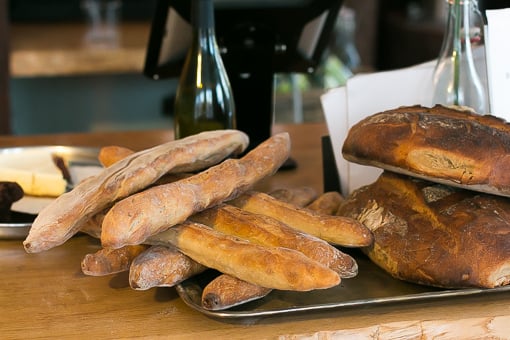 One place that was on my radar was En Vrac. In French, that means "in bulk," which is how the wine is available there. I've heard people snicker about le cube, or wine sold in quantity, especially in boxes. But for those who live near a winery, it's much more economical and easier to get wine, saving a few bottles – and a few euros – in the process. It's a perfectly acceptable way to handle wine that is meant to be drunk young. Which means more money for wine!
A while back I posted a picture of two giant pallets of plastic water bottles behind a supermarket with a note that I thought it was time to ban bottled water. It was a comment I made while walking away from seeing that and – of course – being the internet, it was up for a challenge. I'll grant that bottled water has its place in emergencies, when traveling, etc, but when the tap water is perfectly safe to drink (and studies have shown that bottled water isn't exactly as pure or safe as we are led to believe), I don't think anyone could argue that the world would be a much better place with fewer of those plastic bottles left behind. (Although being the internet, I'm sure there is an argument out there arguing the opposite.)
(And I'm also hedging my bets by backtracking a little because I buy bottled water for my espresso machine because the high calcium content of the water in Paris will clog and ruin it. Been there, done that. And I know with all the sharp memories out there – which I'm insanely jealous of – at some point, I'm sure to get busted at the supermarket buying a bottle of water.)
For all the sophistication us city-dwellers think we have, the country-folk in France have it right. And people who live amongst the peace and quiet of the bucolic countryside bring empty bottles and bidons (large refillable jugs) to their local winemaker to get refilled.
The perimeter of En Vrac is lined with steel tanks containing wine. If you don't bring your own bottles in a canvas bag on the hot, stuffy, and crowded bus with people jostling you and trying to get around you while people were trying to get on with strollers where there was barely any room to move or breath as it is, and as you were approaching your stop, you had to stand in close proximity to someone who you don't think has had a shower in a few weeks and holy sweet Jesus you wonder when that car is going to move so that this bus can pull into the bus stop so you can get off because you don't know how much longer you're going to be able to breath only through your mouth, En Vrac has French limonade bottles with stoppers that they'll fill up for you.
The natural wines (no sulfites) available en vrac start at just under €4 a bottle and the most expensive is €8. I brought two empty bottles and wasn't really planning on eating anything. But I was with two friends and we decided that we wanted to taste some of the wines before buying them, and after a few sips, the idea of something to eat seemed like a good one, so we grabbed a table, ordered some food (and more wine), and set in for a spell.
The menu features a plat du jour (this day it was bœuf bourguignon), as well as plates of charcuterie and cheeses, and sandwiches the friendly staff will assemble for you from a list of fresh ingredients.
I loved the charcuterie, especially the meaty, fatty rillettes smeared on bread from Thierry Breton, and the excellent cheeses, served perfectly ripe. All but one of the wines that day were red, and since I'm a white wine drinker, my choice du jour was limited. But for €3 a glass if drunk in-house, there's not much at stake if you get a clunker.
And from €3 to €8/bottle à emporter (to go), there's little deterrent to taking a chance on something you don't know. Or in the case of a Beaujolais Nouveau (still on tap a few months after the November celebrations ended), something you thought you did know. I took a sip and found it to be the most drinkable I've had, and priced at €7/bottle. When I said how surprised I was that I liked it so much, the clerk said, "That's because it's not the stuff they sell in the supermarché for €2."
Fair enough. For those DIYers out there, En Vrac has classes where you can learn to make and blend your own wine. But if you'd rather someone else do it for you, they will rent one of their steel wine tanks, drop it off, install it, and pick it up the next day, for €49 – wine not included.
I thought it was a pretty good deal, especially if you'd had a wine bar up in the 18th arrondissement on your list but aren't able to make it there. But if you don't think you'll make it through a whole cuve en inox (steel tank) in twenty-four hours, well, start packing up those empty bottles and hop on the bus.


En Vrac
2, rue de l'Olive (18th)
Tél: 01 53 26 03 94
Métro: Marx Dormoy (or take the #65 bus)