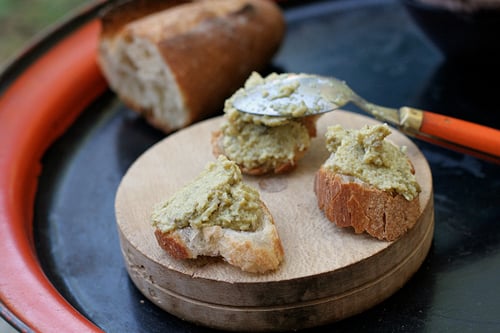 Should you happen to see a ray of sunshine in Paris, if you follow it, chances are pretty good you'll find someone sitting in a café, face-forward, basking in its warming rays. And although unofficial in most of the parks and public places, folks here also like to celebrate the arrival of any good weather with un picque-nique.
Picnicking in Paris can be a dicey proposition, and you must navigate where and when it's okay—and where and when it isn't. Nature is meant to be admired, yes, but only from afar. Like those gorgeous pastries lined up in the shop, you're not supposed to touch, unless permission is expressly granted.
However in the past few years, the rules have become more relaxed and often park guards will look the other way if you whip out a sandwich en plein aire, although I recently saw a team of whistle-blowing guards rousting a group in the place des Vosges that had the audacity to start unpacking their fare on the grass.
They were rousted pretty quickly, as were the startled tourists who tried to kick back in the jardin des Plantes a few weeks ago when I was strolling around there. However if you need suggestions, there's two pages of them in Clotilde's Edible Adventures in Paris. But as Clotilde notes, if you're discreet and respectful, you can have a nice picnic (almost) anywhere in Paris.
For a recent picnic by the river, to put a final period at the end of another summer by the Seine, I made a Lime Meringue Tart. But since someone was bringing cupcakes to this last one, I decided to do something savory. I'd bookmarked the recipe for Artichoke Crostini over at Smitten Kitchen and reading through the recipe, upon inspection, I realized it was actually pretty close to tapenade made with artichokes. In fact, it was exactly the same thing.
Did you know that the name of tapenade comes from the word in Provençal for capers, tapéno? So you can't have tapenade without capers. And in Paris, in my opinion, you can't have a picnic without a bowl of tapenade.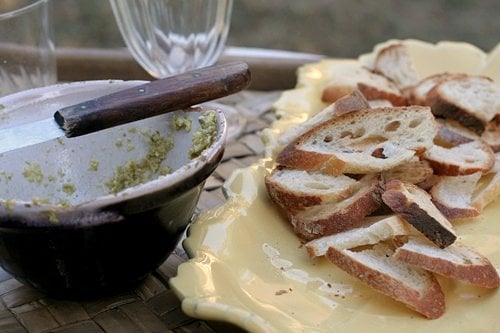 Summer is over and as we polished off the last of the artichoke tapenade, and the rosé that we were swilling with it, to give summer one last bisou goodbye.
But because this is so simple to make, and doesn't require pitting an endless amount of olives like regular tapenade does, I'm going to continue to make this tapenade all year round at home; where I don't have to worry about anybody blowing the whistle on me.
Artichoke Tapenade
An uncle once told me a funny story that he was going to make a recipe for something that called for 'pickled capers'. So he decided that he would track down fresh capers, since those would, of course, be better than anything in a jar. Needless to say, he didn't find any. But you shouldn't have any trouble finding capers in a jar at your local grocer. Be sure to rinse them and squeeze them dry; that step removes the unpleasant taste of the brine. I buy my olives in the Arab markets, which are sometimes conserved in a heavily flavored brine, so I rinse them, too. I pit olives by pressing on them with my thumb, being careful to stay out of the way of any squirts of oil, then pluck out the pits. Standard pitted green olives (without pimentos) that come in a jar, which don't need rinsing, work well in this recipe, too.
2

garlic cloves

,

peeled and minced

1

cup (4 oz, 120g)

pitted green olives

1

tablespoon (10g)

capers

8-10

(14 ounces, or 250g)

canned artichokes

,

drained well and quartered

1

tablespoon

freshly squeezed lemon juice

6

tablespoons (90ml)

extra-virgin olive oil

1/8

teaspoon

chile powder

salt

,

to taste
In the bowl of a food processor, pulse the garlic, olives, capers, artichoke hearts, lemon juice, and olive oil, and until almost smooth, but still chunky.

Taste, and add salt, chile powder, and additional lemon juice, if desired.

Serve with toasted slices of baguette or crackers.
Notes
Storage: The tapenade will keep for up to one week in the refrigerator.
Other Favorite Picnic Fare