How to Prepare and Cook Artichokes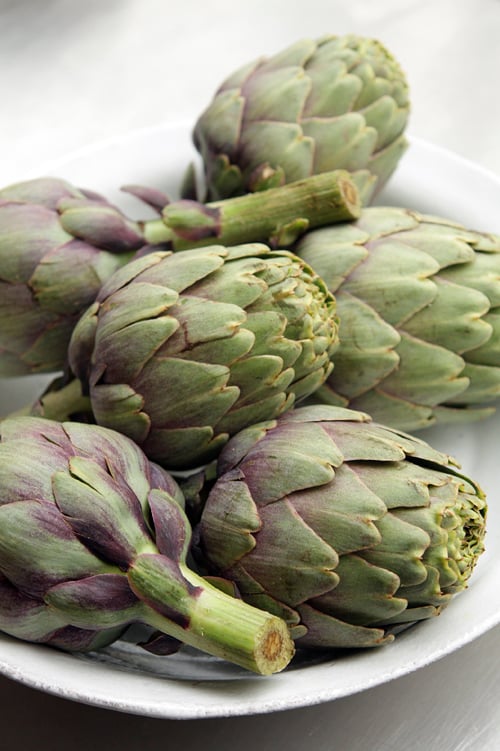 It's fresh artichoke season and I'm finding them piled up at my local market, practically tumbling off the stands. Last week, I stood there, putting one after the other in my market basket, where I took them home to admire the beauties on my kitchen counter. But they're not just pretty to look at; artichokes are great in salads, risotto, pastas, and even on open-face sandwiches with a spread of fresh cream cheese and herbs.
Artichokes are not hard to prepare but they do take a bit of determination, which is why they're most often eaten whole, and steamed. However there are those times when you want to treat yourself to just the artichoke hearts. And when the prices drop at the markets, and they're in abundance, I don't mind spending a little time preparing them.
Artichokes will brown almost the moment you slice into them, so you need to make an acidulated water to slip them into when you're done trimming each artichoke. (They'll still darken, but not as significantly as if you didn't use acidulated water. And once cooked, the discoloration should disappear.) Be prepared for lots of leaves to toss out, and if you have a compost bucket, you'll be making it very happy. Almost as happy as you'll be when you find yourself with a pan of freshly cooked artichokes, seasoned with olive oil, garlic, and a scattering of fresh herbs.
Preparing Artichokes
2 lemons
4 cups (1 l) cold water
8 medium, or 6 large artichokes (about 3-pounds, 1,3 kg)
Pour the water into a deep bowl. Halve the lemons and squeeze the juice into the water, then add the lemon halves to the water.
Lop most of the stem off an artichoke, leaving about 3/4-inch (2 cm.)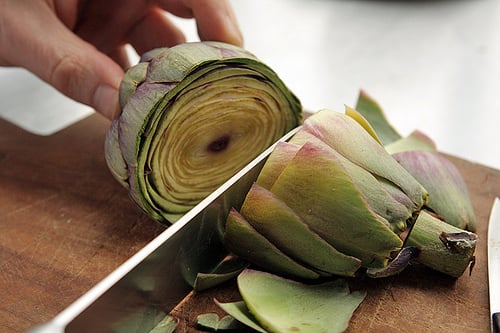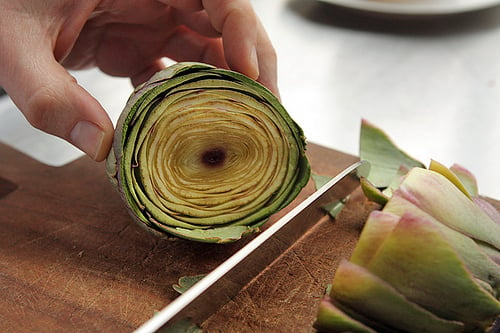 With a bread knife, or chef's knife, cut off most of the crown or leaves of the artichoke, about an inch (3 cm) from where the stem meets the base of the artichoke.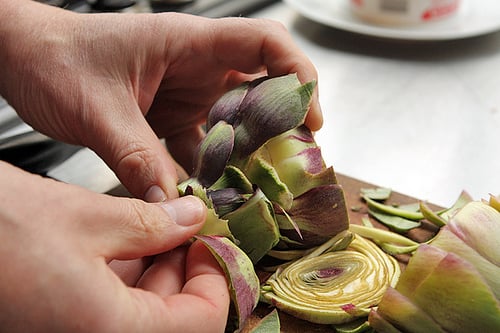 Pull off the tough leaves.
Run a paring knife around the edge of the artichoke to remove any tough bits of skin and leaves.
Take a spoon and scoop out the fuzzy "choke" of the artichoke, inside.
Then use the paring knife to trim any last bits of skin on the stem. (If you're not sure if something should be trimmed away or not – it will likely be tough, so get rid of it.)
Slide the trimmed artichoke into the lemon water, then repeat with the remaining artichokes.
---
Cooked Artichokes
You can use another herb, such as fresh thyme or tarragon – to taste, in place of the parsley.
6 to 8

prepared artichoke hearts

,

(See above)

2

tablespoons

olive oil

3

cloves

garlic

,

peeled and thinly sliced

salt

red pepper flakes or black pepper

1/4

cup (60ml)

water or dry white wine

1

tablespoon

fresh lemon juice

2

tablespoons

finely chopped flat leaf parsley
To cook the artichokes, pour the oil and sliced garlic into an unheated sauté pan that has a cover. Heat the olive oil slowly.

At the same time, working relatively quickly, drain the artichokes, towel dry them, and slice them about 1/4-inch (1 cm) thick. (You can also cut them into wedges.)

When the garlic starts to sizzle, add the artichoke slices, tossing them a few times in the garlic and oil, then season with salt and a generous pinch of red pepper flakes or a few turns of black pepper.

Cook for about 5 minutes, stirring occasionally, then add the water or wine and the lemon juice, and cover. Reduce the heat to low and cook for about 12 minutes or so, removing the lid and stirring a few times, until the artichokes are tender. They're done when you can poke a paring knife into one and it meets no resistance.

Stir in the parsley. Cook for another minute or so to get rid of any excess liquid, then remove from heat. If you want to brown the artichokes further, add a pour of olive oil and keep cooking the artichokes, stirring infrequently, until browned.
Related Links
Marinated Artichoke Hearts (Divina Cucina)
Pickled Artichokes (Honest-Food)
How to Cook and Eat an Artichoke (Simply Recipes)
How to Roast Whole Artichokes (Pinch My Salt)
Preserved Artichoke Hearts (Lynwood)