Eggless Chervil Mayonnaise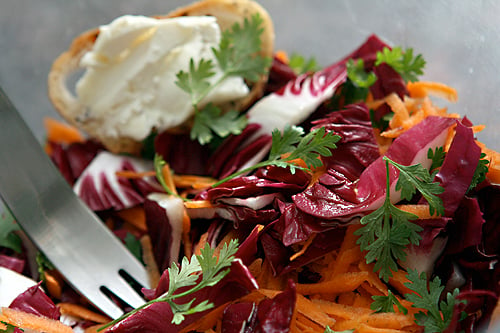 You might have passed chervil by when shopping, thinking it was a wimpy version of parsley. The wispy, thin leaves don't look very tempting. And you might be tempted to overlook it, unaware of its powerful aroma that it lends to certain dishes. But if you've never had it, add a handful of chopped chervil to a salad. You'll wonder why you don't pick up a bunch more often.
Which was a position I was in last week, when for some reason, I saw nice bunches at the producteur stand my market for just one euro each, and decided to ask for them to add one to my basket at the last moment, before I paid. When I got home and unpacked everything, I was a bit stunned to see how huge the bunch actually was.
(I think I get special treatment, though, because I bring them cookies.)

But I'm not complaining, because I love chervil and I'm not convinced it's possible to have too much. When I worked at Chez Panisse, in the restaurant downstairs, a handful was added to the green salads served after dinner, and customers always remarked on how especially good our salads tasted. Aside from lovely greens picked that morning, it was often flecks of chervil leaves that did the trick.
Chervil has a tarragon-like flavor, but is a lot less assertive. Chervil is always used fresh; when cooked, the beguiling flavor of the delicate leaves, reminiscent of anise, are lost. I strew lots of chervil leaves in salads, and use them like a green. However yours truly can only eat so many salads, and when I have a bunch larger than I know what to do with taking up a disproportionate amount of kitchen space, I need to find creative ways to use it. And I mean, a lot of it.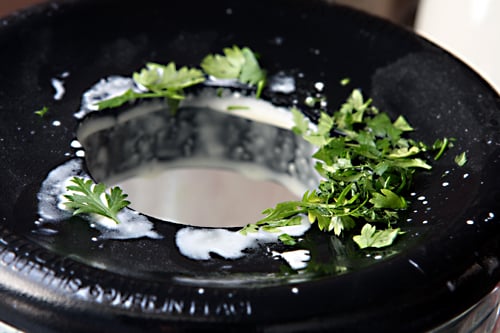 Yesterday, after I survived a surprise hailstorm on the rue Montorgeuil, while I joined everyone else who was ducking for cover in the shops and stalls, I picked up six slender, sparkling-fresh sardines which I quickly decide to make for dinner, along with three giant artichokes. (Standing in the fish monger's stall clutching my bag of artichokes, with the blizzard of hail outside, that was the fastest menu planning I've ever done in my life.)
I was going to bake the sardines with breadcrumbs and toasted almonds mixed with lemon zest, garlic, and some of the chervil, but that only used just a handful of the leaves. And I was still faced with an surfeit of cerfeuil. I'd been eyeing David Leite's milk-based mayonnaise ever since I saw it featured on Food52, which was from David Leite's The New Portuguese Table.
It's a fascinating concept; a mayonnaise made without eggs. Instead it uses very cold milk as a base for the emulsion. Being a skeptic, naturally I was skeptical. But David has impeccable credentials and I knew if the team at Food52 gave it a thumb's up, it'd likely muster an upward digit here as well.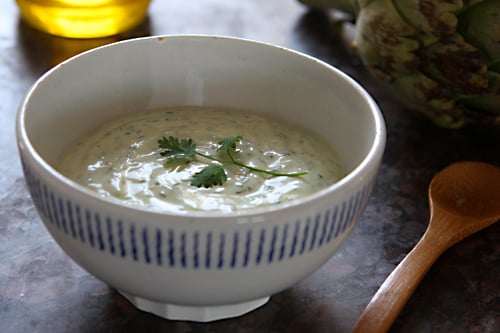 I love egg-based mayonnaise, which most people think originated in France. But there are conflicting stories and it seems that it actually is based on a sauce from Spain. So it seems natural that neighboring Portugal would have their own version. However France picked up the ball and mayonnaise, both homemade and store-bought, are pretty popular here.
Of course it makes a great dip for steamed artichokes or spiked with lots of garlic for aïoli, served with grilled toasts or alongside crisp vegetables. But in this version, loaded with the lively taste of fresh chervil, it did double-duty with the tasty sardines and the first artichokes of the season.
So I guess I have to thank the surprise storm I got caught in for giving me a couple more reasons to use my (overly) generous bunch of fresh herbs. All hail chervil!
Chervil Mayonnaise
Adapted from
Leite's Culinary
and
The New Portuguese Table
(Clarkson Potter) by David Leite The original recipe says to use either a regular blender, or hand blender. Because milk is more liquid than egg yolks, expect a bit of splattering, which happened even when I used the relatively small pouring hole in my blender. If you have a small mesh strainer, you could put it over the hole to mitigate that. And wear an apron. This would certainly work with any other fresh herb. And if you're interested in the science of this emulsified sauce, and other variations, you can read more about them at the link above.
1/3

cup (80ml)

cold whole milk

1 1/2

teaspoons

freshly squeezed lemon juice

1

small clove

of garlic

1/4

teaspoon

ground white pepper

3/4

cup (180ml)

oil

,

(I used a mix of half extra-virgin olive oil and colza oil)

3/4

cup (5 to 7g)

picked chervil leaves

1/2

teaspoon

sea salt
Mix the cold milk, lemon juice, garlic, and white pepper in a blender. Whiz on high speed for thirty seconds, until light and frothy. If using a hand blender, make the mayonnaise in a tall glass measuring cup.

With the blender on high speed, very slowly begin to drizzle in the oil, drop by drop, until it begins to thicken and become emulsified.

Continue to add the oil, in a very thin stream, until the mayonnaise is thick and smooth. Do not try to make this too quickly; the process of slowing incorporating the oil should take several minutes.

Finely chop the chervil leaves and add them to the mayonnaise, along with the salt. Taste, adding more salt and lemon juice, if desired.

Serve the sauce at room temperature. The sauce can be refrigerated for up to one week.
Related Recipes and Links
How to Store Fresh Herbs (Simply Recipes)
Maionese de Leite (Food52)
Milk Mayonnaise (Leite's Culinaria)
How to Make French Vinaigrette