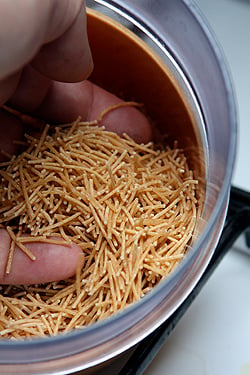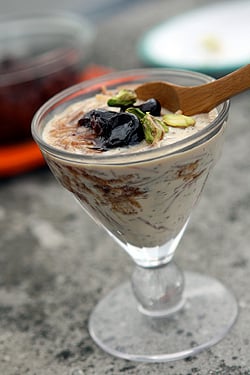 I've had all three cookbooks from Moro in London stacked up in my apartment for about a year, and haven't made anything from them. They're very personal cookbooks, the recipes and photos invoking a time and place, with the food arcing between Moorish cooking and the foods of North Africa, along with the Middle East, nodding toward sustainability. I keep picking them up, leafing through them and looking at the lush, yet unfussy photos of food, but never tried any of the recipes.
Their most recent book, Moro East, was the result of their growing their own food in their "allotment"; a place on the outskirts of London where 81 people tended their own gardens and foraged for foods. The book begins with the sad warning that by the time readers pick up the book, the bulldozers will have plowed the century-old gardens under to make way for the upcoming Olympics, in order to create a pathway between two stadiums.
When you flip through any of the Moro books, they're the kind of cookbooks where everything—on every page—sounds good. I'm one of those people who reads cookbooks while I'm eating and it's hard not to jump up from the table and start cooking. So I'm glad I finally got off my duff and start cooking from them. (I've bookmarked the Warm Pumpkin and Chickpea Salad with Tahini and the intriguing combination of Dates with Coffee and Cardamom with Turrone Ice Cream.)
A curious thing has happened in the past few years. The British have always had a less-than-stellar reputation for their food, yet many of the nicest cookbooks I have, including the Ottolenghi book with the chocolate-dipped Florentines, are gorgeously produced, and they use fresh, vibrant ingredients presented without pretense or novelty. Plus many take on dishes from other cultures, such as Italy or Spain, and stay true to the original intent of the dish with respect to the culture.
We have a cooking channel in France called Cuisine.tv and it's unfortunate the difference between the polished British cooking series that they show with Nigella Lawson and Jamie Oliver, who use gorgeous, just-picked produce and meats, and the ones produced locally, which are made on the cheap and the dishes rarely look very interesting. They are often more about chirpy presenters and contrived presentations rather than what the French have traditionally excelled at: mastery of techniques, and celebrating their terroir through the ingredients.
Public television in France has wonderful documentaries which highlight the various regions and the cheese, wines, and confections that are produced around the country, so it's unfortunate the cooking shows are generally uninspiring, rather than showcasing the best of traditional and modern French cuisine, the younger generation of cooks, and those still willing to take the time to use regional ingredients and celebrate artisan products that are facing extinction.
Like American cooking, British cooking gets a bad rap. But books like the ones from Moro are proof that there's good food to be found in even the most unlikely places, such as a bulldozed lot surrounded by steel electrical towers and factory-like bunkers.
The flavors presented in the Moro books really shine through in the recipes; there's generous use of wilted herbs, fresh shelling beans, meats braised with fruits, alluring spices, and salads spiked with things like pomegranates and fresh cheese. And some are quite unusual, like this one, which is the last recipe in Moro East.
It's an unusual pudding made with vermicelli, cardamom, and milk. I had some whole wheat vermicelli-style noodles that I bought a while back in Barcelona, which I'd intended to make fideos (a Catalan-style pasta dish, sometimes called fideuà), but never got around to. So like the cookbook itself, I figured it was time to take them off my shelf, and put them to use, too.
The allotment no longer exists. And it a bit sad to leaf through the pages of this book, which document a lively, verdant place that's now gone. It's perhaps not a recipe that everyone would be drawn to. Like the first photo page in the book, which shows a bleak, industrial area where the allotments were, it had a certain allure that was hard to put my finger on.
For lack of a better term, perhaps it's because this dessert is 'comfort food', even though it's from an unfamiliar place. Maybe it was the page facing this recipe, showing someone pouring two cups of steaming Turkish coffee on a ruddy kitchen counter. I ate my pudding on the rooftop, over looking the city of Paris—which I sometimes like to think of as my little allotment, which I hope doesn't get bulldozed any time in the near future.
Noodle Pudding
Adapted from
Moro East
(Ebury) by Sam and Sam Clark The original recipe said to use "broken up vermicelli nests", so you can use them, or any very fine strands of pasta. I'm not a fan of rosewater so I used orange flower water, which I buy at the Arab market. If you can't get either, a dash of vanilla would be a good substitute or a dab of
orange oil
. In addition to the chopped pistachios the original recipe called for, I topped the puddings with plumped sour cherries, which I made by putting dried sour cherries in a small saucepan, covering them with water, and heating them until the liquid boiled then left them covered, off the heat, until plump. I strained out the liquid then reduced it with a generous spoonful of honey until syrupy.
2

tablespoons (25g)

unsalted butter

, preferably clarified butter

4

ounces (100g)

vermicelli noodles

2 3/4

cups (625ml)

whole milk

3/4

cup (200ml) plus 2 tablespoons

evaporated milk

,

unsweetened

1/2

cup (100g)

sugar

pinch

of salt

1/2

teaspoon

ground cardamom

2

teaspoons

rosewater or orange flower water

,

(See Note)

shelled pistachios

,

coarsely chopped

plumped sour dried cherries
Melt the butter in a large saucepan or skillet. Add the noodles (if using nests, break them up first), then cook over moderate heat, stirring vigilantly, for about five minutes, until well-browned.

Add the whole milk, evaporated milk, sugar, salt, and cardamom and cook, stirring occasionally, for about ten minutes or so, until the noodles are completely cooked through. (The whole wheat noodles I used took about fifteen minutes.)

Remove from heat and let cool. Once cool, add the rosewater or orange flower water, then refrigerate until thick.

Spoon the pudding into individual bowls or glasses and top with coarsely chopped pistachios and plumped dried cherries, if you like.
Notes
Storage: The pudding will keep in the refrigerator for up to three days. If it becomes too thick, once cool, stir in a little milk to loosen it up.
Note: I get my orange flower water in markets that specialize in Arabic ingredients. Like rosewater, it's one of those things where price indicates quality, so buy a decent brand. Orange flower water, which is sometimes called orange blossom water, is available online. Well-stocked liquor stores often carry it, as well as rosewater, too.
Related Links
Moro East: The Allotment (Video & final tour of the allotment)
Moro (Restaurant website)
Orange Flower Water (Wikipedia)
Rosewater (Wikipedia)
Fideo (Wikipedia)
Vermicelli (Simply Recipes)
Quick Coconut Ice Cream with Saffron
---
Rome Gelato Walks
For those of you in Rome or planning to visit, I'll be doing two Gelato Walks on June 7 and 9, 2010. We'll visit the laboratory of Giolitti, perhaps the best-known gelato shop in Rome, for a special behind-the-scenes look at how traditional gelato is made. Then we'll stroll to other gelato-makers for tastings, as well as stopping for espresso along the way. This trip is limited to 8 guests and you can sign up at the Context Travel website.
An additional event, a book signing, will be held at a yet to be determined location in Rome, which I'll put on my Schedule page when it's confirmed.
---