Cranberry Upside Down Cake
I have to eat fruit every day. If I don't, I wither away psychologically. When I was in New York for a while this winter, it was tough because there weren't a lot of fruits available. I like apples and pears very much, but local pears had finished and while an apple a day may keep the doctor away, I needed something a little more exciting to keep myself as fit as a fiddle.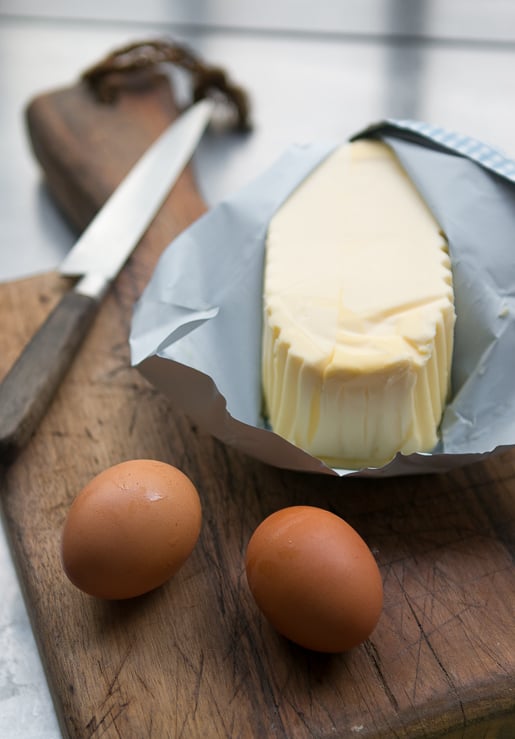 True, there's usually citrus bagged up in the grocery stores. But being from California, I hate to be a snob (well, sort of…) but I missed all the lovely oranges, Meyer lemons, and tangerines that burst onto the scene each winter at the markets in San Francisco. And in Paris, we have plenty of clementines, oranges, and occasionally, Sicilian or Menton lemons, to tide us over until spring.
Upon my return to Paris, since the citrus fruits at the market were looking passé and punky, there was no rhubarb to be found, and the melons looked and smelled as green as a pine tree, I thought I'd use some of the cranberries that I stockpile in my freezer to make an upside down cake for dessert the other night.
There are lots of kinds of upside down cakes, but the best – in my opinion – use tart fruits and berries, such as cranberries, which are super puckery and are particularly good candidates for melding with a brown sugar and butter topping. Another bonus is that cranberries need no preparation; you can either dump them right into the pan if they're fresh, or use them frozen – no need to defrost.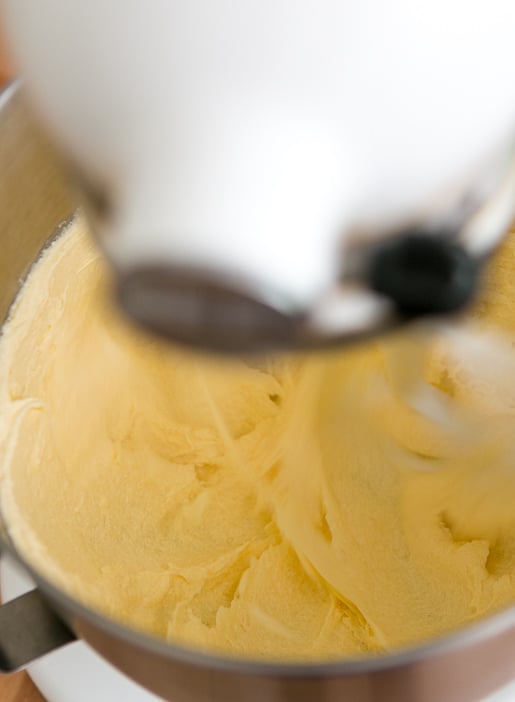 One thing I learned from my mentor, Lindsey Shere, who I worked with, and for, at Chez Panisse, is that you don't need to add all sorts of things to other things; cakes are fine just as they are, you don't have to necessarily add whipped cream or ice cream or sauce. Just leave 'em alone and let them do their thing. They'll shine on their own.
This is more of a skillet cake, so it'll be lower than other cakes, which I like better since there is a higher proportion of gooey cranberry topping to buttery cake. I added some cornmeal to the batter since I have a thing for adding a little crunch to cakes and cookies.
When you turn out the warm cake, the best part are the sticky-sweet bits that get stuck and left behind in the pan. You can be a good person and use a spoon to reunite them with the top of the cake. Or, since you're in the privacy of your own kitchen (…and who deserves them more than you?), you can take care of them yourself, with a spoon.
Yes, upside down cakes are best served warm. But fear not, do-aheaders. A few strategies for pre-preparation are at hand. One is to bake the cake timed to come out of the oven an hour or so you plan to serve it. Overturn the cake on a baking sheet or serving platter, but leave the skillet (or cake pan) over it, which will hold in the warmth until it's time to slice and serve. You can also unmold the cake and rewarm it in a moderate oven, covered with foil, until it's warmed to your liking.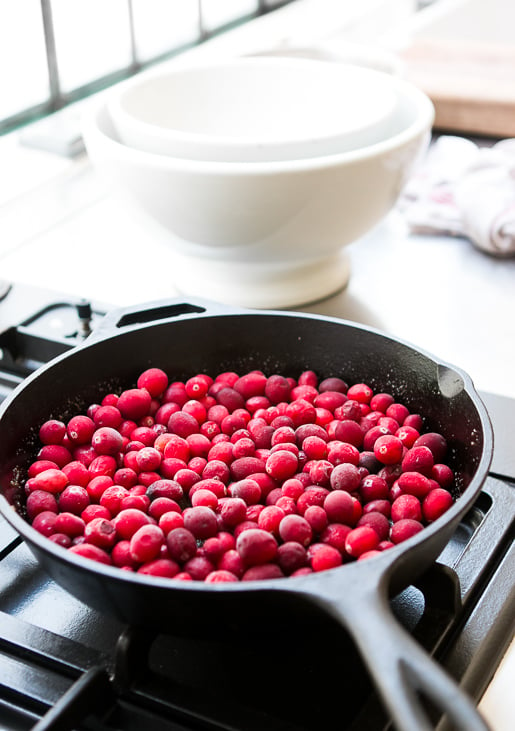 However, I discovered quite by accident, when I needed warm cake in a hurry (you know how that happens – right?) that upside down cake is really good blitzed in a microwave oven, which warms it up nicely. As long as you serve it right away, it won't dry out. Slices can go in for about 10 seconds on high, or for a whole or half cake, microwave it for as long as it takes to warm it up to your liking. I'm not an expert on microwave ovens and since all are different, you'll have to be the judge of it.
(Unless you want to fly me in to check, then we can talk. But I want one of those lie-flat beds. I'm kind of over being squished in one of those airline seats for a while…)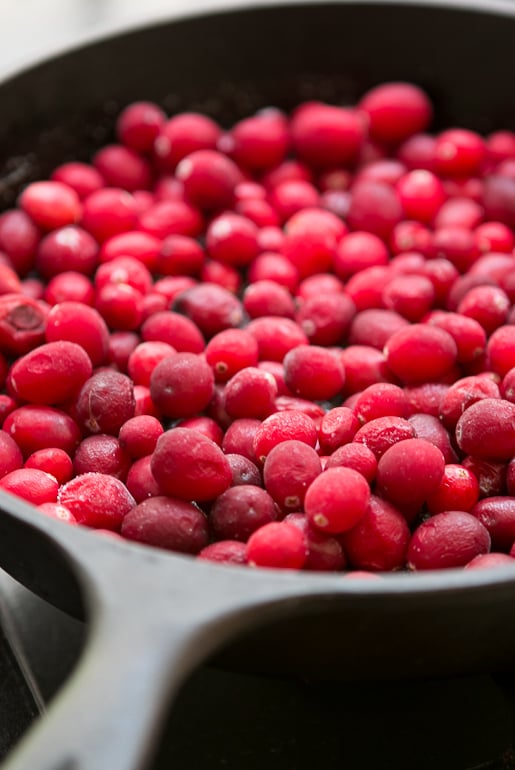 If you don't want to deal with rewarming, relax and just eat it as is. There's nothing wrong with that. The purpose of cake isn't to stress you out. In fact, I like nothing better than relaxing over leftovers, which make excellent breakfast fare, along with your morning coffee. No extra effort required.
Cranberry Upside Down Cake
This cake can also be made in a regular 9-inch (23cm) cake pan, one that is fine to heat on the stovetop if you don't have a cast iron skillet. (If you don't have a regular cake pan that can be put over direct heat, such as a glass or ceramic mold, you can heat the butter and brown sugar in a saucepan and pour it into whatever pan you're using.) Don't use a springform pan as the topping will almost certainly leak. If using frozen cranberries, no need to defrost them before using them. If you want to substitute other fruits, just arrange them in a pinwheel or haphazard design over the layer of brown sugar topping in place of the cranberries. If using slices of raw pineapple, sauté it first for a few minutes, until heated through.
Topping
4

tablespoons (55g/2 ounces)

unsalted butter

,

cubed

3/4

cup (125g)

packed light brown sugar

3

cups (280g/10 ounces)

fresh or frozen cranberries
Batter
1 1/4

cups (175g)

all-purpose flour

1/4

cup (50g)

coarse cornmeal or polenta

1 1/2

teaspoons

baking powder

,

preferably aluminum-free

1/4

teaspoon

salt

1/2

cup (115g/4oz)

unsalted butter

,

cubed, at room temperature

3/4

cup (150g)

granulated sugar

grated zest of one lemon

2

large eggs

,

at room temperature

1

teaspoon

vanilla extract

1/2

cup (125ml)

whole or low fat milk

,

at room temperature
In a 9- to 10-inch (23-25cm) cast iron skillet, melt the 4 tablespoons of butter and the brown sugar together, stirring frequently, until the sugar is moistened and liquefied. When the mixture starts to bubble, remove from heat and set the pan aside.

Preheat the oven to 350ºF (180ºC).

In a small bowl, whisk together the flour, cornmeal or polenta, baking powder, and salt.

In the bowl of a stand mixer, or by hand in a mixing bowl with a spatula, beat the ½ cup of butter, granulated sugar and lemon zest at medium high speed for 3 to 5 minutes, until very light and fluffy.

Reduce the speed of the mixer to medium and add the eggs one at a time, stopping the mixer to scrape down the sides. Mix in the vanilla extract.

At low speed, add half of the flour mixture, then the milk, then the remaining dry ingredients, mixing just enough so that they're all combined. Do not overmix.

Distribute the cranberries in the prepared pan over the brown sugar mixture and shake the pan so they are in a relatively even layer. Spoon the batter over the cranberries in four mounds, then use a spatula to spread the batter evenly over the fruit.

Bake the cake until the top is golden brown and a toothpick inserted into the center comes out clean, about 50 minutes. Remove from the oven, wait 10 minutes, then run a knife around the cake. Place a serving platter overturned on top of the cake in the skillet, then using oven mitts to cover your hands, flip the two over simultaneously, until the cake releases from the pan.
Notes
Storage: The cake is best made and served the same day, warm if possible. To rewarm it, use some of the techniques mentioned in the post. It is also good served at room temperature. This cake isn't a good candidate for freezing. But if you must, wrap it well and freeze it for up to two months.
Related Posts
How to tell if baking powder is still good
Ingredients for American baking in Paris
Baking ingredients and substitutions
Carrot cake with cream cheese frosting