Weekend Out of Paris
May is the month of holidays in France. There are eleven public holidays a year, called jours fériés, which we might call "bank holidays" in the United States. They're official holidays/dates when government offices, schools, banks, and most stores are closed, except for a few supermarkets, convenience stores, and bakeries, which need to follow certain rules as to when they can close in the summer, so they're not all closed at the same time and no one is without bread. Like October, May is also known as "strike season" – since so many people are traveling, strikers know they can make the biggest impact this month, so they often happen during this period. And if planned right, they can be scheduled next to holidays, so you can have a few days off in a row.
We're not on strike around here, and no one would miss me if I was gone a few days. (Although I do dream about a strike, and will check my calendar after I finish writing this post.) But we needed a break right now and felt like it was a good weekend to take off, so take off we did, and headed out to our friend's place out of town for a little r & r.
Our friends are a young couple and have a fun, quirky house that they bought a while back and slowly add things to it, from rooms, to plants in the backyard, to pottery from thrift stores. Those orange chairs were the first dining chairs I bought in Paris, from the BHV department store, although they would only sell me three orange ones because the forth was in the display and couldn't be sold at that time. So I had to settle for that green one instead. They didn't like my idea of replacing the orange one in the display with the green one, which made perfect sense to me. And ended up having to answer quite a few questions when I came home with 3+1 chairs.
Speaking for green, one of the benefits of getting out of the city is to be surrounded by wonderful by greenery since even the city thinks we're missing that in Paris. So much so that city hall has pledged to add more greenery to Paris – Paris au verte – and it can't come soon enough. We'd love a tree on our street. Although unfortunately, so would the local pooches and their careless owners, who Romain has taken to spying on when he sees them walking Fideaux down the street, and as soon as le chien is finished assuming the position and both dog and owner walk away, he springs into action to ask the owner why they're not picking up after them. We envision our street becoming more green, less…
Anyhow. We got in the car and headed north, passing a rare Citroën DS convertible in spectacular condition with the top down. The silver fox driver had a spectacular George Hamilton-worthy tan, as if he'd been driving around with the top down all winter.
Not sure where he was heading, but he was turning heads on the road and Romain told me anyone driving one of those cars, or other vintages Citroëns, gets a pass from other drivers in France when they are putting along slower than other cars. (ie: No one races up behind them and honks wildly until they get out of the way.) He was rolling along, on his merry way, and we waved hi before getting off at the exit to our friend's place.
With our friends, we'd planned le barbecue, as they say in France. (Or, Do you Barbecue?) We had a pretty deep discussion shortly after we'd arrived about whether a word for a fish we were thinking of bringing was masculine or feminine, as that determines whether you use le or la for "the," and there was quite a flurry of disagreement. We didn't generally have grammar discussions with friends over grammar in the states, at least not to my recollection. Being from San Francisco, all I remember talking about was food and real estate prices. But when people asked me how long it takes to learn French, I often respond that even the French are still learning French!
I was a little disappointed a few years ago when I was invited to a bbq made by some visiting British chefs. I'd arrived expecting long-cooked meats that were falling off the bone, but forgot that bbq means "grilled" in France, and probably England. (Although we now have an authentic bbq in Paris, which I've yet to go to, but it's on my list.) However I'd sent Romain to my favorite butcher and he had them cut up a leg of lamb into cubes for le doing of le barbecuing, or if you prefer, grilling.
In spite of the concern over proper grammar, the French often add a "le" in front of certain English action words that they've adopted, such as Le Fooding, le jogging, le planning, le networking, le lifting (getting plastic surgery), le scrapbooking, and le relooking (a make-over).
Romain dutifully stuffed a whole pistachio in each morsel of lamb and I tossed them in Lebanese seven-spice powder, a blend which used to be a mystery to me (because the packages were always in Arabic), but I discerned lovely whiffs of allspice, nutmeg, and cloves in there, and I now use it in Tabbouleh as well as roasted and grilled lamb dishes, since the sweet-smelling spices compliment lamb really well.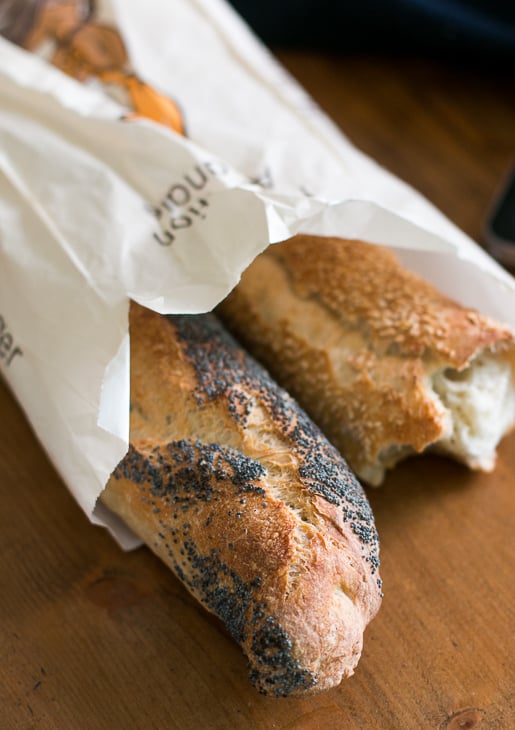 We'd brought baguettes since it'd chancy finding a good boulangerie in the countryside and we like eating good bread. Fortunately my local bakery had some poppy and sesame seed baguettes left after the morning rush, and they made it in fairly good condition…except with one of the obligatory quignons (bageutte ends) torn off. #guilty
Since one of our friends is from Bordeaux, he opened a jar of silky foie gras and our baguettes got put to good use with them, as well as a sprinkling of fleur de sel.
I'd brought along fixin's for Manhattans, letting them know in advance I'd be making cocktails. But after I poured them into chilled glasses and passed them around, alas, they were too strong for our friends. Romain is used to them now, and he loves them cocktails, but I had to drink the extras, which prompted le napping for me, for about two hours under a tree.
Fortunately in France, there's no shortage of wine and our pals filled their glasses while we ate grilled lamb brochettes and zucchini, along with potatoes roasted in the ashes of the grill.
Last time I was at my friend's place, I grabbed a bunch of herbs to baste the roasting meat with, until I was warned that I might be adding trop de goût, or "too much flavor," which has become a bit of a running commentary with us now after I mentioned that I wasn't sure it was possible to add "too much flavor" to food.
But like my high-test cocktails, modération is often the key around here, and we happily finished our more than moderately good meal before going for a much-needed walk. After I rose from my nap, we played a few rounds of Mille Bornes, a French game that I hadn't ever played, which is based on a road race. They had a great vintage set of cards to play it and it was hard to concentrate on the game, and the rules, which were a bit of a challenge to understand in France (like Parisian drivers…I won't mention who, but I once saw 'someone' make a U-turn on one of the major boulevards in Paris in full-on traffic, making a complete U from the far right lane, ending up, miraculously, on the other side of the boulevard, in one of the left lane going in the opposite direction – thank goodness I wear Depends when I'm a passenger…) But the cards were so amazing that I wanted to find out where to get a set.
They were just part of the things our friends have and she is a bonne chineuse (a good finder of deals at antique and thrift stores), a word which isn't even in my Robert Collins French paperback French dictionary that boasts 120,00 translations nor my Larousse app when I went to look it up, and couldn't find either chineuse nor chineur (masculine) in there. Although I did find it online. No wonder I need a nap or two after spending a few days with French friends! : )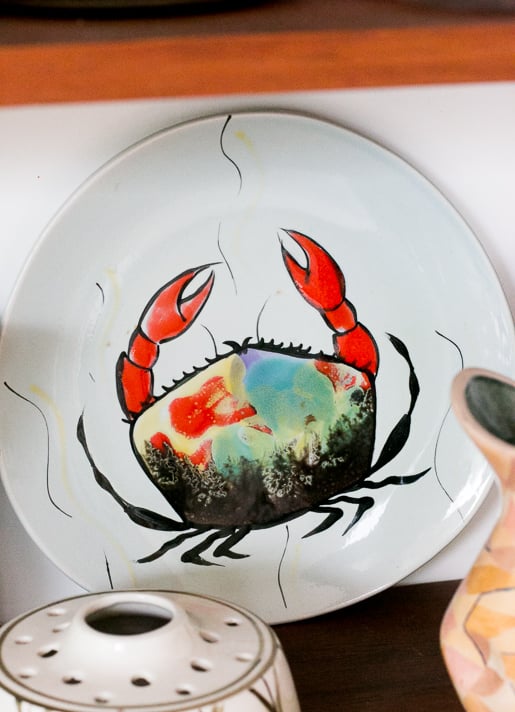 Alas, le week-end was finished and it was time to go home. I was also considering swiping that great crab plate she found at a thrift store, which I didn't do. Before before the month is over, I need to consider when to go on strike because I could use a few extra days to catch up on things, which isn't exactly the reason for a strike. But maybe a little more r & r is in order. And a few more weekend barbecues