I had big plans for this cake. I bought these gorgeous apricots, packed them up to take out to the country last weekend to make a cake. I planned to pick some rose geranium leaves to flavor the batter, and I was going to bake it and serve it proudly forth.
Except someone decided to use my perfectly-ripe apricots to make some jam, and the Hooters-worthy neighbor who promised me rose geranium leaves, actually brought me regular geranium leaves, which I was certain would kill us all if we ate them. So I had to make some last-minute adjustments.
Fortunately there were some nice nectarines around, and I had brought some dried sour cherries to snack on. So I plumped the cherries overnight and I figured those tangy little nuggets embedded in a layer of caramelized brown sugar wasn't such a bad consolation prize. (And for the record, it's not a good idea to complain to me when I'm wielding my cast iron skillet. Trust me on that one…)
It's no secret that I love anything drenched in caramel. Well, if it was a secret before, it isn't anymore. But can we talk about Upside Down Cake?
I mean—fresh fruit and berries, embedded in melted brown sugar, baked with a buttery cake batter that offsets the tangy fruit on top. What's not to like? (Except maybe, the person who swiped my apricots.) But this all goes to prove what a versatile dessert Upside Down Cake is. Just about any seasonal fruit that you have on hand works very well in this recipe.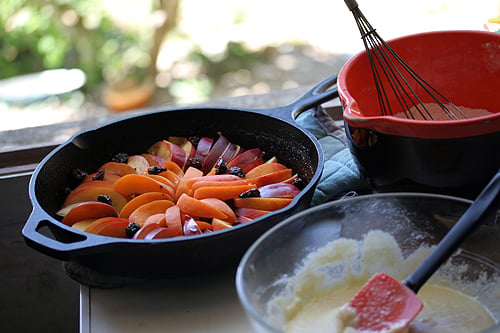 I prefer to use fruits that are on the tart side, since the contrast against the melt-down of brown sugar and butter is oh-so-heavenly. A pinwheel of unpeeled nectarines, rows of fresh apricots, or tart plums, are all personal favorites. I like fresh blood orange slices during the winter, and there's no reason you can't use pears in the fall. Around the holidays, I'll dump a bag of fresh or frozen cranberries in the pan and just call it a day.
Actually, I call it a Cranberry Upside Down Cake.
To bake my Upside Down Cake, I used a wide pan, a bit larger than the standard cake pan, and pulled out my big 10-inch (25cm) cast iron pan. I'm all for tall, buttery cakes, but with Upside Down Cake, I'm in the camp of those who like a high gooey caramelized fruit-to-cake ratio. But you can stick with a standard 9-inch (23cm) cake pan and you won't be disappointed.
Since you're caramelizing in the pan, don't use a spring form pan unless you're terribly fond of spending a couple of days scraping burnt caramel off your stove burners. Better to spend that time scraping it out of the corners of the pan, and into your mouth—which is the best part, in my book.
Oh, and by the way. Those apricots went to pretty good use in the jam, which was enjoyed by all for breakfast. Even me—albeit grudgingly. And since we're sharing secrets, just so you know: a day-old wedge of Upside Down Cake is one of my favorite things for breakfast, too.
But I found out that I had to get up earlier than everyone else since I discovered a few other people shared the exact same secret. So I guess it's not such a secret anymore.
Upside Down Cake
You have some latitude with the fruits that you use. Just make sure that whatever you use covers the bottom in a substantial layer, around double-thickness, since the fruit will cook down while baking and settle nicely into place. Berries and such are good, nestled in, and baked in gaps between the slices of fruits.
For the fruit layer:
3

tablespoons (45g)

butter

,

salted or unsalted

3/4

cup

packed (135g) light brown sugar

fruit: 8 quartered plums or apricots

, 3-4 thickly-sliced pears or nectarines, or 2 cups cranberries; add a handful of huckleberries, cherries, raspberries, or another bushberry
For the cake layer:
8

tablespoons (115g)

unsalted butter

3/4

cup (150g)

sugar

1

teaspoon

vanilla extract

2

large eggs

,

at room temperature.

1 1/2

cups (210g)

flour

1 1/2

teaspoon

baking powder

,

preferably aluminum-free

1/4

teaspoon

salt

1/2

cup (125ml)

whole milk

,

at room temperature
Melt the 3 tablespoons (45g) of butter in a cast iron skillet, or cake pan (see Note). Add the brown sugar and cook while stirring, until the sugar is melted and begins to bubble. Remove from heat and let cool.

Once cool, arrange the fruit in a pinwheel design, added berries if desired. Set aside.

To make the cake, preheat the oven to 350F. (190C)

Beat the 8 tablespoons (115g) of butter and sugar until fluffly. Add the vanilla, then the eggs, one at a time, until smooth.

Whisk or sift together the flour, baking powder, and salt.

Stir in half of the flour mixture, then the milk, then the remaining dry ingredients. Do not overmix: stir just until the flour is barely incorporated into the batter.

Spread the batter over the fruit, then bake for 45 minutes to one hour (depending on the size of the pan, and the thickness of the batter.) The cake is ready when it begins to pull away from the sides of the pan and the center feels just set.

Remove from oven, let cool about 20 minutes, then place a cake plate on top, and wearing oven mitts, flip the cake out on to the plate, taking care, as there may be some hot caramel that might escape.
Notes
Serving: Upside Down Cake is best served warm, perhaps with whipped cream or vanilla ice cream. It can be made in advance, left in the pan, and rewarmed in the cake pan or skillet right before serving. It's also very good rewarmed in a microwave, and served immediately.
Related posts:
American Baking in Paris (For brown sugar substitutes)
Respect Your Elderberries (Elderberry syrup recipe)
Pineapple Upside Down Cake (Simply Recipes)
Vanilla Ice Cream (Recipe)
Persimmon Bread (Recipe)
Banana Cake (Recipe)