Thanksgiving
I've been rather buried in a mess of stuff this year, and, well…I didn't get it together in time for Thanksgiving. There were no posts on how to roast the best turkey – although I'm kind of in the camp of just put the dang thing in the oven for a few hours, and stop worrying so much about it – it's just turkey. Last year I worked with a dinky oven and we had around a dozen diverse people over for dinner, so I just cut it up and oven-braised the beast, and no one complained. I think people were just happy to have fun with each other and eat together. (The wine helped as well, no doubt.)
And there aren't going to be any posts about what to do with turkey leftovers. Sorry, but it doesn't get any better than turkey Tetrazzini.
Because I live in Paris, there's no run-up to Thanksgiving. There are no supermarket ads imploring us to buy canned yams, marshmallows (I wish!), stuffing mixes, and discounted turkeys. My social media streams aren't full of French food bloggers posting recipes and Thanksgiving tips. It's just another day for them, and those of us who live here. Some folks are having dinners this weekend because it's a "school night" so if you're going to have a big dinner party, it's better to do it on the weekend when folks don't have to wake up early to go to work.
I've also been a bit preoccupied with the news of the storm on the east coast in America a few weeks ago, and this week, watching another sad chapter in a decades-long struggle. War never really solves anything – Europe is now unified and Americans and Vietnamese seem to be a-ok with each other. Unfortunately this situation seems unresolvable at the moment, but when a chef from one of the regions of conflict gave me a big hug after I told him how much I loved his cooking during a trip there, it made a certain someone who isn't necessarily overly emotional well-up just thinking about it as he writes about it still, at this particular moment. Those five seconds were the highlight of the year for me.
(The other was that we got to see Anderson Cooper on CNN here in Europe this week.)
I've also been leafing through cookbooks that recently came out from friends and I've been blown-away by their talent. Many are first-time authors, and as I hold their books in my hands, I'm proud to call them friends. Some are food bloggers and if you like their blogs, support them by buying their books. (And I'm not plugging my own, for a change.) It's a small gesture that adds up in the long-run and it's a nice way of giving thanks to them for entertaining and feeding us, which is certainly the spirit of Thanksgiving. I haven't been able to feature all of them because there are other things I wanted to write about here – like ranting and raving – but during the next few weeks, I'll be highlighting some of these books and recipes on the site.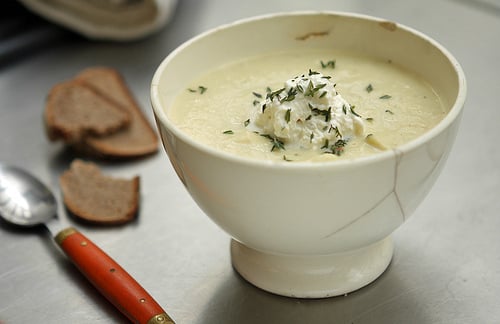 My lunch today is soup. I made a variation of my Potato-Leek Soup, which seems about right for the season. It's a bit chilly out and rather brisk, but the sunshine is poking through, a rarity for Paris these days. And every day the temperature (and sunlight) dips a little further, before we head into the depths of la grisaille, the cold gray of winter, which drives people indoors until the spring.
My hope is that for all of you out there, that you have a good day, whether you're celebrating Thanksgiving with a big feast with friends or family, going to school or to work, like any other day, or having soup for lunch, too.
And if anyone has a recipe for potato-leek Tetrazzini, I'm all ears.


(Comments closed, enjoy the holiday – and peace and happiness, wherever you are!)