I know. It's hard to get people excited about turnips. But on a recent trip to the Middle East, one of the things I loved most about the generous spreads of salads, roasted meats, and creamy-white cheeses that were a part of just about every meal, were the pickles – including pickled turnips, which were served even at breakfast. As someone who generally favors toast and butter for breakfast, I found myself quickly adapting to the Middle Eastern habit of fresh vegetables, herbed breads, vegetables brined in vinegar, and spicy sauces in the morning, which are a much livelier way to start the day that what I'm used to here in Paris.
It's somewhat of a common thread amongst pastry people that we all universally crave salt and vinegar because we're around the sweet stuff all day. And as an American, for some reason, we're hard-wired to like spices – and lots of garlic. We tend to go full-tilt on both of those things, and I used to hold back on using them in some of my cooking here because I tend to lean heavily both of those directions. But I've been dialing them up as I go along, and no one seems to have any complaints.
So, when I made these pickled turnips recently, I snuck a lot of garlic into the batch, which I'd put on the table to go with dinner. And everyone couldn't stop themselves from reaching into the glass jar for more, even though we were still on pre-dinner nibbles. Yet in spite of my protests that the tang might contrast a bit sharply with the Champagne we were swilling, my objections were waved away, and the pickles continued to disappear quickly.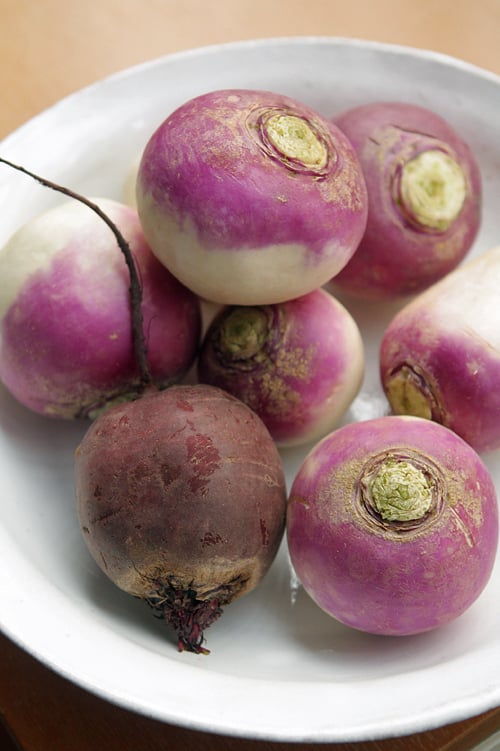 Turnips are kind of a hard-sell in some places. But in Paris, one finds turnips pretty easily, which I suspect may partially be because of a fairly good-sized population of immigrants from the Middle East. And I've been putting bowls out when serving Middle Eastern dinners, which often consist of things like eggplant caviar, baba ganoush, and hummus, and folks can dip into the crunchy pickles, which provide a nice counterpoint to natural sweetness of roasted eggplants and nutty sesame paste.
Turnip pickles are usually tinted with beets making them a lovely rosy-pink color. As they sit, they go through a remarkable transformation in terms of color. At first the brine is ever-so slightly tingled by the color of the beets. Then, a day or so later, the liquid deepens in color and the turnips take on a neon-pink hue, so much so that you can't distinguish the beets from the turnips when the pickles are finally ready. They're easy to make – just make a simple brine, some sliced up turnips, a few batons of beets, and a week to do their thing.
I find these pickles don't last as long as others, and they're best enjoyed up within a few weeks after they're made. Thankfully they're easy – and inexpensive – to make, so you can whip up a batch in no time. In fact, after my dinner guests wiped me out, I went out and bought more turnips. And now I have another jar in my refrigerator, ready and waiting for the next onslaught of guests.
Pickled Turnips
You can dial down the amount of garlic, but I like the slightly aggressive flavor of the slices in the brine. Use whatever white salt is available where you are, but avoid fine table salt as it's quite unpleasant and bitter. Gray salt will discolor the brine. For those who like to tinker, although these are usually served as they are, a few sprigs of fresh dill, or dill flowers, in the brine will take them in a different direction. A hot pepper will add some zip.
3

cups (750ml)

water

1/3

cup (70g)

coarse white salt

,

such as kosher salt or sea salt

1

bay leaf

1

cup (250ml)

white vinegar

,

distilled

2-

pounds (1kg)

turnips

,

peeled

1

small

beet

,

or a few slices from a regular-size beet, peeled

3

cloves

garlic

,

peeled and thinly sliced
In a saucepan, heat about one-third of the water. Add the salt and bay leaf, stirring until the salt is dissolved.

Remove from heat and let cool to room temperature. Once cool, add the vinegar and the rest of the water.

Cut the turnips and the beet into batons, about the size of French fries. Put the turnips, beets, and garlic slices into a large, clean jar, then pour the salted brine over them in the jar, including the bay leaf.

Cover and let sit at room temperature, in a relatively cool place, for one week. Once done, they can be refrigerated until ready to serve.
Notes
Storage: The pickles will keep for several weeks in the refrigerator. They'll be rather strong at first, but will mellow after a few days. They should be enjoyed within a six weeks after they're made, as they tend to get less-interesting if they sit too long. If you are interested in canning, check here for tips on canning pickles.
Related Recipes