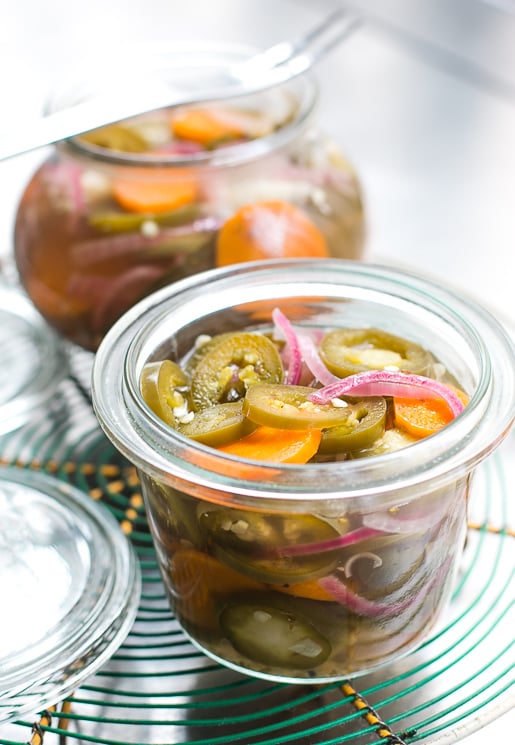 Yes, I know I've been presenting a lot of chile pepper recipes lately. But, well, 'tis the season. And when nature speaks, ya gotta listen. So I promise a chocolate recipe up shortly — fortunately, chocolate is an all-year round kind of thing — but I wanted to preserve a nice bag of jalapeños that happily made their way into my Paris kitchen. And since they're something you don't see at Parisian markets, I wanted to make my bounty last as long as possible.
So I decided to preserve them for my next Mexi-fest, and pickle them in the style of those you find at taquerias, where they're used as a condiment.
I love the taquerias in San Francisco with their condiment bars (the one at Pancho Villa comes to mind…) where you can help yourself to a variety of salsas, chopped cilantro, onions, radishes, and pickled jalapeños, carrots, and onions. I usually stand there for a minute, stunned at all my favorite things in one place, then try to load as many of them onto my burrito or tacos as possible, without drawing undue stares.
I always try to pick out as many of the carrots as I can, since I like those a lot, too. So if you've even been to Pancho Villa and wonder why there aren't any carrots in the pickled jalapeño pot, it's likely that I was there having lunch that day and got there before you.
Jalapeños can be pretty spicy and if your guests aren't used to spicy things, you might want to give them a heads-up before they shove handfuls in their mouth. Especially if they're not accustomed to eating highly spiced foods. And these certainly fall into that category.
The jalapeños, of course, are great on tacos or burritos, but they're also nice on hamburgers, chili with chocolate, or alongside carnitas (and margaritas!), in case anyone is interesting in dialing up the heat.
Pickled Jalapenos and Carrots
When you transfer the mixture into the jars, you should have just enough brine so that they're barely submerged. Press them down with a spoon, cover, and let them stand overnight as they will continue to pickle in the jars. The next day, if you should need more brine, simply heat together equal parts vinegar and water, and pour it over the mixture in the jars. If you're interested in canning the peppers, at the end of the recipe I've linked to a good source on canning tips and techniques. I do prepare the jars by pouring boiling water in them, as well as over the lids, and letting them stand for about 5 minutes. Then I use tongs to carefully tip the hot water out and let them dry, overturned on a cooling rack, until they're ready to fill. Wear latex or rubber gloves when handling the jalapeños and avoid touching your eyes when handling them, as you'll find yourself in a bit of pain if you do!
8

(about 1/2-pound, 230g)

jalapeno peppers

1

medium carrot

1/2

red onion

1

cup

(250ml)

, white vinegar or unseasoned rice vinegar

1

cup (250ml)

water

1

clove

garlic

,

peeled and lightly crushed

2

tablespoons

kosher or sea salt

,

(not grey or iodized salt)

1

tablespoon

sugar

1/2

teaspoon

dried oregano

10

black peppercorns

,

lightly crushed

1

bay leaf
Slice off the stems of the jalapeños and cut them into rounds slightly shy of 1/4-inch (.5cm). Peel the carrot and cut it into 1/4-inch (.5cm) slices. Peel the onion and cut it in half. (Reserve the other half for another use. Slice the onion into 1/4-inch (.5cm) slices.

Heat the vinegar in a nonreactive saucepan with the water, garlic clove, salt, sugar, oregano, peppercorns, and bay leaf until simmering, and the salt and sugar are dissolved.

Add the jalapeños, carrots, and onions. Let cook in the pan for 1 minute, then cover, remove from heat, and let stand 15 minutes.

Ladle the mixture into jars, close them, and refrigerate until ready to serve.
Notes
Storage: The pickles will keep for at least a month in the refrigerator, and will start to lose their oomph after that. For canning tips and guidelines, see the National Center for Home Food Preservation website.
(In France, fresh jalapeños are available via mail order at L'Épicerie de Rungis).
Related Recipes