Peppermint Stick Ice Cream with Hot Fudge Sauce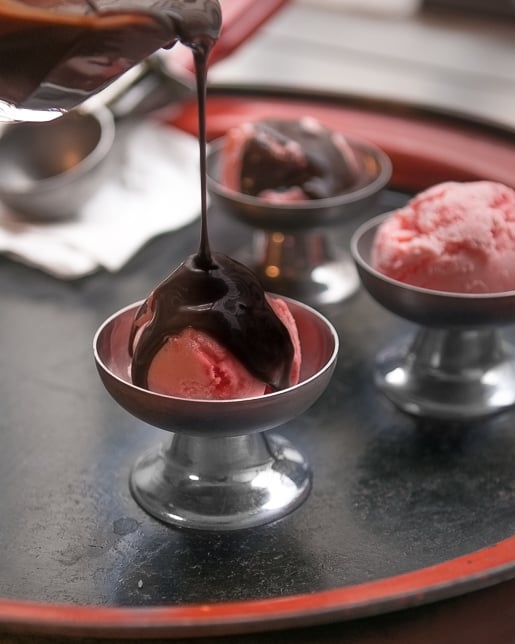 One of my favorite bakeries anywhere is Baked, located way over yonder, in Red Hook, Brooklyn. It's a ways to go, since that part of Brooklyn lacks subway stops. (And it's about 3000 miles from Paris, and no métro goes there either.) So I'm happy to hear they're opening in Tribeca, so when I'm in New York, I can make it over there more frequently. But what's just as good as visiting their bakery in person, is their latest book, Baked Occasions, featuring Matt Lewis and Renato Polifito's favorite cakes, cookies, and candies, for entertaining, including during the holidays, and on other festive occasions.
What endears me to this duo is that we share similar tastes in treats. Leafing through the book, I immediately dialed in on the recipe for Lebkuchen, those wonderful German spice cookies iced with a swirl of dark chocolate, and the Salted Caramel Soufflé, which sounds oh-so-good. But the lure of the Old-School Oatmeal Chocolate Chip Cookies (page 110) was too powerful to resist, and I gave those a go first. After mixing up the dough, while shaping the cookies for baking, I was grabbing clumps of the cookie dough and stuffing it in my face. People who actually got to taste the baked cookies should consider themselves fortunate that I had any dough leftover to bake.
However the pièce de résistance for me was learning that they loved Peppermint Stick Ice Cream with Hot Fudge Sauce as much as I do, which was one of my childhood favorites. And I jumped at the chance to churn up a batch of it, to relive those innocent days of my youth, before life corrupted me and made me the person — for better or worse — than I am today.
As everyone who lives in America knows, we're known for getting a jump-start on the holidays, as in, Halloween decorations showing up in stores in July. And I guess I'm no exception. (And for all you do-ahead types, this ice cream is the perfect thing to pull out of your freezer around the end of December, and you'll feel great having one less thing to tick off your holiday dessert list.)
Even thought Christmas isn't for months away, I was — perhaps naïvely — hoping to find candy canes somewhere in town (which one website in France described as cannes de bonbons et de menthe poivrée – whew, that's quite a mouthful!), and went to Thanksgiving in Paris, where the owner kindly unearthed some green and red ones, and acknowledged that she likely had some of the more classically red and white striped ones, but they were packed up somewhere. I didn't want any green bits in my ice cream and needed to find the real deal, so I left, sans les cannes de bonbons et de menthe poivrée.
Because I couldn't wait to dive into this ice cream, I was able to locate some online and they showed up a few days later, ripe 'n ready for peppermint stick ice cream.
Because getting a delivery in Paris is a major challenge at times – to say the least – some companies resort to using relais, or relay points, where the delivery company can leave a package, and you can pick it up when it's convenient. It's a great idea, but mine is operated by The Grumpiest Man in Paris, which I thought I had the title of, until I'd met him. So it takes me a couple of days to work up my nerve to go in and get my packages.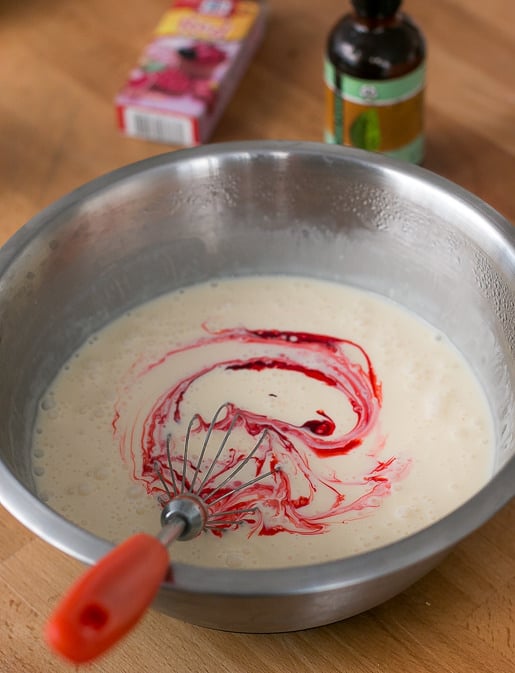 Even harder than getting a delivery in Paris, is unwrapping not entirely fresh candy canes. Honestly, whoever came up with the idea of shrink-wrapping sticky candy has never had to unwrap eight candy canes. Tip #1: Start unwrapping the candy canes for crushing before you start churning the ice cream, as the ice cream may be done if you're as slow as I am about unwrapping candy canes. Tip #2: If you can, avoid candy canes that have been sitting in a humid, non-air conditioned warehouse somewhere in France for a year or so, as they make have gotten a little sticky, and stick mercilessly to the cling-wrap. And Tip #3: Breaking the candy canes before you unwrap them might make them easier to unwrap.
And Tip #4 is that you might want to practice your aim before adding them to the ice cream.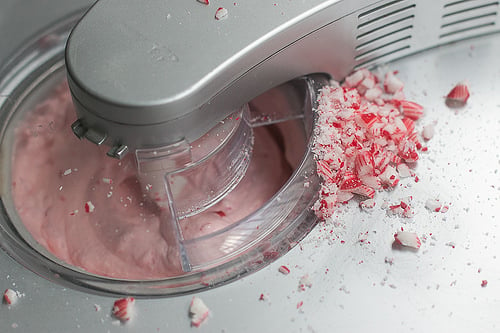 All was forgiven when I tasted my first bite of peppermint stick ice cream with hot fudge sauce, which brought up a rush of happy memories. And erased a few recent less-pleasant ones, more specifically, the grumpy fellow at the package pick-up place, who I'm thinking of softening up with a container of ice cream.
But since my candy canes were a hard-won victory for me, I'm hanging onto this batch for dear life. If you're fortunate enough to live somewhere where candy canes are readily available, I urge you to make this ice cream from Baked Occasions. And by all means, share it with friends and family — no matter what the occasion. Even if it's just to celebrate getting a delivery of candy canes!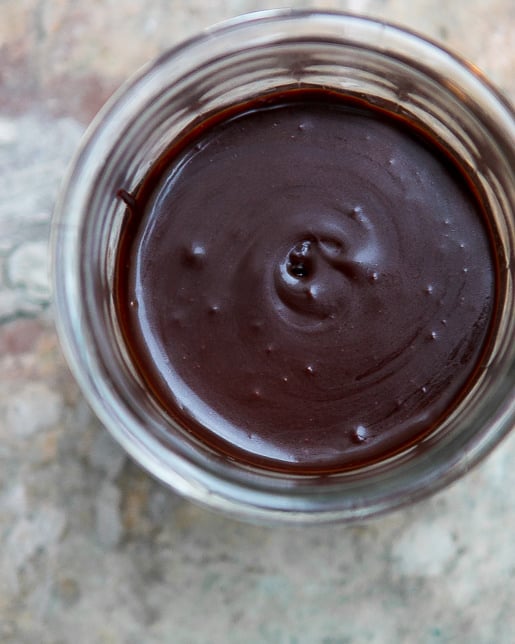 Peppermint Stick Ice Cream with Hot Fudge Sauce
Adapted from
Baked Occasions
by Matt Lewis and Renato Poliafito I served this to French friends last night, and it was a huge hit. I wasn't sure if they'd take to the color and flavor, but they scraped their dishes clean and requested seconds. Whether you have French friends, or others, as guests, make sure to have extra hot fudge sauce on hand. Trust me. Let's face it, if you're making candy cane ice cream, it's gotta be red or pink. That's part of the fun. In case you're concerned about using red food coloring, you can either leave it out (which would be a shame, as that's part of its appeal), or try a natural one. But it's only 8 drops in a full batch of ice cream, a lot less than an order of
Tandoori chicken
from your favorite Indian joint. You could try it with beet juice, or check out
India Tree
, which makes a natural red food coloring. For the ice cream, Matt and Renato insist you use pure peppermint extract, not mint or spearmint extract. Extracts can vary in strength, so feel free to taste, and add more if desired. The team at Baked uses unsweetened chocolate, also called bitter chocolate, as a base for their thick, sticky hot fudge sauce. Unsweetened chocolate contains no sugar. If unsure, check the list of ingredients. In France, it's called pâte de cacao (sometimes with the word pure or 100% is in there), and is available at
G. Detou
. Lindt makes a 99% chocolate bar, which can be used. I used crème fraîche in my hot fudge sauce, because I wanted a bit of tang in there. It'll make a thicker sauce. Either way, the hot fudge may become rather thick if made in advance. Simply whisk in some water or milk while warming it up, to thin it out, until it's the consistency that you like.
For the peppermint stick ice cream:
1

cup (250ml)

whole milk

1

cup (200g)

sugar

pinch

of salt

5

large egg yolks

2 1/4

cups (560ml)

heavy cream

2 1/2

teaspoons

(or more to taste) peppermint extract

Red food coloring

3/4

cups (115g)

crushed candy canes
For the hot fudge sauce:
4

ounces (115g)

unsweetened chocolate

,

chopped

3

tablespoons

unsalted butter

,

cubed

1/2

cup (70g)

powdered sugar

1/2

cup (120g)

packed dark brown sugar

1/4

cup (25g)

unsweetened cocoa powder

3

tablespoons

light corn syrup or golden syrup

1/2

teaspoon

kosher or sea salt

3/4

cup 180ml)

heavy cream or crème fraîche

1

teaspoon

vanilla extract
To make the peppermint stick ice cream, heat the milk, salt, and sugar in a saucepan.

Set up an ice bath by placing a 2-quart (2l) bowl in a larger bowl partially filled with ice and water. Set a strainer over the top of the smaller bowl and pour the heavy cream into the bowl.

In a separate bowl, stir together the egg yolks. Rewarm the milk then gradually pour some of the milk into the yolks, whisking constantly as you pour. Scrape the warmed yolks and milk back into the saucepan. Cook over low heat, stirring constantly and scraping the bottom with a heat-resistant spatula, until the custard thickens enough to coat the spatula.

Strain the custard into the heavy cream. Stir over the ice until cool, add the mint extract and taste, adding more if desired. Whisk in the red food coloring – since brands vary, you can add enough until it's the color you want. (I used 8 drops of McCormick red food coloring.) Refrigerate the mixture thoroughly, preferably overnight.

Freeze the custard in your ice cream maker according to the manufacturer's instructions. Add the crushed candy canes to the ice cream during the last two minutes of churning. Scrape the churned peppermint stick custard into a chilled container and freeze until ready to serve.

To make the hot fudge sauce, melt the chocolate and butter in a bowl set over a pan of barely simmering water, stirring until smooth.

While the chocolate is melting, in a medium saucepan, whisk together the powdered sugar, brown sugar, cocoa powder, corn syrup (or golden syrup), salt, and heavy cream or crème fraîche. Heat the mixture, stirring frequently, until it comes to a low boil. Continue to cook, stirring constantly, until the sauce starts to thicken, about 45 seconds. Remove from heat and whisk in the melted chocolate.
Notes
Serving: Scoop ic cream into bowls and drizzle each with a generous helping of hot fudge sauce. You can garnish the ice cream with additional bits of crushed candy canes, if you wish. Storage: The hot fudge can be made up to one week ahead, and stored in the refrigerator. It can be rewarmed in a saucepan over low heat, adding water or milk to thin it out, if it becomes too thick.
Related Links and Recipes
Making Ice Cream Without a Machine
Tips for Making Homemade Ice Cream Softer
Ingredients for American Baking in Paris
Ice Cream Makers: Buying an Ice Cream Machine
Why and When to Use (and Not Use) Corn Syrup