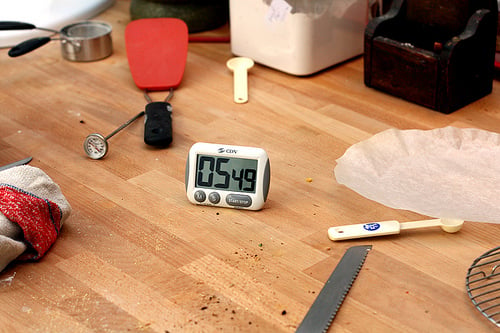 I wasn't planning on writing about my kitchen timer. But I was in the middle of a couple of baking projects yesterday, and realized that I was gazing at it lovingly. Like, a little too much, perhaps. And as the tears welled up in my eyes, I decided that I'd share my affection for my new buddy in the kitchen.
One of the hardest transitions for me – from being a professional baker, to writing recipes for folks at home baking in their jammies – was figuring out precise baking times. In the restaurant, you just kept checking in the oven, or used that special sense that bakers develop when things are ready to come out. Sure we used timers, but they were more back-up reminders; a majority of pro bakers just know when things are done, or simply keep checking and pull things out when they're ready.
So many factors go into baking times, such as what material the baking pans are made out of (black attracts heat, so things bake faster), how warm or cold the mixture was when being put into the oven (if you chill a custard then bake it, it'll take longer than if you use a just-made custard that is still warm), some ovens are convection (which bake faster), and probably most importantly, the vagaries of each and every oven. I have two brand-new ovens, both made by the same manufacturer, and each one heats and cooks differently.
(Which I'm sure that those of you out there who are parents of several children can relate to. Those kids are made in the same "facilties" – presumably – yet each one can turn out radically different.)
One could, I suppose, test and write recipes for each and every possible variation. Which would require an arsenal of baking equipment and a good sampling of every model of oven made from the last fifteen years crowding your kitchen. Hence the resulting brownie recipe might span ten to fifteen pages, which I think would scare even the most dedicated, and geeky, baker. But it's best for people to get to know their own oven and rely on recipes as guidelines, and to use their own intuition and senses to tell when things are ready.
Still, I love having a timer because I forget things in the oven because I'm doing things like checking my blog comments and condensing epic-length recipes to make them manageable for folks baking in the pyjamas. When my no-longer-trusty Minute Minder bit the dust, from right out of the package, I looked around for a replacement. In the cookware shops in Paris, there were lots of timers in decorative shapes – ones that looked like heads of lettuce or little tiny coffee cups (which, as the French would say, were très design, which is not really a compliment) – and others that felt really cheap, and didn't inspire confidence. So I hit the internet.
I wasn't asking for much; just an on switch, and an off switch, and the ability to time things in minutes. I didn't need fancy bells or switches. (I have a timer with so many features I actually don't even know how to reset it once it rings.) I don't need to know how those minutes will pass in seven different time zones and I don't want to have to call customer service in tears while my cookies burn because someone with a doctoral degree in electrical engineering would be stupefied trying to use it. I just wanted a timer that is easy to use with as few buttons as possible, that would be a reliable kitchen companion. And this CDN timer that I bought on Amazon is it.
We've become good friends in the kitchen; his – or her (I haven't figured out which) only drawback is that he (or she) doesn't have an automatic shut-off, or even a switch that I can turn it off manually to preserve the battery, so it's always using power unnecessarily. (In which case, I'll leave it up to you then to assume which gender my timer is.) But it boasts big numbers (def. male), it's easy to handle (debatable whether that's male…or female), the ring isn't annoying, and I can press as many of its buttons as I want and it doesn't mind at all. (How's that for a perfect relationship?)
So far, it's been great and we've been happy together baking away side-by-side in my kitchen. The only problem is that I fear I'm developing an unreasonable attachment to it. I guess when we begin leaving the kitchen together and taking our relationship into other rooms, then you can start getting worried.


Related Posts