Arthur Schwartz's Homemade Kosher Dill Pickle Recipe
It's nice to know I'm not the only one having wrestling with foreign languages around here. A couple of weeks ago I was buying some olives at an épicerie, and the woman, who wanted to practice her English, as she spooned olives in to a sack, reassured me; "Don't worry. I will give you some brain with that."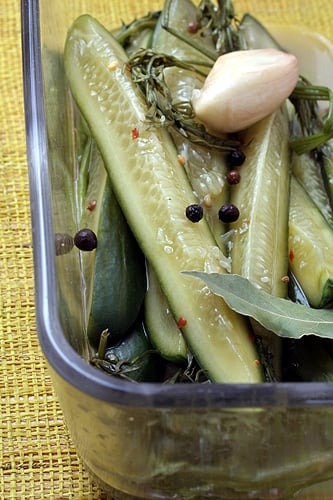 Thinking maybe it was some odd French thing, but I wasn't really keen on having someone add a few brains to my bag of olives. After a bit of mental maneuvering, I realized she was letting me know she would be adding some "brine" to my olives—not "brain".
Which was such a relief.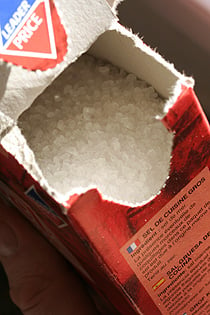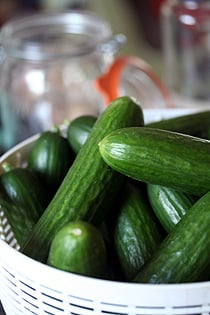 Ok, so fast-forward back to last Sunday. Noting that Monday was a holiday, since I'd already bought the cukes, it dawned on me that the giant Tang Frères, Paris' Asian supermarket, was open on Sunday. So I rushed right down there.
Of course, they'd have coarse salt.
Navigating the mobs of people, working my way through the aisles, I bought a whole bunch of things.

Yes, indeed they did have everything. Then I headed to the salt aisle, where they had many kinds of salt lined up in all sorts of boxes and bags.
Except there was no coarse salt. Anywhere.
Which goes to re-prove my theory that they'll have everything but what I'm looking for around here. But on a whim, I stopped in one of their satellite stores on the way home and there they were, a stack of red boxes of coarse salt. So I grabbed one and went home to start my Kosher dill pickles.
I used what are called mini concombres in France, which are thin-skinned and relatively small, but Arthur Schwartz's recipe, which I followed, says to pickle Kirby cukes. So if you can track them down, get Kirby cucumbers. (Unless you have my kinda luck and they have every kind, but…) Arthur also says to try to get the same size cucumbers, or they'll pickle and ferment at different rates.
I did most of my pickles in one jumbo jar, simply because I didn't want to get three of my precious jars pickly-smelling, since I use them for nuts and other baking supplies. But I also experimented with slicing some in long spears to see what would happen, and lo and behold, they really pickled quickly: after 48 hours, they were rarin' and ready. And delicious, too. So you could easily make these for a summer bbq. (If you invite me, I'll bring the pickles—I've got plenty!)
I don't know what's the equivalent of pickling spices here in France. Like pumpkin pie spice, I don't think it exists. So I used a mixture of coriander, allspice and fennel seeds. And the results? Stupendous. These were great, and very easy pickles to make. And me and my friends have been munching on them all week. All that was missing was a pile of hot corned beef jammed between two spices of corn rye with some mustard and a Dr. Brown's black cherry soda.
So for anyone who doesn't think they can make pickles; don't be worried. You can. Following Arthur's excellent and very easy recipe, you'll find making them is truly a no-brainer.
Kosher Dill Pickles
Adapted from
Arthur Schwartz's Jewish Home Cooking
Arthur advises making sure the cukes aren't bitter before pickling them, so be sure to take a bite of one. In the US, at farmer's markets, they often give samples first. If you live somewhere, like say, in Paris, you can do something similar to My Trader Joe's Wine Test: Buy a bottle, take it out to the parking lot, open it, and take a swig. If it's good, go back and buy a case. I found the recipe made a bit more brine than I needed, but that's probably because my cucumbers were different than what was advised in the recipe. Just for fun, I did one jar by splitting the cucumbers lengthwise and they worked great. It's a good tip if you want your pickles in a hurry since that jar was ready after just days of fermenting.
4

quarts (scant 4l)

water

6

tablespoons

coarse white salt

,

(kosher, if available)

18-20

Kirby cucumbers

,

scrubbed

8

cloves

garlic

,

unpeeled and lightly-crushed

2

tablespoons

pickling spice

,

(see links below)

6

bay leaves

1

large bunch of dill

,

preferably going to seed, washed
In a large pot, bring 1 qt (1l) water to a boil with the salt, stirring until the salt is dissolved. Remove from heat and add the remaining water.

Prepare three 1 quart (litre) wide jars by running them through the dishwasher or filling them with boiling water, then dumping it out.

Pack the cucumbers vertically into the jars, making sure they're tightly-packed. As you fill the jars, divide the garlic, spices, bay leaves, and dill amongst them.

Fill the jars with brine so that the cucumbers are completely covered. Cover the jars with cheesecloth, secured with rubber bands, or loosely with the lids. Store in a cool, dark place for 3 days.

After 3 days, taste one. The pickles can ferment from 3 to 6 days. The longer the fermentation, the more sour they'll become. Once the pickles are to your liking, refrigerate them.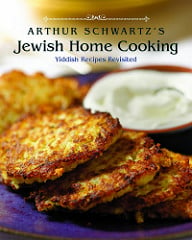 UPDATE: Some of you have left comments and messages regarding pickle-making. I followed the recipe in the book, and if you have further questions about the recipe I suggest consulting Arthur Schwartz's book, listed above. I've closed off the comments because I can't add more to the discussion. If you're looking for troubleshooting or advice about pickle-making, I suggest visiting the first site listed below.
---
More pickle recipes and resources:
Common Pickle Problems (Troubleshooting advice for pickle-making)
Pickling spice recipe I, and Pickling Spice recipe II
USDA-Approved Pickle Recipes and Tips
Salt and Pickles (Exploratorium)
Cauliflower Refrigerator Pickles (Kitchen Parade)
Quick Italian-Style Garden Pickles (Hedonia)
Kimchi-Style Cucumber Pickles (Tigers & Strawberries)
Green Tomato Pickles (Mac & Cheese Review)
Homemade Pickles and FAQs (Pick Your Own)
Pickly Garlicky Red Peppers (Smitten Kitchen)
Beet-Pickled Turnips (Garlic-Breath)
Pao Tsai (Pickled Vegetables) (Yum Sugar)
Pickled Brussels Sprouts (Serious Eats)
Bread and Butter Pickles (Divina Cucina)
Pickled Mangoes (Scent of Green Bananas)