Kimchi
I first posted this kimchi recipe back in 2008. (Actually, I had posted another kimchi recipe earlier that year, but then found that I preferred this one.) At the time, I was a newbie in Paris and had a hard time finding kimchi. You can buy it at some of the Korean markets, such as Ace Mart and K-Mart on the rue Sainte-Anne, but Korean food was much more of an outlier in France back then, much more so than it is today.
Things have changed and there was a recent wave when cuisine coréenne became branchée, or trendy, which I found curious because the spicy, fermented, and sometimes funky flavors found in Korean food aren't necessarily things that are favored by the French palate. But since sneakers are now practically de rigueur (obligatory), I'm relieved that Korean cuisine has made inroads into France, too.
If it seems to you like I've been dividing my time between chocolate shops of Paris and visiting Korean épiceries, stocking up on gochujang, cochutgaru, and gokchu garu, you're right. The odd thing is that the Koreans understand me better than the French. They're always surprised when I speak a few words of Korean and recently, I met some wonderful Korean women that were pretty surprised to see me filling my shopping basket with chile peppers, fermented shrimp, and garlic-chili paste at Ace Mart.
After my first batch of cabbage kimchi (which came out pretty darn good), I kept thinking of ways to improve it. That, coupled with a newfound addiction to fried rice and French-style omelets with kimchi, meant I was going through kimchi at an alarming rate.
I adapted Alex Ong's kimchi recipe from Betelnut restaurant in San Francisco, which is no longer open. He uses vinegar and red chile flakes* in his recipe. I don't have a restaurant-sized group of people to feed, so I made a smaller batch and swapped out some ingredients. But by the time it was done, even though at first it seemed like a lot, by day two you'll find it's become much more compact. So if you have a big colander, or a big appetite for kimchi, feel free to multiply the recipe upwards.
There was definitely something appealing about the perkier taste of this kimchi than my previous batch as this one gets chopped, salted, and weighed down overnight, rather than brined, so in this kimchi recipe, the cabbage retains more of a crunch.
A contentious issue with kimchi is whether to refrigerate it right after you make it, or to let it stand a day or two at room temperature to let it ferment. I let my first batch go for about four days and it was powerful enough for someone the next morning to comment on my odeur forte (strong smell.)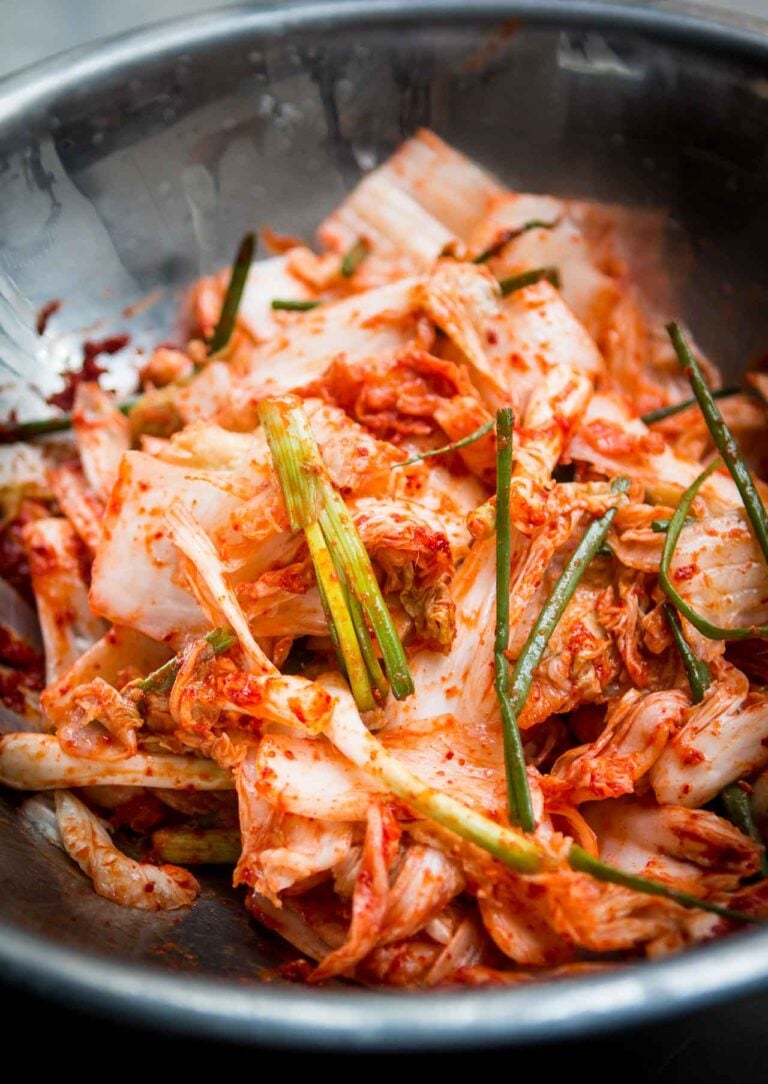 1
large
Napa cabbage
(2 pounds, 1kg)
2
tablespoons
coarse non-iodized salt, such as kosher salt*
(do not use fine table salt)
3
tablespoons
Korean chili pepper paste
(gochujang)
1
tablespoon
finely minced garlic
2
tablespoons
coarse Korean chili powder
(gokchu guru)
1
tablespoon
finely minced or grated fresh ginger
4
scallions,
sliced in 2-inch (5cm) batons, including the green part
1. Remove the tough outer leaves of the cabbage and slice it lengthwise in half. Remove the core.
2. Cut the cabbage into 2-inch (5cm) pieces. Toss the cabbage with the salt in a large bowl, then transfer it to a non-reactive colander. Set a plate on top then weigh it down with something heavy for 8 hours.
3. Mix together the vinegar, chili paste, garlic, chili powder, and ginger in a large, nonreactive bowl.
4. Add the cabbage in handfuls to the marinade, taking small bunches at the time and squeezing them of any excess water before adding them to the marinade. Mix the cabbage with the marinade, adding the scallions as well.
5. Pack into a 2 quart (2l) jar, cover, and let stand at room temperature 48 hours, then chill for 4 days before serving.
*If using kosher salt, this amount is for Diamond brand kosher salt. If using Morton's kosher salt, use 4 teaspoons.
Related Links and Recipes
Kaktugi: pickled daikon (Cooking with Maangchi)
Vietnamese Caramelized Pork Ribs
How to Make Asian Rice without a Rice Cooker
Three San Francisco Multicultural Eateries