Pajeon: Korean Scallion Pancake Recipe
Pajeon, p'ajon, pajon, pa jun, pageon, jeon…I've seen so many variations on the name that I just decided to go with calling mine—Korean Pancake.
Like the various spellings, recipes vary as well. Some have the egg beaten into the batter, but I prefer it spread on top (or on the bottom), giving me crispy, eggy edges. Other recipes load up on vegetables and other stuff, yet I tend to keep it simple.
This Korean pancake is one of my go-to recipes, especially good when I don't know what to make for dinner. Sure, you can add prawns, chicken, corn, bits of seaweed, tofu, mushroom slices, kimchi, asparagus slices, or some other cooked or shredded vegetables that you have on hand.
I even have a sweet potato that I've lost interest in that I'm eyeballing with great interest. When I bought it at the market, it seemed like a good idea at the time, but if I oven-roast pieces until nicely browned, why not?

But do try to keep your pancake relatively simple. To me, there's nothing worse than a big glop of indistinguishable food, no matter what you're making.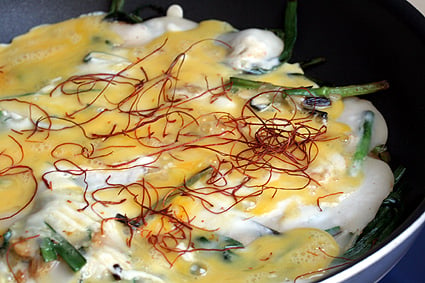 One thing I do always add, though, is finely-shredded dried Korean red peppers; the delicate thread-like strands sold in big bags in Korean markets. They're sweet and spicy-hot, and are one of the world's great lesser-known food ingredients. And at around 2€/$2 per big bag, they're also one of the world's lesser-known food bargains. Tell your friends!
Although it's delicious served warm, I appreciate the pancake best when it's served at room temperature, which makes it a pretty great summer lunch as well, served with rice and a pile of crunchy cabbage and radish salad, dressed with sesame-lime dressing. I hope it becomes a staple in your repertoire as much as it has in mine.
| | |
| --- | --- |
| Korean Pancake | Print Recipe |
Makes one 9-inch (23cm)
pancake
There's plenty of variations on this recipe and you can certainly make your own up, using some of my suggestions above. I find a non-stick skillet yields best results, but if you use a cast iron, be sure to add enough oil to prevent the pancake from sticking. I use relatively high heat since I want a nice, browned crust. A large spatula works best for flipping it, although you can slide it onto a dinner plate and flip it that way, or even cut it in half, then flip each piece separately. Next I'm going to experiment using sparkling water, or maybe add a pour of beer in place of some of the water.
1/2
cup (70g)
all-purpose flour
1/2
cup (125ml)
ice-cold water
1
large or extra-large egg,
lightly beaten
optional: dried red pepper slices
1. Stir together the flour, water and salt until just mixed.
2. Chop the green parts of the scallions into 3-inch (10cm) lengths. Reserve the white parts for another use.
3. Heat a thin layer of vegetable oil in a 9 or 10-inch (23-26cm) skillet, preferably non-stick, until hot. Fry the scallions until they're completely cooked through and soft. Add a touch of soy sauce to the pan when they're almost done, to season the scallions.
4. If using other ingredients, any vegetables, kimchi, or prawns—what have you‐add them now, then toss a few times to heat them through.
5. Pour the pancake batter over the scallions (and other stuff in the pan), spreading the batter, and cook a few minutes until the bottom is nice and brown underneath. Lift the edge to peek.
6. Pour the beaten egg on top then swirl the pan to even out the egg a bit, still keeping it pretty uneven. Distribute the dried pepper strands over the egg, if using, and cook until the egg is just beginning to firm near the edges.
7. Using a wide spatula, flip the pancake and cook for another minute or two until the egg is set and preferably crispy at the edges. (I tend it cook it pretty well, although I like hard-cooked fried eggs, which I know ain't "gourmet", so use your judgment.)
5. Slide pancake onto a cutting board, then cool to room temperature. Cut into six or eight wedges, and serve with dipping sauce made by mixing 3 parts soy sauce with 1-2 parts rice vinegar and a few drops of sesame oil. A bit of chile oil can also be added.
Anyone have more variations or tips, I love hearing them. Korean dishes, such as this, seems to be carried down from generation to generation, and some of the best tips and suggestions I've gotten about Korean cooking have come from readers. –david
Related Links and Recipes
How to Make Perfect Asian Rice (Recipe)
Ace Mart (Korean épicerie in Paris)
Jook (Recipe)
Kimchi Revisited (Recipe)
Olympic Seoul Chicken (Recipe)
Korean-Style Vegetable Pancake (Video)
Pa Jun (Mark Bittman)
Oyster Pancakes (My Korean Kitchen)
Korean Seafood Pancakes (Video)